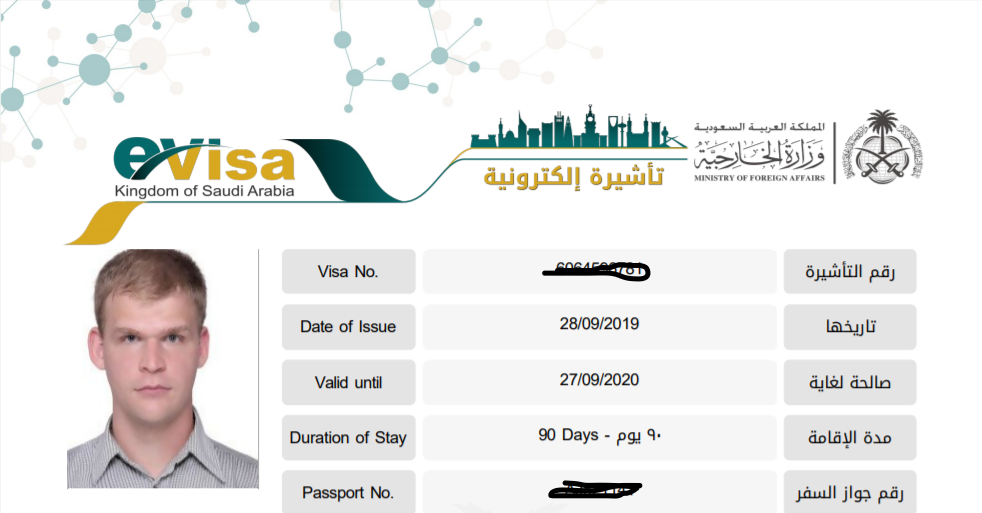 Saudi Arabia used to be one of the toughest countries to get into and lots of people had to come with elaborate plans to get into the Kingdom and visit it. Tales of extreme bureaucracy and difficult maneuvers were common for non-Muslims who wanted to travel there. Slowly, it has been progressively opening, first with the Sharek visa which allowed people of certain countries to visit at very specific times in the year if they booked tickets for specific events. These events were often publicized at very short notice and it wasn't really possible to organise a trip well in advance. Since September 27th 2019, however, things have radically changed. What if I told you that you can now get a tourist visa for Saudi Arabia within 30 minutes?
Where to get the e-visa
To get the tourist e-visa to the Kingdom of Saudi Arabia, you'll have to visit this site. Everything is done from there and within half an hour, if all goes well, you should have a valid e-visa waiting in your inbox.
Who can get the visa
Citizens of around 50 countries can, at the moment, apply for the e-visa. This includes the United States of America, Canada, the UK, Australia, New Zealand, South Korea, Singapore, Japan, China and the whole of the Schengen Zone. Both males and females can get the visa and do not have to be accompanied or sponsored.
The visa specifics
The e-visa that is given to applicants at the moment is a 1 year, multiple entry, tourist visa. The year starts on the date of application. This visa allows up to 90 days in the country within that year. These 90 days could be spent in a single visit or divided into as many visits as you would like.
This visa does not allow people to visit Mecca nor does it allow people to work in the country.
The visa application process
First, you'll have to create an account. You'll simply go on the website and give an email address so that you can be sent a verification email. At the time of writing, it seems that this verification email sometimes gets lost to certain email addresses. If you have not received a verification email within 15 minutes (check your spam box), try creating an account with a different email address.
Once you have received this verification email, simply open it and click on the usual link to get your account started. You can then log in with the credentials you have given. You'll be asked to provide another verification code, which will be sent to you.
You're finally in! From there, the process is quite straightforward. You'll have to input minimal information about yourself, such as your name, date of birth and so on. The only tricky part is that you will be asked to upload a visa-type photo of yourself. This photo must be a square-shaped 200X200 pixel photo of under 100 KB, so you might have to use an image editor to crop and compress a mugshot of yourself to fit those requirements but apart from that, the system is really not picky.
You'll then be asked to put in your expected date of arrival in the country. Since the visa is a multiple entry visa, you just need to put an estimated date of your first visit. Likewise, you'll be asked for an hotel in Saudi. You do not need to provide confirmation of booking so a short visit on an accommodation search engine will do the trick.
Next, you'll be asked to get a medical insurance. It is provided by the website, you simply need to tick the box. You can read the specifics of each insurance if you wish.
Finally, you'll have to read a declaration saying that you'll abide by the laws of the KSA (no drugs, no alcohol, no indecency while in the Kingdom), tick a box and send your application. Within minutes, you should receive an email containing your e-visa! Simply print it and take it with you as you travel to Saudi Arabia!
It is truly unbelievable to think that we can now get a visa, within 30 minutes, that, up until two days ago at the time of writing, was a traveller's wildest dream.
YPT does tours to Saudi Arabia and now that the visa is so easy to get, you can expect us to be there more often than ever!
.