There are many special times to visit the Democratic People's Republic of Korea, one of which is the Day of the Shining Star. The Day of the Shining Star (Korean광명성절) is a major public holiday in North Korea and falls on February 16th – the birthday of former North Korean leader General Kim Jong Il.
According to the North Korean state Kim Jong Il was born on the 16th February in 1942 on Mt Paektu, the auspicious birthplace of the Korean nation.
February 16th was observed as a holiday in North Korea for the first time in 1982, and stayed so until his death in 2012, after which time the day was renamed the Day of the Shining Star.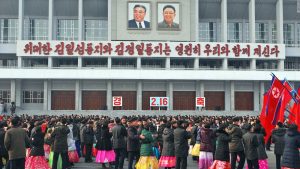 The name has its origins in the tale of the night of his birth, where it is purported that a shooting star heralded his coming. Henceforth he was often referred to as the 'shining' or 'bright' star.
Whilst the holiday has always been an important one, it was largely seen as secondary to that of the founder of the DPRK, President Kim Il Sung. In recent years, however, its importance has increased greatly.
Given the chilly weather in February, it might not seem like the ideal time to visit – but the celebrations of the Day of the Shining Star make an excellent reason.
Events vary from year to year, but you can generally expect to see a mixture of mass dancing, music performances, military parades, and a lavish evening fireworks display.
The festival is not only an opportunity for North Koreans to celebrate the auspicious birth of their second leader; due to the gravity of the occasion, they are also given special gifts to mark the occasion.
If you'd like to celebrate the Day of The Shining Star with Young Pioneer Tours check out one of our tours that coincides with the event. In North Korea, seeing truly is believing!
About Post Author
.