Air Koryo gets a lot of unwarranted crap: from being the "world's only one-star airline" to their infamous mystery burger, the poor airline takes a licking but keeps on ticking. In actuality, not only do they have an excellent safety record, but flying with them – either domestically or internationally – can be quite the treat. But what, exactly, is the Air Koryo fleet? Follow us, dear reader, down the esoteric rabbit hole of North Korean aeroplanes…
International fleet of Air Koryo
In keeping with good old-fashioned Soviet nostalgia, and despite Aeroflot having largely defected to Boeing, North Korea keeps it real with the Tupolev.
North Korea's mainstay for the Beijing-Pyongyang flight is the Tupolev Tu-204-100B, which has a capacity of 222 people.
The second most important aircraft in the fleet is the Tupolev Tu-204-300 with a capacity for 166 people; this is one of the few planes allowed to fly international routes.
These are the only two Air Koryo planes allowed into European Union airspace. This doesn't pose a huge problem, since Air Koryo hasn't flown to Europe in quite some time.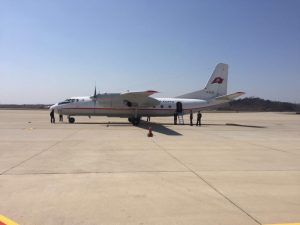 Domestic Air Koryo services
For domestic flights and some charter flights the DPRK uses the following planes:
Antonov An-24R/RV
Antonov An-148-100B
Ilyushin Il-18D
Ilyushin Il-62M
Tupolev Tu-134B
Tupolev Tu-154B
The Antonov is produced in the Ukraine, whilst the Ilyushin is a Russian-made jet.
The last member of their flight family is the massive cargo jet Ilyushin Il-76TD, designed, Soviet-style, to be strong like bear.
The boundless joy you feel reading about Air Koryo's fleet can not only be replicated – it can be increased a hundredfold by actually flying on one of their planes yourself!
About Post Author
.