Dandong is considered a small quiet city where families expect their family members to return back home in time for dinner. So Dandong nightlight or "going out" means going out for BBQ and having a lot of beers or Chinese baijiu. Whilst bars in Dandong are relatively easy to find, it's best to avoid the tourist trap restaurants that line the Yalu River facing North Korea.
There are a few Dandong bars worth checking out which tend to be busier on Friday and weekend evenings. As long as you keep buying, the owners are usually happy to keep the bar opened until the sun comes up.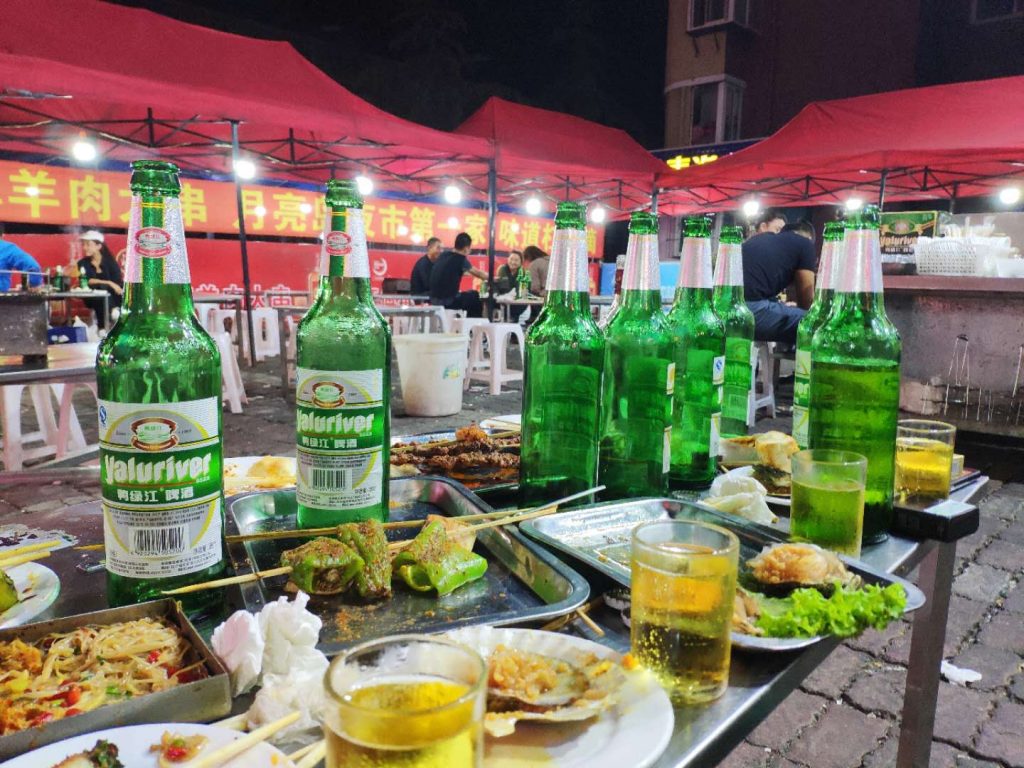 乐事屋 COFFEE PUB (formally known as Fun House) – located on a road behind the riverside (振兴区开发区G区44号楼101), opens around 6pm until late. The bar owner, Daniel, is from Dandong, and is very friendly and speaks great English. This bar offers imported beer on tap such as Guinness and craft beer from various parts of China and Japan. Cocktails are available and delicious. The bar is rather pricey by Dandong standards but if you can prove to him you're doing a North Korean tour with YPT, Daniel is able to provide some discounts.
Muse Bar – located on Binhaigonglu (滨海公路), not far from Coffee Pub, this bar is usually the last bar left open even when it's not busy. No English speakers here but the drinks menu is on an iPad and is simple enough to follow the images. There are nightly live performances and karaoke singing by local performers.
Russian Restaurant 俄罗斯酒吧 – This bar serves a decent fusion of Russian and Chinese meals and offers a great variety of Russian beers that are very reasonably priced – sometimes even cheaper than what is sold at super markets. I'd recommend the sausages and the Uzbekistan Ribs dish.
Joy Pub 酒瘾酒吧 – located behind Wanda Plaza, this is a popular bar for Dandong expats. The bar owner's English isn't great but he's a very enthusiastic bartender and brews his own beers. The IPA is certainly worth trying. A professional poker table is available to patrons too. Very cheap prices.
Street BBQ – an easy fallback if you're just wanting a simple night out to satisfy your nightlife expectations. Street BBQ is available on almost every street corner in Dandong with cold Dandong Yalu River beers available.
About Post Author
.