Guided tours to Cyprus – Republic of Cyprus/Northern Cyprus
Young Pioneer Tours are offering fully guided tour to both the Republic of Cyprus, and more specifically tours to to the partially recognized Turkish Republic of Northern Cyprus.
Located in the Mediterranean north of Egypt, south of Turkey, east of Greece and west of Lebanon with the warmest climate in the region, Cyprus attracts many European package holiday makers. However, YPT seeks to explore and discover the unseen side of Cyprus and why there's a 55 mile long United Nation buffer zone between the Republic of Cyprus and the Turkish Republic of Northern Cyprus (TRNC).
Historically the strategic importance of the island led to the occupation by Assyrians, Egyptians and Persian empires well before Alexander the Great, Roman Empire and the ottomans occupation. In recent times Cyprus was administered and then annexed by the British, which fuelled the tension between Greek and Turkish Cypriots.
Nowadays the inhabitants of the island are partitioned separating the Republic of Cyprus and its more culturally and geopolitically link to European values and Northern Cyprus and its Turkish influences. On a YPT Cyprus Tour we show you the best of both worlds, as well as two rather strange British bases.
CYPRUS TOURS – GROUP TOURS TO NORTHERN CYPRUS
YPT is one the first tour companies to explore the dark tourism of Cyprus which many holiday makers to the island are totally unaware of. Our group tours are kept to a small capacity to allow more freedom to explore key sites well off the beaten track.
Currently we are offering the following tours for 2023 and 2024, however with popular demand we're currently looking at adding additional tours – keep watching this space or follow us on social media.
Divided Cyprus TRNC National Day Tour – November 14th – November 19th 2023 – €895
Experience the celebrations of the Turkish Republic of Northern Cyprus National Day with full military parade and your own personal seats opposite the Northern Cypriot president and the vice-president of Turkey (to be confirmed). This tour wouldn't be complete without a parade including tanks, APCs and a flyover from Turkish air force. The tour takes you to Kyrenia and Kantara. These unique regions will give insight to the Turkish Cypriot population and culture. For comparison, the journey continues further into Greek Cypriot controlled region where the adventure continues to the ghost town of Varosha.
Divided Cyprus Easter Tour – March 31st – April 5th – 2024 – €995
Our first Cyprus tour of 2024 begins by exploring the only divided capital in the world, Nicosia. The tour begins by exploring the ancient architecture built by the ottomans to visiting sites which still bears the scares of the recent conflict on the island. The tour delves into the criminal activity of notorious figures including Paulo Paolides and Gary Robb. The adventures continue to the British Sovereign military base of Dhekelia as per tradition for a cold pint followed by fish and chips!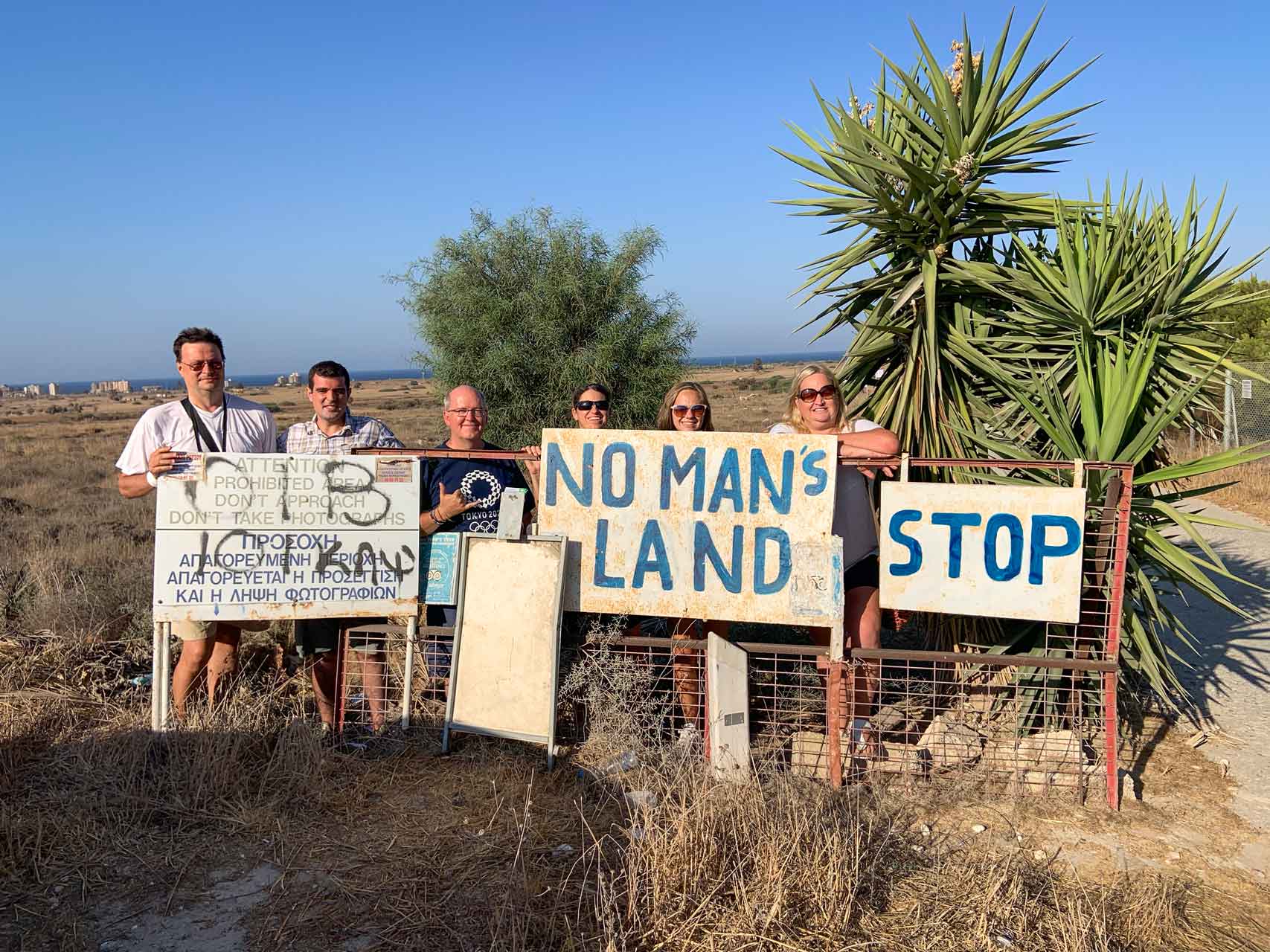 INDEPENDENT TOURS TO CYPRUS/INDEPENDENT TOURS TO NORTHERN CYPRUS
While Cyprus is well on the beaten track for package and beach loving tourists, there is actually much more to see for the adventurous, particularly through our Northern Cyprus tours.
If our Cyprus and Northern Cyprus group tours do not fit your schedule then YPT can arrange a bespoke Cypriot tour encompassing both sides of the island, as well as the UK bases, which make up a third defacto country on the island.
Independent Cyprus Tour/Northern Cyprus Tour Example Itinerary
The following is our standard Cyprus/Northern Cyprus itinerary. This can be done in full, in part, or combined with other options to create your perfect bespoke Cyprus itinerary.
Day 1 – Nicosia
Arrival in Cypriot-controlled Cyprus at your own leisure. The Mediterranean island is well served by various budget airlines.
Check into our comfortable hotel in north Nicosia, the only divided capital city on earth.
Arrive by your own means, or we can assist with organising airport transfers.
Meet up with your YPT guide and the rest of the tour group in the evening before heading out for a welcome meal and drinks.
Overnight in Nicosia.
Day 2 – Kyrenia
Morning
After breakfast at the hotel, we'll explore the Buyuk Han or the Great Inn. Built by the Ottomans in 1572 after they had seized Cyprus from the Venetians, this historical building is home to a stunning open courtyard with an Ottoman mosque. Under the early days of British rule it was turned into a prison, today it's a thriving arts centre, consisting of several galleries and workshops.
We'll then drive through the narrow lanes and decaying streets of Lefkoşa as we make our way to the historic Saint Hilarion Castle which was built by the Byzantines in the 11th Century to defend the coast from Arab pirate raids. Today it offers stunning views over the Mediterranean and the mountains of Cyprus.
On our way back down we'll pass the training ground used by the parachute regiment of the Turkish military
We'll continue along the winding route following the crest of the Kyrenian mountain range until we get to the remains of a Turkish tank perched perilously at the side of the road. No YPT tour is complete without posing for pictures on top of a tank, but this one has possibly the best view of any YPT trip!
Next stop will be Mavi Kosk or Blue House, which was previously owned by an infamous arms dealer who fled Cyprus during the war. The house is still the retro-chic villa is still furnished as in 1970s style when the owner, Paulo Paolides, escaped capture by fleeing through a hidden tunnel under his bed. The site is still controlled by the Turkish military so we must surrender passports on entry.
Afternoon
On arrival in Kyrenia we'll enjoy a late lunch / early dinner along the harbour for incredible views of the bay
Optional visit to explore Kyrenia Castle – a 16th-century castle built by the Venetians over a previous Crusader fortification. Within its walls lies a 12th century chapel showing reused late Roman capitals, and the Shipwreck Museum.
We will hit the town with our optional pub crawl joining in with the locals to celebrate their national holiday! We will hit up a few popular spots and then head to our favourite hidden gems for a truly authentic local experience.
Overnight in Kyrenia.
Day 3 – Kyrenia
Morning
After breakfast at the hotel and perhaps a stroll and coffee in the harbour, we'll head to the ship which was used in the Turkish invasion / liberation of Northern Cyprus – it's now been converted into a museum at a dry dock. Nearby a collection of tanks used by the Turkish and enemy tanks from the south captured during the war. A lot of North Korean vibes here!
Our journey will then take us to the 13th century Bellapais Monastery where, after exploring this historical site, we'll sit down for a traditional kebab lunch overlooking beautiful views.
Afternoon
We'll pay a brief visit to the small village where Lawrence Durrell wrote Bitter Lemons
Visit to Amaranta. A vast empty housing development that is now a concrete ghost town. This notorious development was started by a Geordie drug dealer and fraudster, Gary Robb. He sold the properties off-plan, sometimes several times over, ultimately the customers/investors were left with only concrete foundations they didn't even own.
Amaranta is perfect for a spot of urbex!
Return to Kyrenia for some free time before heading out for an evening meal.
Overnight in Kyrenia.
Day 4 – Kantara
Morning
After breakfast, we'll check out of our hotel and head to our first stop of the day: Kantara Castle which is a Byzantine-era fortress that offers stunning views over Cyprus and the chance to see both coastlines converge into the panhandle.
We'll then continue North-East along the coast road stopping for lunch with an ocean view on the way.
Afternoon
Arriving at the Karpaz Peninsula we'll first feed the donkeys which roam freely along the road! It's surprisingly hilarious to watch them dribble their favourite treat of cucumbers all over the place…
Our next stop will be an active Greek Orthodox Monastery where we may be lucky enough to catch a service in session and meet the bearded Orthodox priests who run the place. The monastery was abandoned when the ottomans took over in 1570s but continued as the local Greek Orthodox church until Turkish invasion in 1974. The British used parts of it as military garrison when they took over Cyprus.
We'll then hit some rough and off-the-beaten-track roads as we head to the northernmost tip of Cyprus. Here there is a solitary military outpost and a gigantic flag, you are only 100km from the coast of Syria.
We'll head to our Exotic hotel by the beach for the night.
Day 5 – Larnaca
Morning
Optional dawn swim for those to enjoy the morning waves!
We'll head to the epic ruins of Salamis, an ancient Greek city-state at the mouth of the River Pedieos. According to tradition, the founder of Salamis was Teucer, son of Telamon, who could not return home after the Trojan war because he had failed to avenge his brother Ajax.
There is even a well preserved Roman amphitheatre here and you'll be surprised to find it mostly to yourself due to the small numbers of tourists in Northern Cyprus.
Afternoon
Head to Famagusta for lunch and the chance to buy genuine Turkish delight and baklava
Tour Highlight – Explore the recently re-opened Varosha ghost city. Empty since the 1974 Turkish invasion, what used to be the hotspot of international tourism, is now a vast area of abandoned, ruined buildings serving as a time capsule from 1974. It has remained bullet-riddled and abandoned ever since.
As we near the end of our tour, we'll cross the border back into Cypriot-controlled Cyprus where we will have a treat for country collectors!
After the border, we'll visit the British Sovereign military base of Dhekelia which is one of two British Sovereign Base Areas on the island of Cyprus. Home to British police, fire brigade, fish and chip shops, and other familiar British features, they don't have checkpoints or passport control to enter but are a must-visit for country collectors!
At the military base area, we'll finish off our tour with a stop at an authentic British Pub for a cold pint and fish and chips.
Check into our hotel in Larnaca and enjoy a farewell dinner and drinks with the group.
Overnight in Larnaca.
Day 6 – Larnaca
Breakfast at the hotel and the chance to enjoy a morning swim at the pool or the nearby beach.
End of tour, airport transfers, and onward travel can be arranged,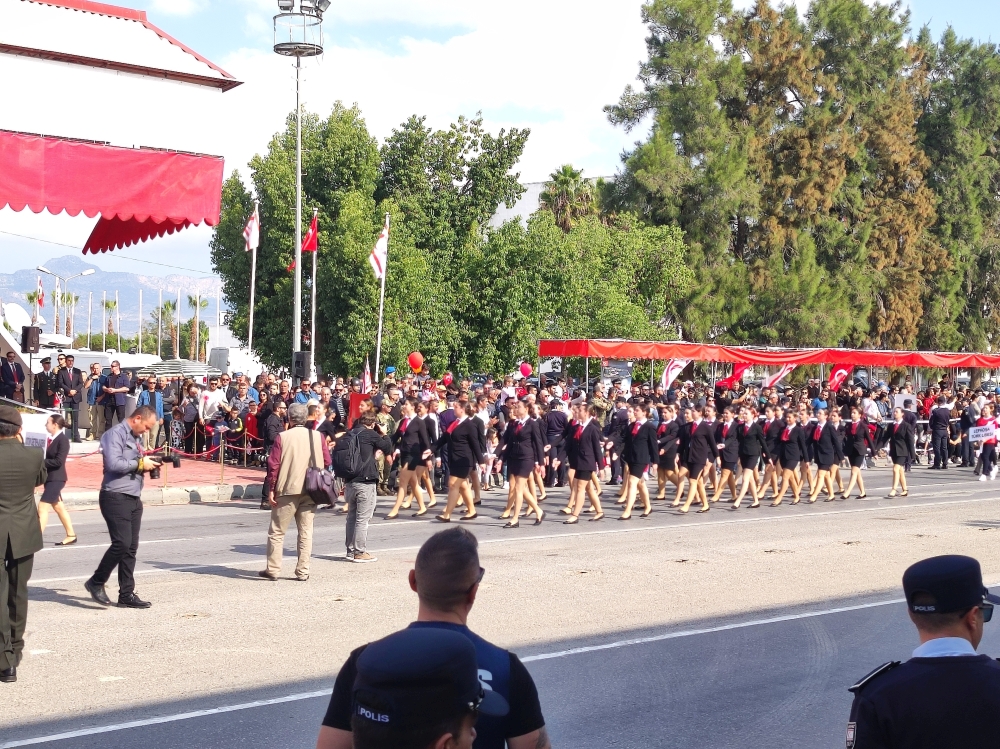 TRAVEL TO AKROTIRI and DHEKELIA
After the British withdrawal from Cyprus Akrotiri and Dhekelia remained British territory and now function as essentially British overseas territories, much like the Cayman Islands. This has led to many country collectors counting these!
YPT Group Tours to Cyprus include tours to Akrotiri and Dhekelia, which can also be done independent tours to Cyprus. Mostly it consists of fish and chips and a beer, but you do get to tick it off the list of visited countries.
To read the YPT Guide to what counts as a country click here.
INDEPENDENT CYPRUS TOUR EXAMPLES
Our bespoke tours are created to your desire and specification therefore not all our tours are listed – here are some examples of independent tours we can offer.
Cultural Cyprus Tour – With rich cultural heritage from Greek Cypriot and Turkish Cypriot and with many similarities, this creates a unique community in the divided capital and across the island – share these experiences on our bespoke cultural tours.
Family Tours to Cyprus – With the warm climate and hospitable residents, Cyprus is ideal for family tours, being one of the safest capitals in the European Union and hotels with designated family rooms. We can arrange a bespoke tour to Cyprus for all your family requirements.
School Trips to Cyprus – With in-depth history and culture, Cyprus offers plenty for students and schools to fit many a curriculum. There are plenty of activities to engage pupils alongside visiting museums and heritage sites.
Cyprus Military Tour – With the series of historical battles between the Ottoman empire and Republic of Venice to the Turkish Invasion. Cyprus has been a point of strategic importance in ancient to recent times. Visit key battle sites and museums that tells the stories of these decisive wars. YPT can arrange a personalised Cyprus tour for military enthusiasts .
Cyprus Photography Tour – Recently opened to the public, the eerie ghost town of Famagusta creates the perfect spot for keen photographers to capture images of where time has stood still. Having some of the best coastline in the world in the backdrop of monasteries, mosques and fortifications, this makes for the perfect picture opportunities for photographers.
Cyprus Food Tour – With compelling cultural influences of Greek and Turkish cuisines, Ciprian food combines the best of both. We can arrange a food tour exploring hidden foodery and markets and finding hidden untouristed spots.
Cyprus Adventure Tour – For those inclined for an active holiday, YPT can arrange camping and hiking through some of the most scenic routes, including Troodos National Forest Park. We can also arrange a variety of air sports, climbing and water activities – just tell us how adventurous you'll like to go!
Cyprus Bike Tour – Popular all year around, our cycling tours attracts professionals and hobbyists alike to enjoy the warm climate and road conditions. Simply tell us your desired length of stay and type of bike you require.
CYPRUS TOUR GUIDES/NORTHERN CYPRUS TOUR GUIDES
During your tour, either with a group or independently, you'll always be joined by an expert local guide. YPT works with the best reputable local guides to ensure our high quality and standards are met.
During your group tour you'll be joined by an experienced YPT guide and by our hospitable knowledgeable local guide. All our guides are fluent in English, but should you require a different language for an independent tour to Cyprus then please get in touch and we will see what we can do.
CYPRUS VISA
The Republic of Cyprus has similar visa policies to the EU and Schengen Area. Currently there are 90 states that do not require a visa for tourism. Most citizens do not require a visa for TRNC, which makes our Cyprus tours more appealing.
Young Pioneer Tours can assist you every step of the way and provide the required documents needed as part of your tour package – please don't hesitate to contact us if you have a question about a Cyprus visa.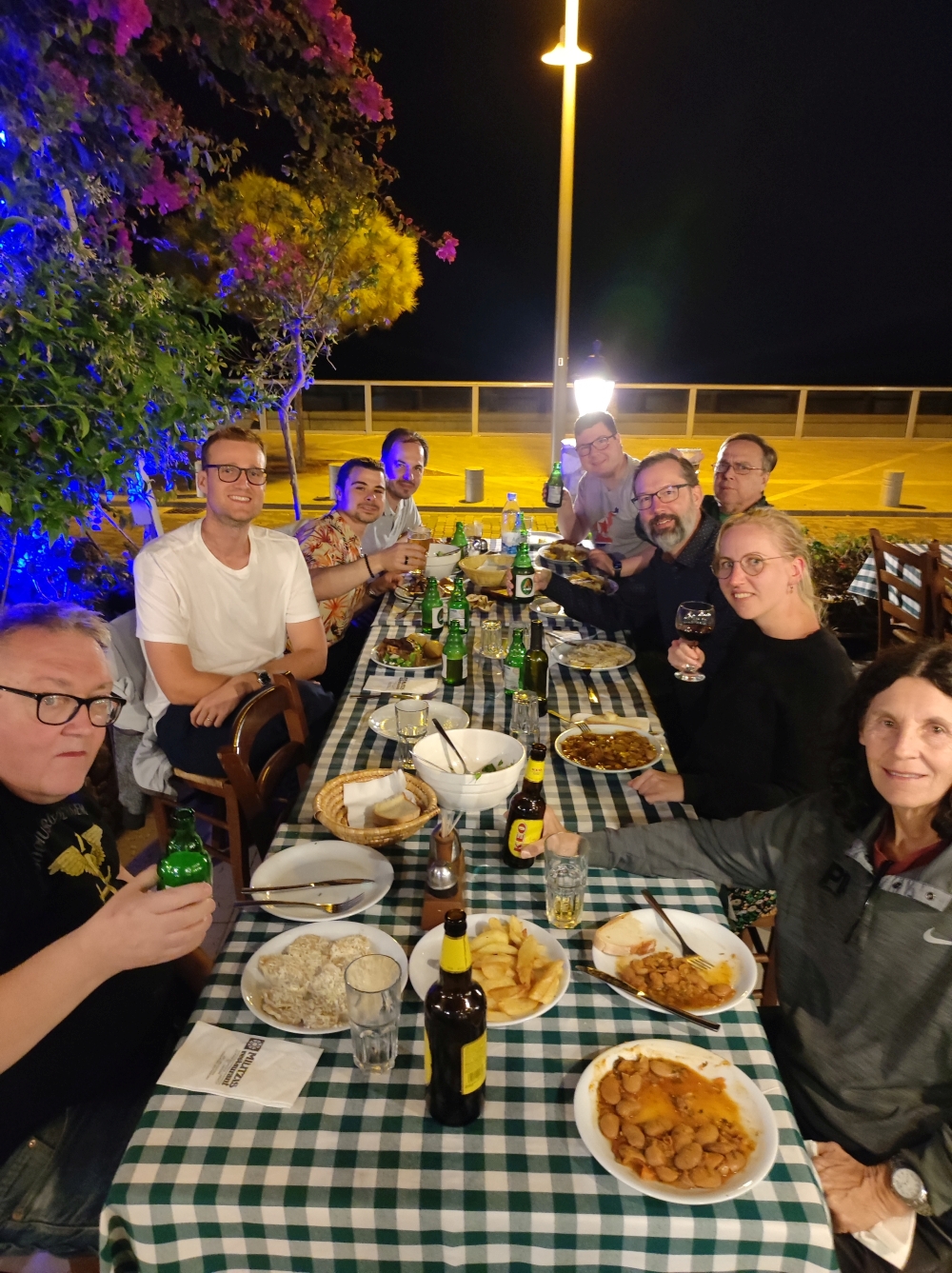 CYPRUS TOURS FAQs
Is Cyprus safe for tourists?
Cyprus is extremely safe compared to other countries within the region with very low crime rates. As always, the same precautions should be taken when visiting any new destination.
Can you drink alcohol in Northern Cyprus?
Yes, you can drink in Northern Cyprus. There is a selection of Turkish and international beers readily available, as well as locally produced raki – a popular alcoholic drink made from distilled grapes.
What's the best way to arrive to Cyprus?
The best and easiest way to arrive to Cyprus is take advantage of the multiple budget airlines operating to and from Cyprus. Larnaca, Ercan and Nicosia International Airports are located close to the capital. Paphos International Airport is further from Nicosia, however, it offers a wide range of destinations and competitive prices.
What's the weather like in Cyprus?
From mid-May to mid-October, you can expect hot and dry summer in Cyprus, and with November and Mid-March having a milder climate. Either way, the island remains popular throughout the year with December and January being quieter and much cooler.
Is Cyprus safe for the LGBTQ community?
Yes, it's perfectly safe, and please be aware that homosexuality was decriminalised in both Republic of Cyprus and TRNC. This was achieved recently between 2014 and 2016. However, there are still some conservative attitudes towards the LGBTQ community particularly in the Muslim north.
Why are group tours kept small for Cyprus?
YPT believes in the quality of our tours and by ensuring we can provide the best experiences during your time with us. This would be difficult to do if we cared about profits over customer satisfaction.
Is Cyprus politically unstable?
Cyprus is politically stable with the Republic of Cyprus being a member of the EU. There is a UN buffer zone separating TRNC – despite this the island has a stable political environment/
Is Cyprus expensive?
Cyprus is no more expensive than other European countries, despite having numerous tourists visiting the island, Cyprus remains affordable.