So you had a great trip with us in Iraqi Kurdistan and you are now looking for the next adventure? While Erbil International Airport has all the international connections around the world you might need, and it is not recommended to cross into Southern Iraq or Syria overland just yet, there is still one great overland trip you can take — crossing to Turkey overland.
Many bus companies offer daily trips to southern Turkey from the main cities of Kurdistan Iraq. The central bus stations of Sulaymaniyah, Erbil, Duhok and the border city of Zahko are all part of the itinerary that connects the city of Iraqi Kurdistan to the cities of Southern Anatolia and Turkish Kurdistan such as Silopi, Cizre, Mardin and the main city and ''capital'' of Turkish Kurdistan, Diyarbakir.
What are the buses like?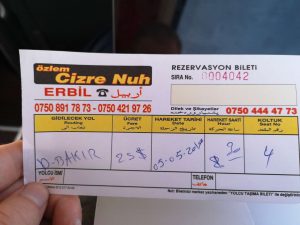 There are multiple bus companies offering their services. The prices and quality of the buses are usually quite similar. It's around 25 USD (paid in cash) to get from Erbil to Diyarbakir. You will need your passport to book the ticket. Your passport will be taken by the ticket office and given back to you once you board the bus — somewhat strange, as if they think they might run away without using your paid ticket. There are also VIP buses in a 1×1 configuration with reclining seats, but those leave at night. In Erbil, buses generally leave from around 8 AM, 8 PM and 9 PM. The best thing to do is to ask your hotel or a friend to call a bus company the day before you plan your departures. Buses are seldom full in Sulaymaniyah and Erbil and, unless it is a holiday, you should be able to buy a ticket on the day.
On the bus, you can expect to get unlimited drinks such as tea, coffee and soft drinks. Don't indulge too much because toilet breaks are few and far between. Most of the buses also have a USB outlet and a personal television. The seats are quite comfortable and the road is not too bumpy, which is a very good thing since you'll be on them for a while. Another adorable thing is that attendants will come and offer you soap to wash your hands every time you get on and off the bus.
What is the road like?
You'll be on the bus for a good while, depending on where you start your journey. The scenery of Kurdistan is beautiful and you can expect, if you come in summer, green and lush plains along the way. The journey from Erbil to Diyarbakir takes 9 to 16 hours, depending on the customs procedures. From Sulaymaniyah, add another 3 hours. The bus gets progressively more crowded as it gets closer to the border and then progressively empties itself as it gets deeper into Turkey, on the other side. A large part of the passengers actually just take it to cross the border.
The border crossing: The Iraqi side
The Iraqi-Turkish border, as you might presume, is not the smoothest crossing in the world. We're far from the borders of Baarle-Hertog Baarle-Nassau. With the recent events linked to ISIS in Syria and Iraq, it is understandable that is is as it is. It is nothing approaching dangerous; just painfully slow and inefficient. On the Iraqi border, if you stand out as a foreigner, chances are you will be approached by cigarette smugglers who will ask you to carry packs of cigarettes or bags of tea for you. They can be quite insistent, but repeating 'no' should eventually make them go away.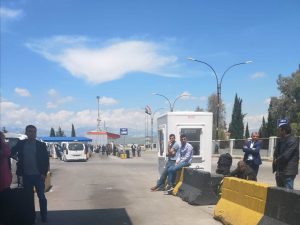 First, your bus will stop at the Iraqi border called Ibrahim Khalil. You will have to go to the customers counters to get you fingerprints and photo taken, as well as getting your passport stamped. No questions are asked and it is quite orderly. The worst is yet to come.
Back on the bus, you'll drive a few meters to get to the bridge over the Khabwr river which separates Iraq and Turkey. Before crossing the bridge, your bus will be stopped for a long time before you are asked to get off and go through a cabin with an X-ray machine. Here, you can expect everyone to push to get through with their hundreds of bags of cigarettes. Try to squeeze your way through and get back on the bus.
The Border Crossing: Turkish Side
On the other side of the bridge is the Turkish side, and you will be stopped again. Yes, to go through X-rays again. Both countries want to have their own check. Going through is the same story as before, with more plastic bags of cigarettes and pushy smugglers. You'll head back on the bus and be driven to the regular passport control.
Here, your passport will be checked and the passport of Iraqi and Turkish citizens stamped but, as you will probably be the only foreigner of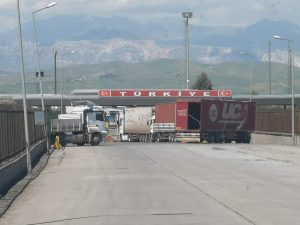 the month at this border, chances are you will be asked to walk to an office building of the immigration. Your bus' staff will lead you through it and knowledge of Arabic or Turkish is not necessary. Just stay cool.
In the office, you will be greeted by a polite immigration officer who will basically ask you why the hell you're crossing here — overland — instead of flying. Make sure you have your hotel bookings and addresses, some proof of your employment, phone numbers of people you know in Iraq/Turkey and have an explanation ready of what your plans are in Turkey. It is not a torturous interrogation or anything but, basically, what you are doing is weird and uncommon and border guards think it deserves an explanation. It is nothing more than a somewhat-intense formality.
Please note that Turkish e-visas are valid for this border crossing and might save you a lot of hassle. By signing up for the Turkish e-visa, your passport number gets immediately linked to your visa and you don't need a sticker in your passport or to carry a paper to prove you have a visa; the immigration officers will see it the moment they enter your passport number in the system. Still, you can always carry your visa confirmation. Apply for your Turkish e-visa on the government's official website.
Once you are through with this, you are free to get back on the bus with your stamp in your passport. You'll probably be the last one to get back on, but the bus will wait for you. After all, it's only fair after you've waited for all those cigarette smugglers to get through with their millions of bags.
The road in Turkey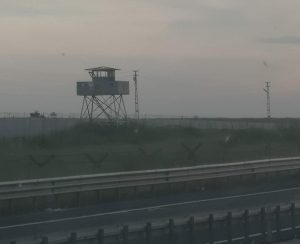 Now, you are free to stop at whichever destination you had planned. The two main stops are probably Mardin and Diyarbakir. Just before Mardin, however, the road becomes really interesting as it follows the Syrian border. If you are sitting on the left side of the bus, you'll have a view of the heavily fortified, heavily militarized fence between Syria and Turkey, going on for kilometres. You might also spot military helicopters and jets patrolling. Turkey doesn't faff about when it comes to the integrity of its border and, if you look at a map of Turkey, you can't blame them. Neighbouring what used to be the beating heart of the Caliphate of the Islamic State, Turkey had to be extremely careful during the recent conflict.
Mardin is a famous ancient city of Turkey which might be worth visiting for a couple of days. It is full of ancient tenth-century architecture, churches and Islamic schools. Almost no tourists come here anymore so you can go full Indiana Jones for a couple of days.
Diyarbakir is the biggest city of the region and has a stunning ancient town full of winding roads, and is simultaneously bustling and peaceful. Both Mardin and Diyarbakir are well worth a trip! While tourists flock to Istanbul or to nearby Tblisi, this region of Turkey is now very seldom visited but has plenty of museums, ancient ruins and citadels, making it well worth putting in your travel plans!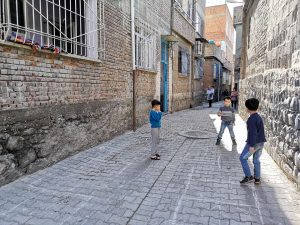 Join our next tour to Iraqi Kurdistan and have us plan your trip from Iraqi Kurdistan to Turkish Kurdistan overland!
About Post Author
.