by Andy Khong
Cameron Highlands is a popular hill station, nicknamed, "Malaysia's Little England", located in the state of Pahang, Malaysia. Situated at an elevation of about 1,500 meters (4,900 feet) above sea level, it is known for its cool climate, breathtaking landscapes, and extensive tea plantations. Named after British surveyor William Cameron, who discovered the area in 1885, Cameron Highlands has become a favoured destination for tourists and locals alike.

The cool climate of Cameron Highlands sets it apart from the lowlands of Malaysia, making it a refreshing retreat from the country's typically warm and humid weather. The average temperature ranges from 15 to 25 degrees Celsius (59 to 77 degrees Fahrenheit), making it an ideal escape for those seeking respite from the heat.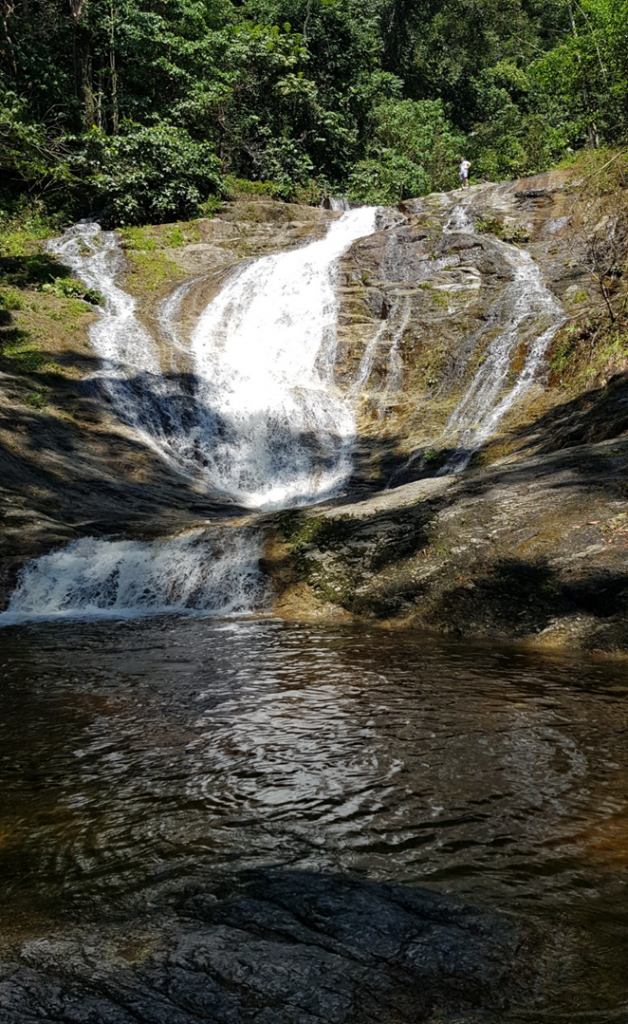 Lata Iskandar Waterfall.

One of the main attractions in Cameron Highlands is its stunning scenery. The area is characterized by rolling hills, lush green valleys, and terraced tea plantations that stretch as far as the eye can see. The landscapes are particularly picturesque, offering breathtaking views and opportunities for outdoor activities such as hiking, trekking, and nature walks.

Cameron Highlands is renowned for its tea production. The region is dotted with tea plantations, the most famous being the Boh Tea Plantation. Visitors can tour the tea factories, learn about the tea-making process, and enjoy a cup of freshly brewed tea while taking in the panoramic views of the plantations.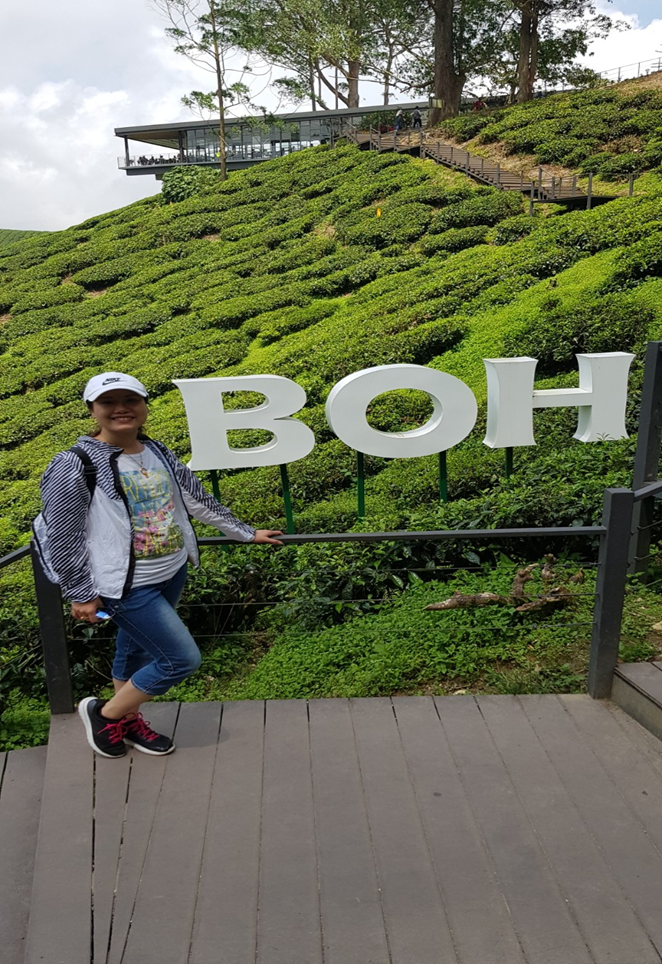 BOH Tea Plantation.

In addition to tea, Cameron Highlands is known for its agricultural produce. The fertile soil and cool climate support the cultivation of strawberries, vegetables, and flowers. Many farms offer visitors the chance to pick their own strawberries or purchase fresh produce from the local markets.

For nature enthusiasts, the Mossy Forest is a must-visit attraction in Cameron Highlands. Located on the slopes of Mount Brinchang, it is one of the oldest moss forests in south-east Asia. Walking through the mist-covered forest is a unique experience, with an abundance of moss, ferns, and other exotic flora to admire.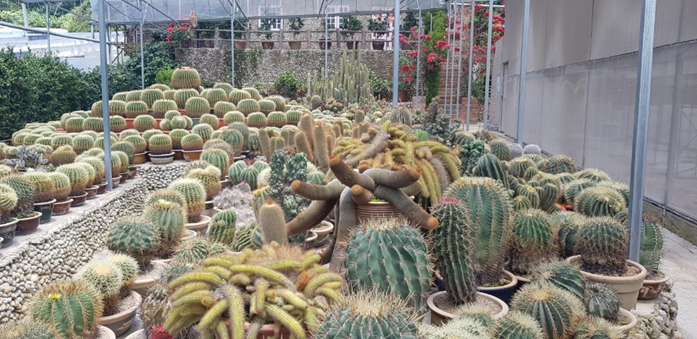 Cactus Valley.

Cameron Highlands is also home to a variety of wildlife. Visitors may encounter species such as the Malaysian giant squirrel, the Cameron Highlands butterfly, and numerous bird species. Mount Brinchang, the highest peak in the area, offers opportunities for bird watching and wildlife spotting.

Apart from its natural beauty, Cameron Highlands has developed as a tourist destination with numerous accommodations, restaurants, and attractions. The towns of Tanah Rata and Brinchang serve as the main hubs for tourists, offering a range of hotels, guesthouses, and eateries. The night markets in these towns are popular among visitors, offering local delicacies, handicrafts, and souvenirs.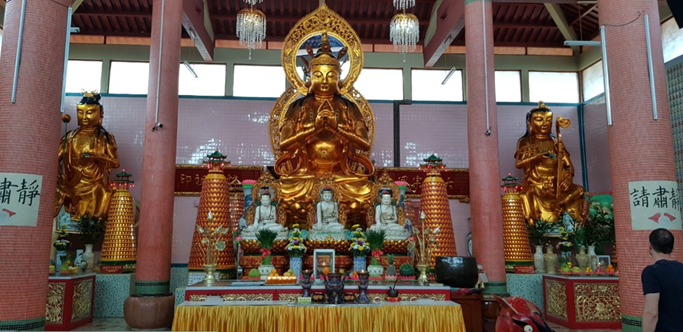 Sam Poh Temple.

To get to Cameron Highlands, you have several transportation options depending on your starting point:
By Road: Cameron Highlands is accessible by road from various cities in Malaysia. If you are coming from Kuala Lumpur, you can drive or take a bus. The journey takes approximately 3-4 hours, depending on traffic conditions.
By Bus: Numerous bus companies operate routes to Cameron Highlands from major cities in Malaysia (and also Singapore). You can check with bus terminals or online platforms for schedules and ticket availability. Buses usually terminate at the towns of Tanah Rata or Brinchang, which serve as the main entry points to Cameron Highlands.
By Train and Bus: If you prefer a combination of train and bus, you can take a train from Kuala Lumpur to Ipoh, which is the closest major city to Cameron Highlands. From Ipoh, you can then take a bus or arrange for a taxi or private transfer to Cameron Highlands.

In summary, Cameron Highlands is a serene and picturesque hill station in Malaysia. With its cool climate, tea plantations, scenic landscapes, and abundant natural beauty, it has become a sought-after destination for those seeking a peaceful retreat in the mountains. Do escape to the cool paradise of Cameron Highlands and Indulge in its majestic beauty!

Cameron Highlands is 90 kilometres (56 miles) east from Ipoh, capital of Perak state. To read about Ipoh (a hidden gem of Malaysia):  https://www.youngpioneertours.com/ipoh-hidden-gem-of-malaysia/ 

While in Cameron Highlands, do try: 
Durians https://www.youngpioneertours.com/durian-king-of-fruits/ and/or
Mangosteens https://www.youngpioneertours.com/mangosteen-queen-of-fruits/ 




About Post Author
.