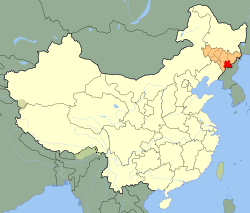 Aside from Young Pioneer Tours regularly blogging about our budget tours to North Korea and the many new North Korean Tourist attractions that pop up in Pyongyang and other cities, we also try and do the odd piece about the wider issues and interests of the DPRK, so we carry on the Borderlands Series with our third part: Baishan City.
Understand
Baishan City (literally White Mountain City) is a prefecture level city in Jilin province. It has a population of around 1.3 million most of whom are Han Chinese. Baishan city is not a classic borderlands town in that it does not border North Korea, but there are some Korean influences here, and despite being a tier 4 industrial hell hole does make a reasonable stop on the way to Ji'an.
Get in
By plane :Baishan City has its own airport with a reasonable range of destinations covering the north-east as well as Beijing.
By train: Baishan City has a fairly big train station that is connected to Beijing and most of the main cities of the north-east.
By bus: There are regular buses to Tonghua, Changbai Mountain, Linjiang and other regional areas. The main long-distance bus station is situated near the train station.
Getting around
There are regular and cheap buses (RMB 1) to most parts of the city. Taxis are cheap and plentiful starting at RMB 5. Being so close to Korea there are plenty of Korean restaurants and influences, but generally speaking, it is a Han area with the locals speaking Mandarin with their own little regional tint. The dongbei accent can be quite hard to understand particularly when dealing with taxi drivers.
Do
Visit the abandoned power station – On the way into the city there is a semi abandoned power station that whilst not earth shattering is pretty cool to walk around.
Drink mineral water – OK we are clutching at straws here, but apparently it has been granted the title of "mineral water capital of China".
Baishan Dam – A big classic piece of Chinese industrial excellence! Worth a look simply as there is little else to see.
Eat
DPR Korea Hyesan Restaurant – One of the strangest Korean restaurants we have ever seen! Situated in what looks like an old colonial building on top of a hill in a very grand setting with all the waitresses coming from Hyesan city in North Korea. Despite the grand setting, the menu is a little lacking, although fairly cheap for a North Korean franchise.
Korean Food – OK so this might appear to be stating the obvious, but everything from bibimbap to Korean BBQ and even dog is available, cheaply and of great quality.
Street Food – In the summer there are stalls selling street food such as Chinese& BBQ and a local meat/vegetable sandwich type thing.
Drink
Lots of Chinese style bars around the city, but nothing special or particularly western friendly.
Sleep
Being rural China there is a plethora of cheap, medium and expensive options to suit most tastes, but again very little that is exciting, or worth writing home about. Many hotels do not have a license to accept foreigners.
V5 Hotel – Decent hotel centrally located priced excellently at RMB 120 per room. Decent internet and optional Chinese breakfast at RMB 10.
The Alien Hotel – An alien themed hotel complete with doors that open sideways, and pictures of ET! When we last went there they were not accepting foreigners, but worth checking if they do as it is so unique.
Get out
Ji'an – takes about 2 hours – 10 yuan for a ticket.
Tonguan – Just over an hour – 5 yuan for a ticket
Borderlands Tour – It is possible to join a tour with Young Pioneer Tours along the borderlands of North Korea going through Baishan City.
---
Want to learn more about the Borderlands of North Korea?
About Post Author
.