Aside from Young Pioneer Tours regularly blogging about our budget tours to North Korea and the many new North Korean Tourist attractions that pop up in Pyongyang and other cities, we also try and do the odd piece about the wider issues and interests of the DPRK, so we carry on the Borderlands Series with our fourth part: Changbai Village.
Understanding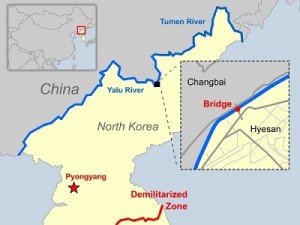 Changbai Village, or the Changbai Autonomous County is a county in Jilin Province, PRC situated directly opposite Hyesan of the DPRK. It is the only Korean Autonomous zone outside of Yanbian. Changbai Village offers some of the most amazing views of North Korea with a long running road with viewing posts, and places for photos, but is an extremely sketchy place. Due to its location, many undercover reporters have come here for stories, or photos, and both the Chinese, local Koreans, and North Koreans are very wary about foreigners in the area. Needless to say, it is not known for being especially tourist friendly!
Get in
By plane
The nearest airport is Baishan, which tends to offer seasonal offerings to most major Chinese cities, as well as some in south Korea. Depending on the time of year, the airport is around 5 hours drive from the village.
By train
There is no train station here, the nearest being at Changbai.
By bus
There are regular buses headed east to Changbai Mountain, as well as west to Linjiang, which can be flagged from the main road.
Getting around
The town is tiny and it is very unlikely that you would need to use public transport; it is easy enough to walk around Changbai Village, but if you need a cab hailing fee starts at RMB 4.
Talk
Like anywhere in Northern China, the weapon of choice, and spoken by everyone is Mandarin Chinese, although with the sizable Korean population, most people will speak Korean to at least some degree of proficiency. Also with it being officially designated as a Korean area all signs for both streets and shops are in both Korean and Chinese, so if you only speak Korean you will more than survive here.
Do
Changbai Autonomous County
If you are Chinese it is possible to cross the Changbai – Hyesan border crossing, but if you are not it is currently impossible.
Walk along the river – Changbai Village offers a few miles of riverside walkways with viewing posts where it is possible to gaze over at Hyesan in North Korea. Keep in mind pictures are banned and the police will stop you.
Eat      
Korean Food – OK so this might appear to be stating the obvious, but everything from bibimbap to Korean BBQ and even dog is available, cheaply and of a great quality.
Chinese food – OK so again stating the obvious, but if you are not in the mood for Korean food there are a decent amount of Chinese options available.
Drink
ZY Club – We estimate that the ZY Club must be the closest club to North Korea! Has a pool room, and a club that is very rural and hit and miss, but the owners are very friendly and welcoming.
Sleep
Being rural China, there is a plethora of cheap, medium and expensive options to suit most tastes, but again very little that is exciting, or worth writing home about.
ZY Hotel – Located conveniently above the nightclub, rooms are OK, with prices depending on season, but starting at RMB 100 for a double room with ensuite.
LongYuan Hotel – Could not be any closer to North Korea with the view from your window being North Korea. Weird 70's porn style corridors and the bathrooms in the bedrooms having see through windows, but friendly staff and great value rooms with wifi at RMB 100 per night.
Get out
Baishan – takes about 5 hours – 30 yuan for a ticket.
Linjiang – takes about 3 hours 30mins – 10 yuan. Linjiang is another cool town bordering North Korea


---

It is possible to join a tour with Young Pioneer Tours along the borderlands of North Korea going through Changbai Village.

Click here for more info. 
About Post Author
.