I'm not gonna lie, at times my job can be a pretty damned good one, particularly as I now have two main jobs, namely finding new destinations for YPT, and trying to buy an island. Every now and when the stars align I am able to kill two birds with one stone, which is what happened when I went to check out Nagashanti Resort (which turned out not to be an actual island), and check out Borneo and Bidayuh villages for our planned tour there.
---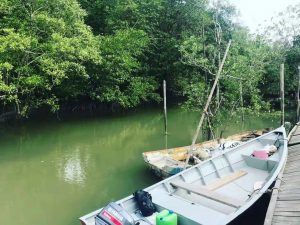 So the trip started out in Kuching, a fairly unremarkable and developed city, but as luck would have it had a food festival, although the main theme seemed to be bad sausages from China. If your thing is bad street food articles, then I eloquently deal with it on my blog, if not I shall continue with my Borneo adventure.
The Nagashanti Resort turned out to be not exactly what I wanted for buying an island, but its pure seclusion and eco-friendliness really make it worth staying a few nights if you are traveling to Borneo.
Resort and food festival out of the way I was to move onto the next part of my trip, visiting Padawan and the Bidayuh people. Fun fact the Bidayuh used to be head hunters. Padawan is a great place to walk around and everyone is very friendly. I visited just after the world cup, and we had an impromptu football game with some kids against some French. We beat the French. That is all.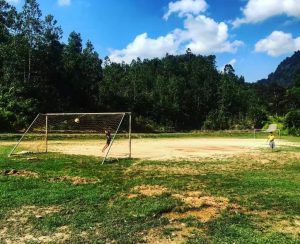 But it was at night that the Padawan jollies kicked in. Our local hosts at the homestay had arranged a cooking class, and a literal feast, which was frankly amazing. Following dinner, I had the classic problem when you're the kinda guy I am and you're hanging out with nice family folk. I didn't fit in. People say smoking is bad for you. I'm yet to see any evidence. But bad for you or not, smoking can be quite social. Whilst smoking outside of the house I was invited over to the Bidayuh man table where I was presented with the "non-tourist" food, which included possum and a jungle cat that may, or may not, have been endangered, of course, washed down with the local moonshine. One of the coolest parts of this was that as opposed to how we drink, they do it with one cup passed around, with you doing shots until you can't take anymore. I was the last one standing, might I proudly add.
On the next day I was presented with two options – a four hour round trip hike or hanging out with the chief head-hunter and going fishing and drinking some more. No prize for guessing what I chose! This proved to be a pretty epic day of fishing, swimming in waterfalls, drinking, riding motorbikes, drinking, and eating fresh durian. After my stay with the Bidayuh, I must say I now love durian.
So, whilst my research trip merely covered a smattering of what we plan to do on the tour, one of the things that really inspired me to want to run one was the unique and amazingly friendly former Bidayuh headhunters I met in Padawan if I can bring them some business, and let the world sees them and their culture, frankly why not!
---
Join us in April for our inaugural tour to Borneo!
About Post Author
.