Overnight in Sinuiju – Extra night extension in North Korea!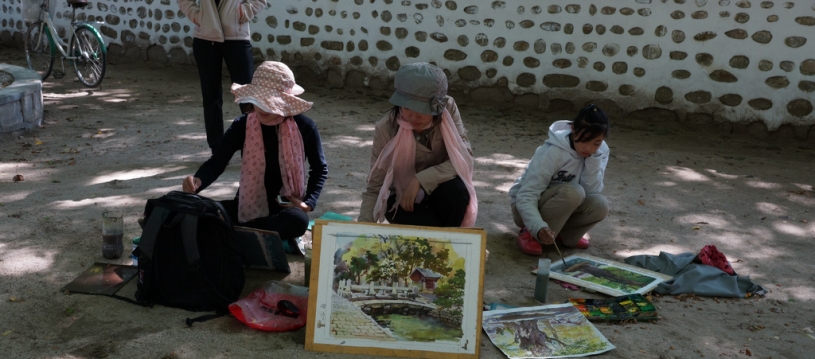 Would you like to be one of the first westerners to explore a newly opened city in the DPRK? Why not make the most of your trip to Pyongyang and visit North Korea's largest city along the border of China. Our Sinuiju overnight extension gives you the perfect opportunity to get a deeper look at local North Korean life outside of Pyongyang as well as a chance to explore Dongrim, a small remote town further south of Sinuiju.
During this tour, you'll visit Sinuiju's grand central square where the bronze statue of Kim Il Sung stands, watch an incredible children's performance at the local kindergarten, visit a revolutionary museum, visit a cosmetics factory, stop by a local folklore park to mingle with the locals, and walk along the river that divides Korea and China and much more!
This tour can be done as a standalone trip, or attached as an extension to a DPRK tour finishing from Pyongyang or beginning in Dandong. Unfortunately, tourists travelling on US passports are unable to partake in this extension due to restrictions against using the train within the DPRK.
Both towns are off the tourist map and are well worth checking out! If you have any questions please contact us.
1 person – 239 euro // 2-5 people – 195 euro per person // 6-9 people – 150 euro per person
Itinerary
Day One
Depart Pyongyang by train at 10:10am and arrive in Sinuiju at 3:00pm.
Your local Korean guides will meet you as you step onto the platform
Explore the large central square of Sinuiju and see the statue of President Kim Il Sung and General Kim Jong Il
Head to the local Folklore Park where there may be chances to engage in traditional Korean activities and some more modern activities too (extra charges apply for partaking in the local games, these will vary from game to game) or you can simply walk around and enjoy the scenery and watch the locals
Tour the Pomhayanggi Cosmetics Factory and meet some of the local workers that produce some of DPRKorea's most famous cosmetics
Head down towards Dongrim (1 hour) – Dongrim is the nearest town outside of Sinuiju, located south amongst the valleys of the east coast of the peninsula.
Dinner and overnight at the Dongrim Hotel – a brand new swanky hotel with a swimming pool. sauna, table tennis, massage, bars, karaoke, tennis, basketball and volleyball courts.
Day Two
Morning
Walk to Dongrim waterfall and explore surrounding valleys
Drive back to Sinuiju city on the way stopping at:
Sinamri Co-operative farm – we'll look out to where the locals grow rice, cabbage, chilli and cucumbers
Visit the mosaic images of the "Three Tigers of Mt. Paektu" Kim Il Sung, Kim Jong Il and Kim Jong Suk.
Visit the North Phyongan Province Revolutionary History Museum – This will go into detail about the history of the local province.
Afternoon
Lunch at Myohyangsan Travel Company Restaurant which also features a great souvenir shop.
Explore Amnok park and walk down to the Amnok River (Yalu River) and see the original Korean/Chinese Friendship Bridge bombed by the Americans during the Korean War. Very few tourist are able to view the bridge from the DPRK side!
Visit the Art Studio which holds over 250 pieces of DPRK fine arts in six large halls – some very cool and eye opening art pieces here!
Bonbu Kindergarten and performance – Famous for training the Children who perform in the skipping scene of the Arirang Mass games as well as its long history of training artistic performers. The performance here is the best of any Kindergarten in the country.
Board the 4:30pm bus and go through Korean customs to finish tour in Dandong, China. If you are adding this to an existing DPRK tour with us, the 6:30pm overnight train from Dandong to Beijing is included in the DPRK tour price.
Please note: if you're doing this extension from an Ultra Budget tour the overnight train from Dandong to Beijing is not included in the tour cost.
If you wish to stay the night in Dandong or to have a day tour to explore the city of Dandong, please contact us.