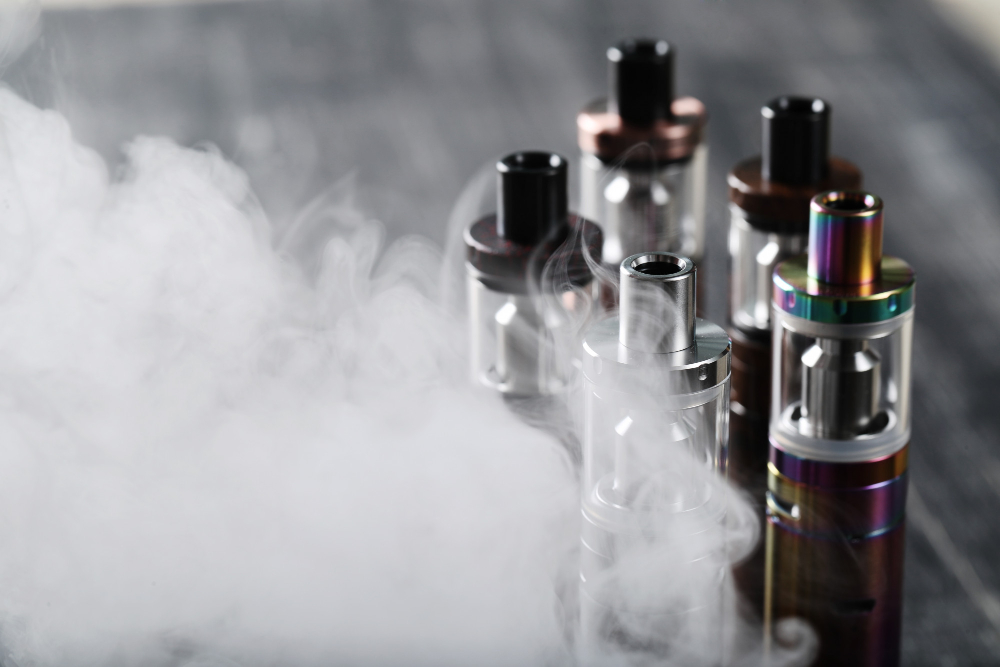 If you are one of the many vapers looking forward to a trip this year, you might be wondering about the laws for travelling with your e-cigarette and e-liquid. While it may be clear to some, several airports and airlines have just recently begun releasing formal guidelines for travelling vapers, with many others remaining hazy.
Various airlines, airports, and destination nations have different vaping policies, which you should be aware of while planning your next trip. The vaping experts at EDGE Vaping outline the rules of vaping while travelling by plane to help you travel with confidence.
Can I take my vape on a plane?
You can bring your vape on a plane but there are certain guidelines you must follow. Importantly, you must bring your vaping equipment in your carry-on hand luggage.
If you try to pack one in your hold luggage, the scanning machines will almost likely flag it, and employees will have to pull you aside, causing delays. E-cigarettes are not permitted in the cargo hold of any major airline you are likely to fly with. This is due to the lithium-ion batteries.
Lithium-ion batteries power e-cigarettes, as well as many other popular devices such as your laptop or phone. Since lithium creates a fire danger, no items containing it will be allowed to be stored in the hold. You will be asked to keep your e-cigarette with you and attend to it for the length of your travel.
Therefore, if you have to bring your vaping device in your carry-on, you will not want to tote along a bulky box mod. Before you travel, consider purchasing a tiny travel-friendly vape with pre-filled magnetic pods in devices, which are just 2ml in capacity. Purchasing from a reliable vaping products seller will give you the peace of mind that you are under the liquid limit, that your device will not leak, and that you can easily replace the e-liquid.
Rules on Vaping Devices on Major Airlines
While you should always check ahead to verify you are in compliance with the laws and regulations of your chosen airline, here are comments from some of the largest you are more likely to travel with:
"All electronic cigarettes and a maximum of two backup batteries in a carry-on and on one's person," Easy Jet says.
"Electronic cigarettes may be brought in hand luggage but must not be used on board," according to British Airlines.
"All Emirates flights are non-smoking, and this includes the use of e-cigarettes. E-cigarettes are not permitted on Emirates flights."
"Electronic cigarettes are a gadget that look like a cigarette and operate by producing a vapour that includes nicotine," says Virgin Atlantic. "The usage of electronic cigarettes is not authorised on our plane."
"The usage and charging of all e-cigarettes and other personal vaporisers are not authorised on board an aeroplane," according to Qantas Airlines. "They must be transported as hand baggage."
Can I take my e-liquid on a flight?
You can carry e-liquid on your trip, but much like any liquid, there are some things to keep in mind to avoid issues. The most essential thing to know is that the volume of e-liquid you bring in your carry-on hand luggage will be counted towards your overall allowance.
Most airlines enforce a 100ml maximum restriction for bringing any type of liquid that is not checked into the hold – though this may be extended to two litres from 2024. Take additional precautions if you are travelling with only hand baggage, such as for a short weekend away; you do not want to have to choose between your e-liquid and your toothbrush.
But, you can check in a lot more e-liquid refills in your hold luggage. If at all possible, prepare ahead and bring your refill bottles in your hold luggage rather than your carry-on. If you just have hand baggage, bring a smaller 10ml e-liquid rather than a shortfill, which will leave you with virtually no room in that little plastic bag for other, more important liquids.
Remember, if you do bring e-liquids in your hold or even hand luggage, keep them in a zippered bag of some kind to safeguard your other luggage. The abrupt variations in air pressure experienced while flying can cause devices and refills to leak.
Can I fly with a disposable vape?
Disposable vaping devices have grown in popularity in recent years in the UK. Many individuals would consider these devices as a potential travel vape because of their tiny and handy nature, especially if their other device is a bigger mod or similarly less-portable gadget.
Despite the fact that you cannot separate the battery and e-liquid-containing elements of these all-in-one gadgets, you can take them on holiday with you. As batteries cannot be carried in the hold of any aircraft by law, you will be required to carry them on as hand luggage like any other e-cigarette battery. You can bring many disposable vapes with you at the same time; just make sure the total volume of e-liquid does not exceed the 100ml restriction set by most airlines.
Most disposable vapes hold little more than 2ml of e-liquid, so you can pack quite a few in your see-through bag with your other necessities and liquids and travel with ease.
Can I vape during the flight?
While some people may try to play the part of "cool kid on the bus" by sneaking a vape beneath their seat or into the plane's lavatory, it is forbidden and should never be attempted. The only reason you are permitted to carry it is to avoid the fire risk of keeping it in the hold.
The consequences vary in severity according to the airline and nation, ranging from lifelong bans to heavy fines and perhaps jail time. The majority of airlines have also put detectors in their on-board restrooms as well as other areas of the plane, so don't think you can get away with taking even one puff.
Can I vape at the airport before boarding the flight?
In most situations, after you enter the terminal, you will be unable to vape or smoke until you reach your destination and find a permitted smoking place. While many airports provide smoking and vaping zones, they are usually located outside of the terminal.
Several airlines do not explicitly post particular restrictions concerning vaping, so it is advisable to check ahead of time about their policies to avoid any unpleasant surprises. In general, if you treat your vape like a cigarette, the same laws apply to both. The open use of e-cigarettes has been prohibited in all UK airports.
If you are leaving the UK this year to go overseas and want to avoid any vaping gaffes, consult the chart below to see how the UK's busiest airports manage their vaping policies:
| | |
| --- | --- |
| Gatwick Airport | E-cigarette smoking is not authorised anywhere inside the North or South Terminals. Outside both terminals, designated smoking locations are plainly indicated. |
| Heathrow Airport | E-cigarettes are not permitted inside the terminal buildings. Outside the terminal buildings, there are designated smoking/vaping places. |
| Stansted Airport | Since August 2014, indoor e-cigarette use has been prohibited. |
| Exeter Airport | It is not permissible to use e-cigarettes within the terminal. |
| Belfast Airport | E-cigarettes can only be used outside the terminal's designated smoking areas. |
| George Best Belfast City Airport | E-cigarettes are not permitted within the terminal building, only outdoors. |
| Birmingham Airport | At the terminal, they are treated the same as traditional cigarettes, which means they can only be smoked in the outdoor smoking area. |
| Bristol Airport | E-cigarettes are only permitted in approved smoking locations. |
| Cardiff Airport | Electronic cigarettes are not authorised within the terminal. They are only permitted to be used in the authorised smoking areas outside the terminal at Gate 2. |
| East Midlands Airport | E-cigarettes have been prohibited within the terminal since August 2014. |
| Humberside Airport | E-cigarettes are not permitted to be used inside or outside the terminal. They are only permitted in the smoking area. |
| Liverpool John Lennon Airport | E-cigarettes are only permitted in designated outside smoking zones. |
| London City Airport | E-cigarettes are not permitted at the terminal or after passing through security. |
| Luton Airport | E-cigarettes are not permitted anyplace other than the smoking area outside the terminal, which is located outside the main door. |
| Manchester Airport | E-cigarettes are not permitted within the terminal. |
| Newcastle Airport | E-cigarettes are only permitted in the terminal building's smoking shelters and two more specified places after passing through security. |
| Southampton Airport | E-cigarettes are not authorised within the terminal or while going to or from the flights. These can only be used outside of the terminal and before passing through security. |
| Other airports | The airports of Edinburgh, Aberdeen, Durham Tees Valley, Glasgow Prestwick, Leeds, and Robin Hood do not disclose any information on their e-cigarette rules. |
Would my travel insurance be affected because I am a vaper?
Being a smoker may typically result in a higher premium in most insurance policies, from life to auto. This is due to the potential health dangers that a smoker faces versus a non-smoker.
Despite vaping being 95% safer, according to Public Health England, the vast majority of insurers from Aviva to Zurich, as well as comparison sites like Comparethemarket, all state the same thing: if you identify as a smoker, vaper, or use nicotine replacement products like patches or gum, you risk paying a higher premium.
About Post Author
.