Young Pioneer Tours are pleased to announce our travel the Philippines and our Philippines tours and travel packages fro 2023 and 2024.
One of the most beautiful countries in the world, the Philippines might not strike as your classic YPT venue, but believe us there is a whole heap more reading travel to the Philippines than just beaches – although we do enjoy them too!
Group Tours to the Philippines – Philippines Group Tours 2023-2024
We currently run three yearly group tours to the Philippines, our Cutud Lenin Rites Day Trip, our Extreme Philippines Tour, as well as Palawan Island Hopping. All very different and unique Philippines Group Tours!
Palawan Island Hopping Tour September 29th – October 8th – $1095
One of our favorites and indeed the best island in the world. Less adventurous than most Philippines Tours, but hey who does like a week drinking on a boat?
Cutud Lenin Rites Day Trip – March 29th-30th 2024 $115+
Our day or overnight trip where we literally watch people getting nailed to a cross. YPT not only get VIP access for this, but also press credentials for those that require it.
Extreme Philippines Tour – March 29th – April 4th $1195
As above, but we also continue to Angeles, Sagada, Baguio, Batac and w hole heap of other places, such as Smoky Mountain, the largest slum in the country. The Philippines is full of extremes, here we see them all.
Independent Travel to the Philippines
YPT are Philippines experts, so if you require an independent tour to the Philippines then please get in touch. Due to the vast expanse of the country and things to do here, we have not made a single example Philippines itinerary.
Instead we offer a number of options from which we can help design. Bespoke Philippine itinerary for single travelers, families, or groups.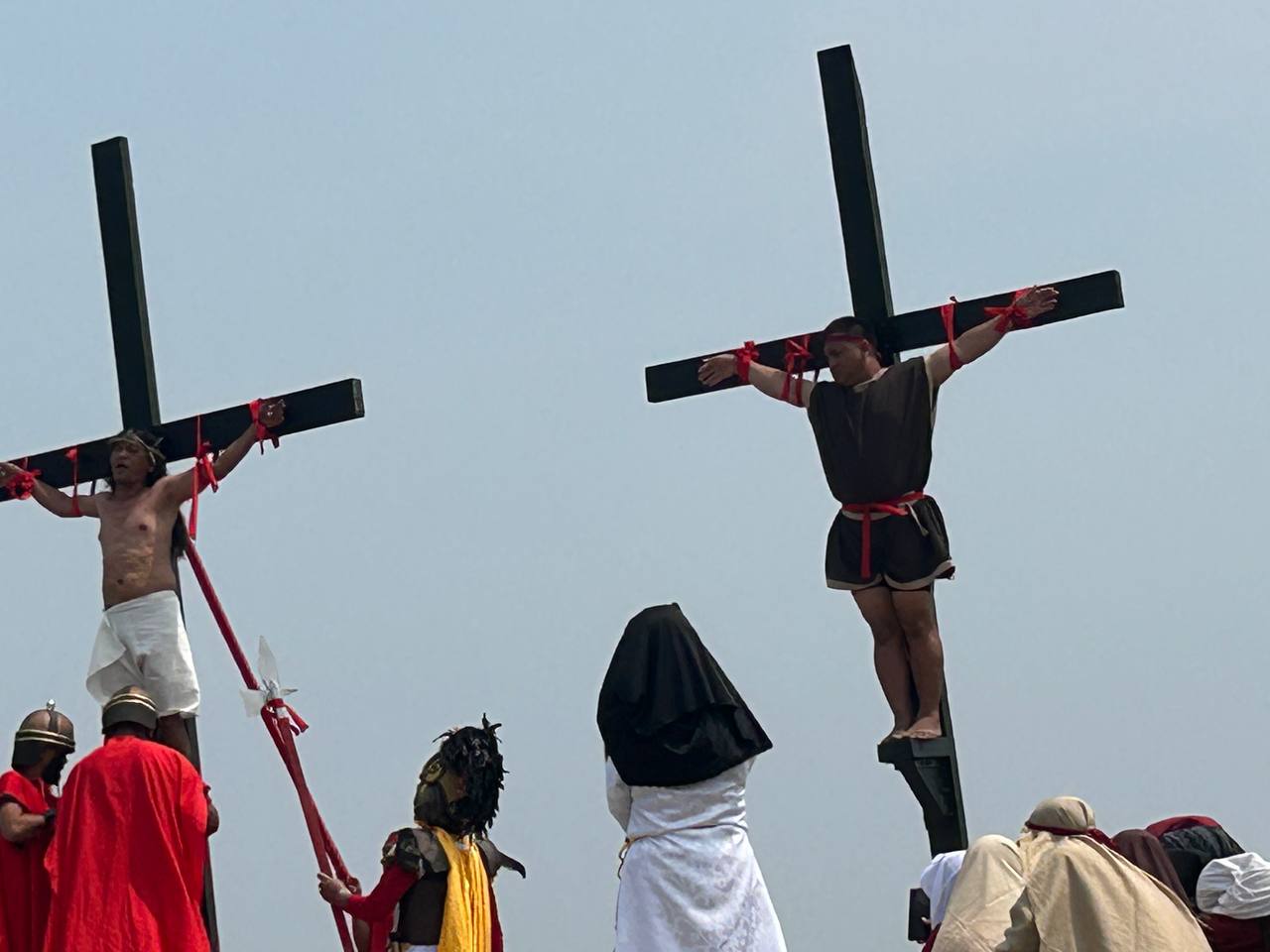 San Pedro Cutud Lenten Rites Festival
Since 2014 YPT have arranged trips to see the Cutud Lenten Rites Festival, a legendary event where people literally nail themselves to a cross every Easter! Not your average walk in the park.

We run a yearly group trip inclusive of VIP passes, and for those with accreditation media passes (contact us for details on this). We can also arrange private trips for groups inclusive of the above, and including guide, and driver.
Independent Travel to the Philippines
Below are some example of our independent travel to the Philippines packages and suggestions.
Extreme Philippines Tour – Our benchmark Philippines Tour, this takes us from Manila, all around Luzon and then back again. A trip that can be done all year round.
Palawan Island Hopping Tour – Palawan is constantly voted the best island in the world, and we can see why. We can arrange all facets of island hopping here, as well as other fun things that can be done on Palawan.
Philippines Political Tours – We can arrange trips hat go into the Muslim region governed by the Moro Islamic Front, as well as that ruled by the New Peoples Army. Tours of this nature are sedative and need to be arranged in advance.
World War Two Tours to the Philippines – YOT can run tours to the Philippine themed around World War 2 and the battles fought here. Get in touch for more details.
Countrywide Philippines Tours – YPT can arrange trips to the Philippine stop pretty much anywhere and well everywhere. This can be to a specific place, or quite literally to the whole country – let us know what yo9u want to see in the Philippines and we will do the rest.
Manila Sum Tour – YPT can arrange exclsuive entry into the main slum of Manila, Smoky Mountain. This is not done in a safari fashion, but to gibe donations and to learn what life is actually like here.
Cockfighting in the Philippines Toirs – While we neither condone, nor oppose cockfighting it is a cultural part of the Philippines. Want to see it? We can arrange it.
Philippines Party Tours – If you want to let your hair down in the Philippines then let YPT arrange your party for you
Private Island Tours in the Philippines – YPT can arrange stays on privaye islands in the Philippines from deluxe to simple camping. Believe us, we know a thing or two about private islands, .
Frequently Asked Questions (FAQs) about the Philippines
The following are some of the most asked of the most asked questions by people wishing to travel the Philippines. If your question is not here then get in touch with one fo our Phlippines travel experts for more information.
How safe is it to travel to the Philippines?
Despite the recent "war on drugs" the Philippines is still an extremely safe to travel to on the whole. That being said there are instances of crime, and much like anywhere else in the world common sense and vigilance should prevail. Young Pioneer Tours will give a full rundown on the dos and don'ts for the country.
What is the currency of the Philippines?
The Philippines uses PHP, or the Philippines Peso. It generally floats around 50 – $1. USD, Euro, Korean WON, and Chinese RMB are easily exchanged at the numerous money changer facilities throughout the country. YPT can help you exchange money.
Are credit cards accepted in the Philippines?
Compared to other Asian countries the Philippines is very credit card friendly, taking VISA, MASTERCARD, JCB, UNION PAY, and even American Express. Local cash can be withdrawn from ATMs at fixed fee of 200 PHP, or around $4 per transaction.
Are there any cultural sensitivities I should be aware of?
The Philippines is a staunchly Catholic country, and as such Churches should be treated with due respects, and you should wear the correct attire. People tend to dress slightly more conservatively in the Philippines, although skirts and shorts are more than acceptable.
Is there any risk from terrorism in the Philippines?
A sad reality is that there is probably nowhere left on earth that is immune to some form of terrorism risk. Abu Sayef and ISIS are active in the Moro region of the Philippines (where we do not run tours), and there is an ongoing civil war with the Maoist NPA, or New People's Army, although we tend to not visit areas of either activity.
Will I have a local guide on my Philippines tour
All of our group packages have a western and a local guide. If you book an independent Philippines extravaganza then you will just have a local guide. All of our guides are fully bilingual. Tipping your local guide is completely optional, although if you do decide to tip, we suggest $5 per day per person.
What group Philippines tours do you offer?
We currently offer a Cutup Lenten Rites day trip package, an Extreme Philippines Package, and our famous Palawan Island Hopping Tour.
What independent Philippines tour packages do you offer?
You can check out our independent tour packages here, but we can run trips based around all of our group tours, or completely bespoke travel to anywhere in the Philippines, completely tailored to your needs, and budget.
Why should I book a Philippines tour with Young Pioneer Tours?
Young Pioneer Tours are about much more than just bussing you around to see stuff at a quick pace, we like to get off the beaten track, interact with the locals, and have lots of fun. No one shows you the side of the Philippines that Young Pioneer Tours does.
With Young Pioneer Tours everything is doable and customizable in the Philippines, simply get in touch and let us plan for dream Philippines adventure.