In today's fast-paced world, being prepared while traveling is essential. Whether you're embarking on a weekend getaway or a month-long adventure, having the right everyday carry (EDC) items can significantly improve your safety and convenience. These items include a multitool, a flashlight, a first-aid kit, a pocket knife, a water bottle, and a portable charger.
However, balancing preparedness and practicality is key to avoid being weighed down by excessive gear. When creating a travel-friendly EDC, it's important to choose compact, lightweight, and durable items. It's also important to consider the specific needs of your trip. For example, if you're hiking in the mountains, you'll need different items than visiting a city.
Here are some additional tips for creating a travel-friendly EDC:
Choosing The Right Card Holder: Streamlining Your Wallet
When traveling, minimizing the number of cards you carry while having easy access to your essentials is crucial. Opting for a card holder instead of a bulky wallet can help streamline your EDC. A card holder is a compact and efficient solution for storing your credit cards, ID, and essential bills. It keeps your items organized and accessible while saving valuable pocket or bag space. Look for a card holder with RFID-blocking technology to protect your personal information from potential theft, ensuring your data stays secure while on the go.
The Carry Guide: Essential Items for Your Journey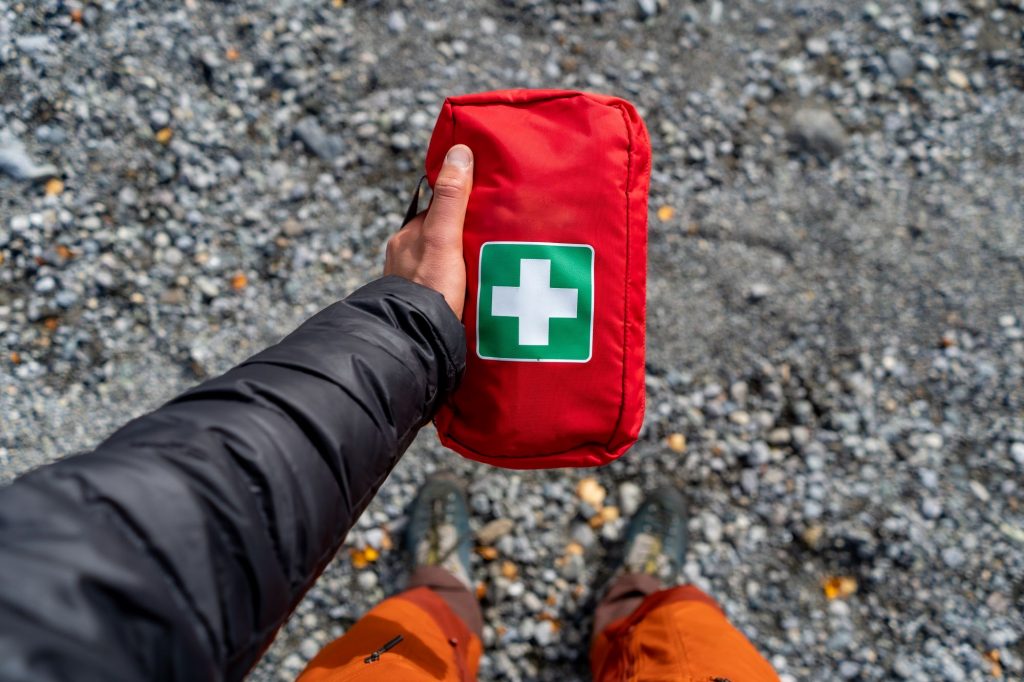 To ensure you have the right tools at your disposal, consider the following items as part of your travel EDC carry guide:
Travel-Sized First Aid Kit: Accidents can happen anytime, anywhere. When packing for your trip, don't forget to include a compact first aid kit that has all the essentials. Make sure to pack bandages, antiseptic wipes, pain relievers, and any necessary prescription medications to handle minor injuries or ailments that may arise during your journey.
Multi-Tool: A versatile multi-tool can be a lifesaver in unexpected situations. Look for one that includes a knife, scissors, screwdrivers, and other practical tools suitable for common travel needs.
Portable Power Bank: Staying connected is crucial when traveling. A portable power bank allows you to recharge your devices on the go, ensuring you don't run out of battery when needed.
Travel Adaptor: Depending on your destination, you may need a travel adaptor to charge your electronic devices or use them with different power outlets. Invest in a compact and universal travel adaptor to stay powered up wherever you go.
In addition to the items listed above, there are many other essential items that you may want to consider adding to your travel EDC carry guide. These could include things like a flashlight, a water bottle, a pocket knife, a pen, a notebook, and a travel lock. The specific items that you choose will depend on your individual needs and preferences. However, by carefully considering the items you pack, you can ensure you are prepared for any eventuality while traveling.
Packing Light: Essential Clothing And Accessories
Regarding clothing and accessories, packing light is essential for hassle-free travel. Consider the following tips:
Versatile Clothing: When packing, opt for clothing items that can be easily mixed and matched to create multiple outfits. It's also important to choose wrinkle-resistant materials to keep your clothes looking fresh. Don't forget to include items that can be layered for different weather conditions.
Quick-Drying Towel: A lightweight, quick-drying towel is a handy addition to your EDC, particularly for outdoor adventures or hostel stays. Look for one made from microfiber for maximum absorbency and fast drying.
Compact Umbrella: Weather can be unpredictable, so carrying a compact umbrella can save you from unexpected downpours. Look for a lightweight and collapsible umbrella that easily fits into your bag.
Traveling light is more convenient and can save you time and money by avoiding excess baggage fees and reducing the risk of lost luggage. Remember to prioritize versatile clothing items that can be mixed and matched to create multiple outfits, choose quick-drying towels made from microfiber, and carry a compact umbrella to protect you from unexpected weather. With these essential clothing and accessory items in your EDC, you can enjoy stress-free travel and focus on making the most of your adventures.
Securing Your Belongings: Safety and Theft Prevention
Keeping your belongings secure while traveling is crucial. Here are a few tips to enhance the safety of your EDC:
Secure Locks: Invest in sturdy padlocks to secure your luggage. Look for locks that are TSA-approved for hassle-free inspections when flying.
Anti-Theft Bag: Consider using an anti-theft bag with hidden zippers, slash-proof fabric, and RFID-blocking pockets to protect your valuables from potential theft.
Money Belt or Neck Wallet: For added security, consider using a discreet money belt or neck wallet to carry your cash, cards, and passport close to your body, reducing the risk of pickpocketing.
Traveling and exploring new places can be exciting, but taking steps to keep your belongings safe and secure is essential. Investing in locks for your luggage and using anti-theft bags can provide an extra layer of protection against potential theft. Using a money belt or neck wallet can also provide added security for your cash, cards, and passport, giving you peace of mind while you go about your adventures. By taking these steps to secure your belongings, you can relax and enjoy your travels without worrying about the safety of your EDC.
Conclusion
Creating a travel-friendly EDC requires careful consideration of both preparedness and practicality. You can ensure a smoother and safer journey by choosing the right card holder, including essential items in your carry guide, packing light, and prioritizing the security of your belongings. Remember, the goal is to balance being well-prepared and avoiding unnecessary bulk. With these tips in mind, you'll be ready for any adventure that comes your way. Happy travels!
About Post Author
.