A highlight of YPT's Soviet Europe calendar is September 2nd, the day when Transnistria declared their independence from Moldova after a brutal civil war. Arguably the most important day in the breakaway country's short history, no expense is spared on the annual party they throw to celebrate their independence day/national day, complete with one of the last Soviet-style military parades left in Europe. After our recent action-packed tour there, we decided to list the five best reasons to visit this separatist show of strength and independence.
Military Parade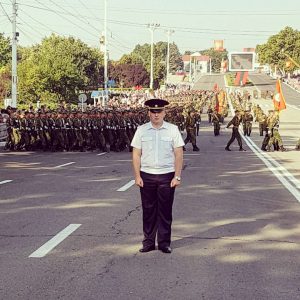 The day kicks off at 9am sharp. On the usually empty streets you will be greeted by a mass of armed, uniformed troops of the Transnistrian army ranging from Special Forces to female battalions. Each battalion is greeted by their commanders who drive around in a Soviet-era military jeep and the troops give their battle cry in response. Military music is played by the army orchestra as each troop marches past the spectators. While once frowned upon, it's now permitted to photograph as much as you like.
Cossack BBQ
After the parade, what better way to celebrate lunch with fresh lamb or pork shashlik (kebab) cooked over an open grill and accompanied by dancing Cossacks? Every year the Transnistria Cossack battalions throw their awesome street party complete with traditional live music and historical displays such as sword- and gun-wielding troops from WW2.
Show of firepower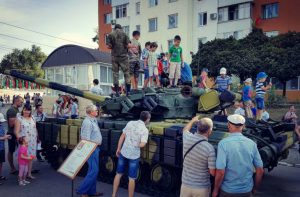 At each National Day celebration, it's not uncommon to turn a corner and be staring down the barrel of a Russian battle tank or an anti-aircraft gun. Rest assured; they're not expecting a surprise attack from Moldova, they're simply on display to show off the country's military prowess. In the morning the display rapidly turns into a playground for local children who can be seen cocking and dry firing heavy machine guns or using a tank's barrel as a climbing frame, but in the afternoon they have generally been dragged away by bored parents and the tanks make for better photos.
Traditional Street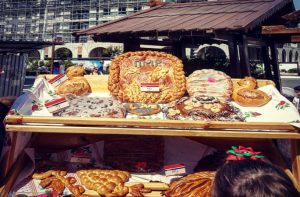 Running off the side streets of Tiraspol's main drag are a multitude of other festivities. One of them is the Traditional Street which features live music and a host of traditional food brought in from local farms around the area. This is the place to try incredible honey, fresh tea and yes, more kebabs. You can even buy a loaf of bread with the hammer and sickle baked into it.
Party Boat
Last but not least, the party boat! When the day's festivities begin to morph into night parties, there is only one way to kick it off. Tiraspol has two party boats illuminated in neon lights and blaring Russian dance hits. They are as tacky as they sound and make for an awesome booze cruise down the Dniester River. Entry is around $1 and you are free to bring as much of your own alcohol and food on board as you like. Onboard entertainment usually consists of the crazy drunken antics of local Russians. The trip lasts around an hour and you are free to stay on board for as many trips as you like for a dollar an hour.
When the boat trip is over, the aptly named ''MAFIA'' restaurant chain has an all-night karaoke party in the basement which never fails to entertain!
Join us in 2019 for our next Transnistria National Day tour which also visits Moldova's even less visited autonomous region: Gagauzia!
About Post Author
.