If you have more than a passing interest in North Korea or football stadiums you will have probably heard of the May Day Stadium and you may even have heard of the Kim Il Sung Stadium, but you need to be on a whole other level of geek to know anything about the Yanggakdo Stadium.
Fear not: YPT have a guide to the Yanggakdo Stadium!
When is the Yanggakdo Stadium used?
The May Day Stadium is the biggest in Pyongyang, but is rarely used for football, with the Kim Il Sung stadium being used more for international football matches. If for whatever reason, such as renovation, the Yanggakdo Stadium is third in line for hosting international matches. It is used as the home stadium for three Pyongyang-based football clubs, the most successful being April 25th Sports Club, Sobaeksu Sports Club (I once met the team), and Kigwancha Sports Club
Design of the stadium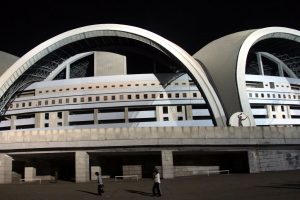 Very standard stadium design without any outstanding features. Has a decent capacity of 30,000.
History of the Yanggakdo Stadium
It was opened in 1989 at the same time as the Yanggakdo Hotel, and is considered part of the overall island complex. It formerly held a golf course, and still has a cinema.
Can you visit the Yanggakdo Stadium?
The location of the stadium actually makes it one of the easiest stadia in Pyongyang to visit. If you are staying at the Yanggakdo Hotel, have a polite word with your guides and you may be able to arrange to have a walk to and around the stadium. On private tours it is possible to arrange a private tour of the stadium, and if you are joining a tour that will watch a football match, there is a decent chance it will be held here.
About Post Author
.