All the ingredients were present: Cheap, cold beer. A repressive Regime. Beautiful women. An amazing landscape with an engaging history. And, as usual, difficult to visit.
Clearly, this recipe was uniquely created for a Young Pioneer adventure.
---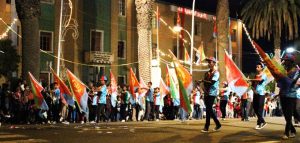 I was fortunate enough to partake in the inaugural trip this May to celebrate Eritrea's 25th anniversary of independence. Eritrea, a small country located on the Horn of Africa, is still a young country, having finally won its independence from Ethiopia in 1991 after a hard-fought and vicious 30-year war.
This three-decade smack down resulted in 230,000 casualties—a deep scar for a country of (at the time) only 3 million.
And—as it usually goes with countries fighting for independence—it has not been all rainbows and unicorns for Eritrea, pre- or post-war. During the European colonization of Africa, Italy staked its claim on Eritrea. While Italy made a significant effort investing in its colony, it also subjected the locals to brutal apartheid laws. After Italy's defeat in WWII, Eritrea was passed to the UK, and then placed in a federation with
Ethiopia. During the cold war, Eritrea was also affected by the whims of both the Soviet Union and the USA. Finally, after all seemed to be over and Eritrea was enjoying the fruits of its sacrifice and newly-gained independence, Eritrea and Ethiopia battled once more in 1998-2000, where 300,000 more lives were lost—another devastating blow.
Isaias Afewerki became Eritrea's first president upon independence and is still in power today. During the war of 1998-00, Eritrea transitioned into a one-party, cult-of-personality autocracy. Reporters Without Borders has ranked Eritrea dead last for the past 8 years in press freedoms. Eritrea also conscripts all of its citizens into mandatory service—some of them in perpetuity in near slave-like conditions.
Twenty intrepid pioneers—led by YPT guides Gareth, Shane, and Nat—touched down in the art-deco inspired capital of Asmara for eight days of exploration and festivities. Asmara was festooned with Eritrean flags and banners recognizing their 25th year of independence. Our group mingled and partied with the locals on the street. Impromptu bar crawls were a mandatory part of the evening as we consumed entire stocks of Asmara Beer at the local watering holes.
Asmara—with its pleasant climate at 7,000 feet—was known as "La Piccola Roma" (little Rome). Rome's influence on Asmara is quite evident in its architecture as well as the omnipresent pizza and cappuccinos. Another highlight was exploring the AK-47 guarded tank cemetery that provided a final resting home for hundreds and hundreds of vehicles.
The group then proceeded to the Red Sea on a brilliant and beautiful winding road through the mountains to the coast. We spent the afternoon on our own private island wading in the bathwaters of the Red Sea and gulping down beer. The following day we explored the port city of Massawa, strongly influenced from its time as part of the Ottoman Empire.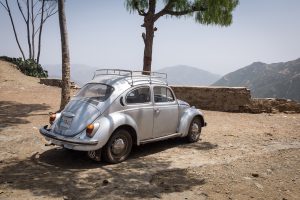 Despite the fact that it's a small country, Eritrea is incredibly diverse. Our next adventure included a visit to Eritrea's own 'Grand Canyon'. Spectacular beauty, clear skies, and soaring mountains that dip down into abyss-like ravines. Certainly not the mental image most would have when planning a trip to Eritrea, and yet, a highlight. Our own diverse group then headed into the depths of the ravine to view hidden rock paintings that are thousands of years old.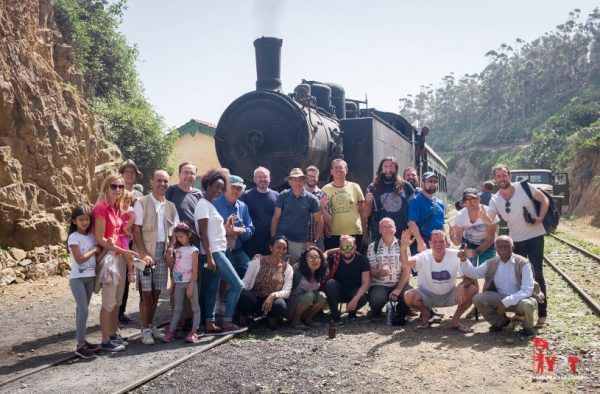 But we were not done yet. The brains behind the Young Pioneers had one more surprise in store for us: a historic train ride. Through a 40-year effort, the Italians constructed an amazing rail line from the coast in Massawa, passing Asmara, and ending in Biscia—over 300km in total. This line includes 65 bridges and 39 tunnels—an early 20th-century engineering marvel, to be sure.
We gathered on a sunny Sunday at the Asmara train station, marvelling at the ancient steam engine. The engineers shovelled coal into the engine, the whistle shrieked, and the engine along with one passenger car began slowly to chug down the tracks. We relaxed in our plain wooden seats, windows wide open, taking in the amazing scenery. We gaped as the train slid down the narrow track perched uncomfortably high in the mountains. Local children raced out to meet the train with grand smiles, and we were in awe. This was a truly unique experience.
Eritrea epitomizes off-the-beaten-path travel. Things move slowly and the red tape can be frustrating… but for those willing, you will be charmed and wowed with this country and its people.
Written by Ric Gazarian.
---
Experience the awe of Eritrea.
About Post Author
.