You've heard visiting Belarus is kind of like stepping back in time. In many ways, it is.
Before you wind up there on your YPT tour, you may be wondering if there's any vegan food back in time..? There is!
---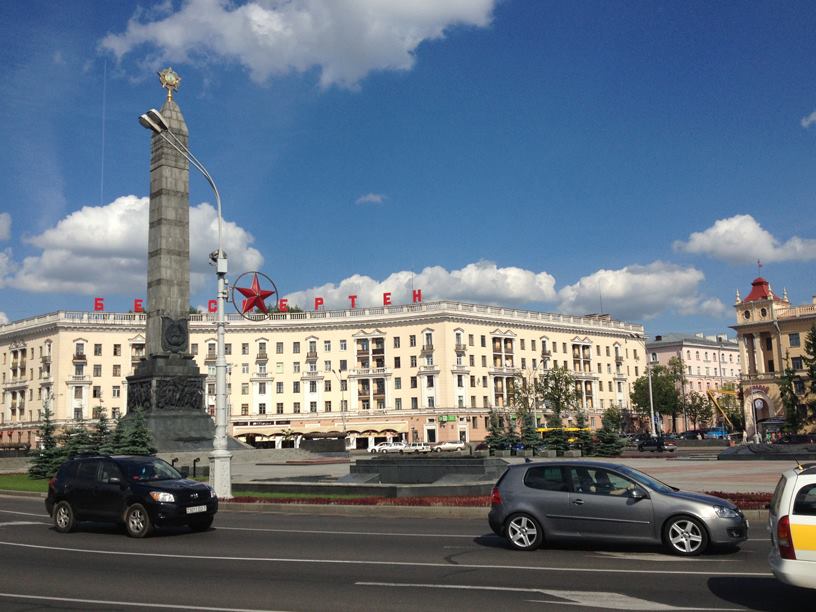 When I first visited Belarus in 2013, there wasn't much to be found. I was really lucky that I reached out to some locals via Couchsurfing to ask about vegan food, and I wound up getting the inside scoop on where to find options. I also attended the first-ever animal rights seminar in Belarus, because they were obviously key organizers and speakers for it.
Some of those spots have closed, and others have opened. Minsk has become much more vegan-friendly in these last 4 years.
Before you head to Belarus, here are some things to put in your toolbox:
Tell YPT that you're vegan. Their local guides are awesome with helping out vegans, especially when you don't speak the language. Let them help you out by telling them in advance.

Learn the phrase "Ya veganska". It means "I am vegan" in Russian, Belarusian, and Ukrainian. You may need to use it at some points.

If you don't have The Vegan Passport book, you should! Find it online, then order one. It has every language + pictures to communicate about vegan food, what you will/won't eat.
So, what's good for vegans in Minsk, Belarus?
When you arrive in town, pick up some snacks and such to keep in the hotel room or take on day trips outside the city.
Head over to Vegans.By (that's the name AND their web address for online orders) on the Northeast side of Minsk. They've got everything from snacks to kids' stuff, cosmetics and toiletries to organic foods. It's conveniently near the National Library, between the Moscow (Moskoyskaya) and Uschod metro stops on the blue line.
Another option is Vegetus, which is an all-vegetarian shop with lots of options for travel snacks, yogurt, mock meats and lots of sweets. Vegetus is in the Southeast of Minsk, but the metro doesn't head here, so you'll need to connect with a bus, depending on where you're coming from.
If you can't get to either of these, or you're somehow afraid of going outside, Bimal-Prasad offers delivery of vegetarian and vegan meals throughout Minsk. It's cash only on delivery, and you'll need to speak some Belarusian or Russian, but there's an online menu to choose from, so this could come in handy if you're ever in that situation.
Let's look at the restaurants:
In central Minsk, if you're looking for a nice meal out, Green Cuisine is your spot. It's near the Great Patriotic War Museum and the Palace of the Republic, so it's easy to find near the only station on the metro where the 2 lines come together (Oktoberskaya / Kastrychniskaya). The owner also speaks English, which is helpful.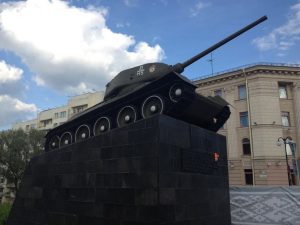 Monkey Food is a vegan sandwich shop in the Northeast of Minsk. It's not near any metro stations, but it's worth getting to for falafael, seitan & kebab sandwiches, as well as burgers, soups & great desserts! It's also open 7 days a week, but it's small, so seating is limited. If the weather is nice, get yours to go and enjoy in the nearby Druzhby Narodau Park.
Similar is Vega Burger, right near Oktoberskaya Plaza, which offers burgers, wraps & sandwiches, plus snack foods. It's inexpensive and centrally located, near all the sites you're going to visit. Cash only.
In walking distance from the Ploschad Yakuba Kolasa station is Om Namo, which is an all-vegetarian Indian restaurant. It's hidden in a basement, so look down—not up. The owner speaks English, understands veganism, and he'll even make you a vegan chai.
There's a great Tibetan+Indian restaurant called Jomolungma in walking distance from Ploschad Jakuba Kolasa metro station. The owner speaks English and can help you make vegetarian and vegan options. Note that the price compared to food is a bit high for the area.
Beetlejuice. I saved it for last. Walking distance from Park Challiuskinchay metro station, it's an indie café-meets coffee shop. When I went in 2013, the big chatter among vegans in Minsk was that this place has vegan desserts. They still do! There are many vegan and vegetarian options here, and the vegan ones are clearly marked on the menu, which is nice. They have burgers, hot plates, and desserts, obviously, and there are good tunes on the jukebox.
Other vegan can be found at the numerous 'pay by weight' buffets around the city. If you don't speak any Belarusian, these can be more comfortable when working with a language barrier. Slide down the line, pick items that are vegan, and ask for cheese if needed ("syr").
A food you might find on buffets or restaurant menus is Draniki. They're a potato pancake often served with sour cream on top, so it's easily vegan without that (they'll assume you want the cream on top and may ask if you want to add meat). They're delicious!
Other obvious staples are available around the city: falafel shops, veggie rolls at sushi restaurants and customizing a pizza. Vegans have been surviving on these things for years!
So, you thought it might be hard to find good vegan food in Minsk, but this is happily not true. As you step back in time to the uniqueness of Belarus, enjoy some great vegan food on your awesome YPT trip.
Click here for more tips and tricks on travelling as a vegan.
---
YPT are happy to accommodate any dietary requirement for our various tours. More often than not, it's easier than you think!
Click here for information on our tours, or contact us for more information.
About Post Author
.