Update: July 6th 2019
Yesterday, the leaders of the Pro-Democracy movements and of the military came out of talks lasting for two days. An agreement concerning sharing the power has come out of these talks, which was welcomed as a victory by the pro-democracy movement.
This deal could very possibly bring stability back to Sudan and put an end to both the protests and their violent repression as Sudan can finally move on and build a new system following the fall of former Sudanese President Omar El-Bashir.
Omer El-Digair, one of the leaders of a group representing the protesters said: "We hope that the formation of transitional institutions marks the beginning of a new era (…) We hope it is an era where we can shut off the sound of pistols and destroy for good prisons of arbitrary detention."
The two groups, the military and the pro-democracy movement, agreed that they would form a joint sovereign council which will over see the three-year and three month transition period, which should then be followed by elections. The joint sovereign council shall be composed of eleven people: five civilians, five members of the military and one civilian chosen by both the civilians and military. A military member will preside over the council for the first eleven months.
Meanwhile on the ground, both tourists and travel companies say that throughout the conflict, it was business as usual for travel and that once one left the zones of conflicts and of protests, he or she would find the same Sudanese, famous for their hospitality and kindness.
YPT is extremely excited to get the chance to visit Sudan as well as the unclaimed land of Bir Tawil at such an historic time and it seems like our tours, both our Sudan and Bir Tawil tour, will be allowed to go on normally. Our tour of South Sudan is also a go! (With very few spots left!)
June 14th, 2019
Two months after former Sudanese President Omar El-Bashir was dramatically ousted from power in a military coup, the situation in Sudan (and specifically Khartoum) remains tense. The Transitional Military Council (TMC), formed after El-Bashir was arrested, has been the subject of recent controversy after a military 'dispersal' of a civil-disobedience sit-in resulted in the deaths of an alleged 120 people. The TMC has since said that it "regrets" the incident and that "[…]some mistakes happened."
Whilst the Sudanese people are largely positive regarding the removal of El-Bashir, a great many people are still agitating for the TMC to step down and transfer power to a civilian transitional council. Tensions between the TMC and these civilian protestors are currently the primary source of tension in the country.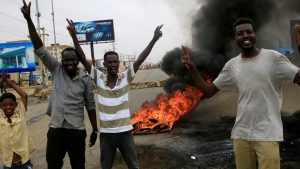 El-Bashir has since been charged with corruption and "possessing foreign funds [and] acquiring suspect and illegal wealth." The former President currently languishes in jail and awaits trial.
As the tense political situation continues to unfold in Sudan, YPT have been in touch with our local partners in the country to find out if travel is still possible. Our local partners have confirmed that they are still running tours and that travel to any places in Sudan outside of Khartoum will continue as normal. Khartoum itself is, indeed, still fine for tourism as long as we avoid certain areas. We are keeping abreast of the situation in the country and, should the political climate worsen, it may be necessary to cancel our tours to the country.
We will keep our customers apprised of the situation; please note that this will potentially affect not only Sudan but also our Bir Tawil extension. As per our terms and conditions, any customers who have already signed up for this tour will receive a full refund (minus a 50-euro administrative fee).
Please note, however, that our South Sudan tours continue unaffected. For any questions whatsoever regarding this situation, please contact us at tours@youngpioneertours.com.
About Post Author
.