GUIDED TOURS TO SOCOTRA – REPUBLIC OF YEMEN
Young Pioneer Tours are proud to announce our Socotra Tours for 2023 and 2024, as well as our Socotra independent tour options.
Suffering civil war, coups, revolutions and bombings in recent years, the Republic of Yemen is generally off the radar for tourists. Unless, that is, you know about the island of Socotra. Located between the Horn of Africa and the Arabian Peninsula where the Arabian Sea meets the Indian Ocean, Socotra is an ecological wonder. Alien landforms sit above beautiful beaches, and the archipelago is home to a diverse and often unique flora and fauna of which around 30 percent is endemic to Socotra.
SOCOTRA TOURS – GROUP TOURS TO SOCOTRA IN 2023 and 2024
Whether it's coming to a new and inaccessible country, exploring an ecological paradise, hiking, camping, spotting wildlife or having an in-depth experience of the Yemen – Socotra is a place for everyone.
Every facet of the Yemen visa process is taken care of by YPT for $150 – no need to send your passport away anywhere. The Air Arabia Abu Dhabi-Socotra chartered round-trip ticket is an additional $930 per person, which we also arrange for you.
TRAVEL UPDATE: As of 2024 and onwards all YPT Socotra group tours will commence and conclude in Cairo, Egypt. The chartered flights with Air Arabia have grown increasingly unreliable over the past years. YPT will now be flying with Yemenia Airways departing Cairo to Hadibu via Aden as this is the most reliable flight to arrive and depart from Socotra. The Socotra visa is $200 which includes your transit permit in Aden (mainland Yemen), and Yemenia Airways Cairo-Socotra round-trip ticket is $1145 per person, which we also arrange for you.
YPT 2023 and 2024 Socotra Tours
Socotra Yemen Island October Tour – October 10th – 17th $1745
Our first tour after the windy season has abated in Socotra, so again a great time to visit Socotra. One of our most popular Socotra tours and one which fills up very quickly!
Socotra Island Yemen November Tour – November 17th – 24th $1745
With the season back in full swing we are once again. This trip again features all the best elements of all of our Socotra Tours and again tends to fill up very fast.
Socotra Island Yemen December Tour – December 5th – 12th $1745
Our very last tour of 2023 to Socotra, before Christmas and again one of the best times to be on this unique isolated island.
2024 Socotra Tours
Socotra Yemen Island January Tour – January 21st – January 29th $1745
Our first tour of the year to Socotra, this has us hitting up all the major sites, as well as the hidden gems that only YPT know about.
Socotra Yemen Island March Tour – March 10th – 18th $1745
For the uninitiated Socotra is a deeply Islamic place, so we head here where the weather is cool.
Socotra Yemen Island April Tour – April 14th to 22nd $1745
This is also our last tour before the famous windy season of Socotra begins closing the island down for tourism until October!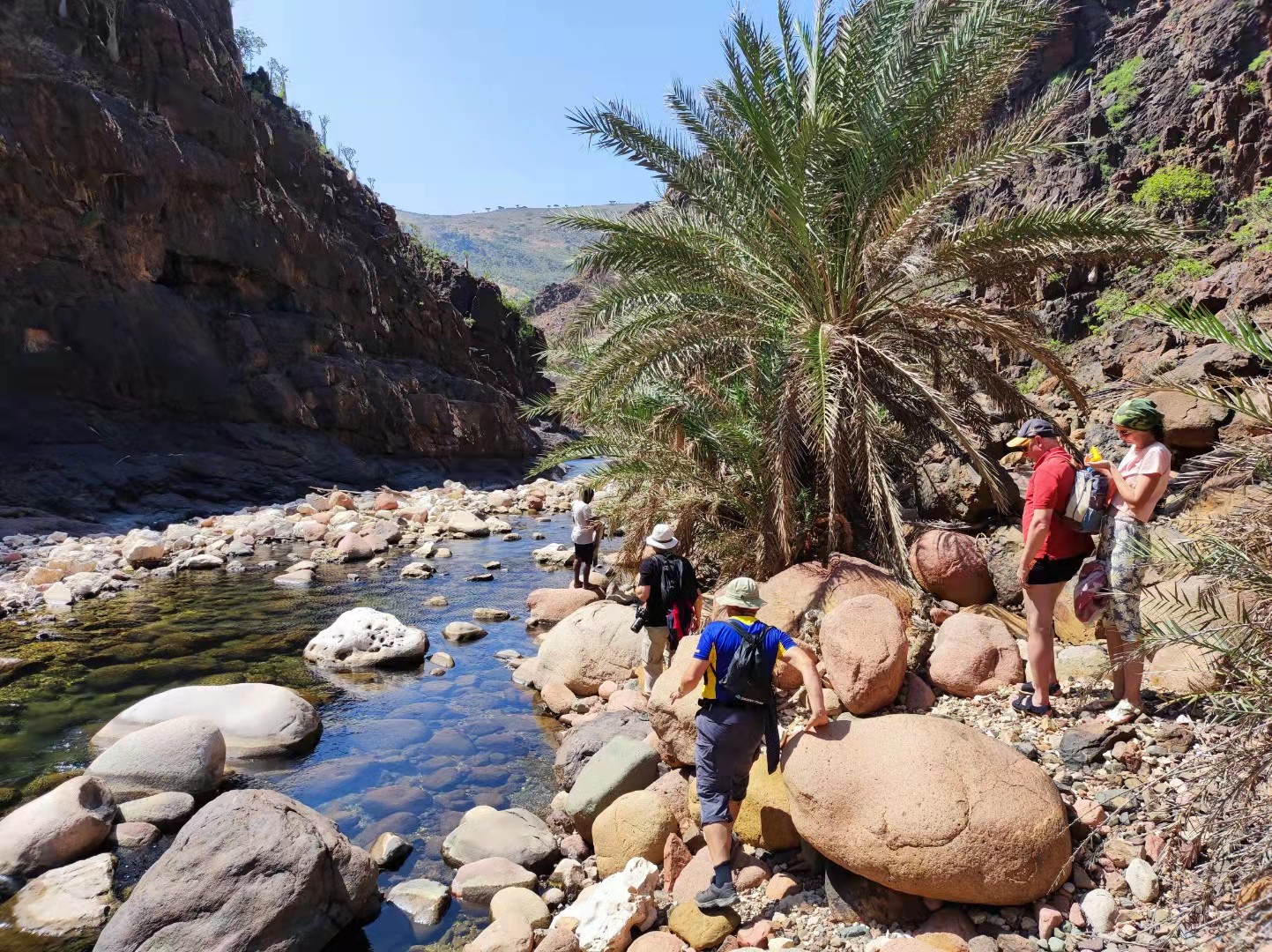 INDEPENDENT TOURS TO SOCOTRA
In case our dates do not fit yours, you would like to travel alone, or you would like a bespoke Socotra itinerary then Young Pioneer Tours can help arrange the perfect Socotra tour. Prices depend on the number of people and what level of accommodation you require, but YPT can arrange everything you require for an independent tour to Socotra. You can choose to fly Air Arabia or Yemenia Airways.
Independent Socotra Tour examples
We do not list all of our bespoke Socotra itineraries, but can offer some examples, such as the following;
Diving in Socotra tours – Diving can be added to any itinerary, even group tours, but with an amazing amount of aquatic beauty we can offer scuba diving specific tours to Socotra.
Family Socotra Tours – Socotra is a family friendly place and we can arrange Socotra tours for families. Please let us know the age of your children and we will help plan the perfect Socotra tour for you.
Cultural Socotra Tours – While all of our tours to Socotra have a cultural element we can also plan things around certain elements of particular interest, be it religion, or anthropology for example.
School trips to Socotra – We can also arrange school trips to Socotra for student groups, although these are most suited for teenagers more than younger children. If you are a school, or university that would like to arrange a Socotra tour please get in touch.
Scientific tours to Socotra – With the unique wildlife, flora and fauna found in Socotra we can arrange Socotra tours specifically designed around this. Get in touch so that we can arrange everything regarding your project.
Two week tours to Socotra – With the flight situation as it is tours can be one week, two, or theoretically longer! While three weeks would be a bit if push there is certainly enough to warrant a two week Socotra tour. Again get in touch for options.
Socotra Tours for journalists – Much like other countries in the region journalists wishing to do a story about Socotra, or the island need a special visa. YPT can arrange Socotra Tours for journalists, please get in touch to discuss requirements.
Fishing Tours to Socotra – Socotra offers some of the best and untouched fishing in the world. We can arrange fishing tours to Socotra to suit all needs and, or budgets. This includes utilizing local fishing boats for budget tours, or chartering bigger boats for more intensive fishing tours to Socotra.
SOCOTRA TOURS SAMPLE ITINERARY – 8 NIGHTS, 9 DAYS
The following is the standard itinerary we use for our Socotra tours. This tour can bs used for independent tours to Socotra as is, or modified to include, or exclude certain activities.
Day 1 – Cairo (Egypt) – Aden (Yemen)
Depart 10:30pm on Yemenia Airways at Cairo International Airport Terminal 1 (CAI) to Socotra (Yemen)
Day 2 – Aden – Hadibu (Socotra) – Ayhaft Canyon National Park – Delisha Beach
Morning
Arrive 3:00am into Aden Airport, and depart again at 7:00am
Arrive in Habibu, Socotra at 10:00am. Upon arrival you'll be greeted by our local Socotri guide who will accompany you for the trip.
Begin your drive to Ayhaft Canyon National Park where you can enjoy a short walk to stretch your legs after the flight and lunch.
Continue to Delisha Beach – a beautiful white beach next to the sea and a lagoon where you can enjoy the sunset and beverages
Dinner at the Delish Tourist Complex.
Overnight in your centrally located hotel in Hadibu
Day 3 – Homhil National Park – Arher
Morning
After breakfast you'll head for Homhil National Park – famous for its Dragon's Blood trees, which cannot be found anywhere else outside of Socotra. But that's not all: many other impressive forms of flora like the bottle tree and the cucumber plant can be found here. After an hour's walk you'll reach an amazing crystal-clear pool with a view over the whole southern part of Socotra.
Afternoon
Lunch
For those up for a hike may descend from the mountain on foot. Others may walk back to the car and be driven down towards the beach.
Drive to Arher
Arher is the meeting point of freshwater and saltwater, creating an impressive natural phenomenon. Over here you'll find some giant sand dunes.
Free to explore around the area on your own. Those up to the challenge may climb the 300 meter high sand dune found here.
Dinner and overnight in Arher.
Day 4 – Arher – Hoq's Cave/Raw Ersil – Dihamri Marine Protected Area
Morning
Breakfast, then after waking up next to the beach you may choose between 2 morning activities:
A steep hike to Hoq's Cave (4 hours). This is one of the most important spots on the island. OR:
Be driven to Raw Erisel, the meeting point of the Arabian Sea and the Indian Ocean and walk from there back to the camp.
Afternoon
Once everybody has returned from their chosen activity, you'll have lunch and drive to Dihamri Marine Protected Area. While the beach may not be so spectacular here, in the sea you'll find a great diversity of flora and fauna.
Here, diving and snorkelling are available (rental available, extra cost) or you can also decide to join the local fishermen for sea expedition!
You'll bring back freshly caught fish from the sea and prepare for the special dinner celebration in Dihamri.
Overnight in Hadibu Eco Campsite and partying!
Day 5 – Dixsam
Morning
Breakfast and begin drive to the Dixsam Plateau. This is the most famous spot for the Dragon's Blood trees, where you can also spot many rare birds.
Along the drive you'll stop for photos at Shehahon's viewpoint
Afternoon
You will have lunch in the village of Dixsam. Here you'll meet the head of the village who will happily tell more about his functions here and the situation of the people living on Socotra Island.
Stop at Wadi Derhur where you can take a walk. This used to be a famous camping spot, but sadly, after a major storm everything was damaged.
Hike through the beginning of Fermahin – a forest of Dragon's Blood trees.
Tonight you'll mingle with the people of a typical Socotri village!
Dinner and overnight at a homestay in Dixsam.
Day 6 – Dixsam – Zahek & Hayf – Dagub – Amak – Dixsam
Morning
Breaking and head out for a walk through the village accompanied by your new local friends, including a visit to the local garden, where they try to plant new Dragon's Blood trees.
Drive towards the Southern coast at Nogud.
Explore the cave of Dagub.
Stop at the big sand dunes of Sahek and Hayf at Amak Beach, where you can swim in the sea.
Afternoon
Lunch at the cave or at Amak Beach, depending on the sun.
Return back to Dixsam for dinner and overnight, surrounded by Dragon's Blood trees.
Day 7 – Qalansiya – Shuaab – Detwah
Morning
Breakfast and early morning drive to Qalansiya, the second largest city on the island.
You'll take an half an hour long boat trip to Shuaab, passing by huge rock formations and flocks of birds. If you are lucky you might spot a few dolphins!
Relax at the most beautiful beach of Socotra and meet the local goat herder, guarding his flock against the lupine hordes.
Afternoon
Lunch on the beach.
Upon returning to Qalansiya you'll drive to Detwah Lagoon.
Here you'll make your camp and you can walk around the big lagoon and see the amazing landscape.
Located by the lagoon is a hidden cave where Ellai, famously known as the Socotra caveman spends his days fishing, preparing aloe vera and goat skins. He's incredibly welcoming to your and will show you what he days on a daily basis.
Overnight camping at Detwah Eco-campsite.
Day 8 – Hadibu
Morning
Breakfast and return to Hadibu.
You'll spend the day on a city tour of Hadibu and learn more about life in Yemen.
Your first stop will be the women market (including its spice market) where you will get to see the kind of goods people barter on the islands.
You will then head to the fish market. Here the fishermen bring a cornucopia of sea creatures and try to sell them to make ends meet. This place can get very lively and you might catch some auctions!
Afternoon
You'll then head to the khat market; it is here that the stimulating narcotic — all the rage in Eastern Africa — is sold.
You will stop by the streets of the manufacturers of doors; these artists make ornate doors like those that can be found around many middle-eastern countries. They really make an art of it as each door is unique and is supposed to represent the family that lives inside the house it protects.
You finish your day trip popping by a local school where you meet students, as well as the teachers, and interact with them for a possible impromptu English lesson
Tonight is your last night in the faraway paradise, time to celebrate.
Overnight in our hotel in Hadibu
Day 9 – Habidu – Cairo (Egypt)
Breakfast, peaceful morning before catching your flight back to Cairo to board your 11:00am flight on Yemenia Airways.
Arrive into Aden at 2:00pm, departing again at 6:00pm.
Arrive into Cairo at 11:30pm at Cairo International Airport Terminal 1.
Tour concludes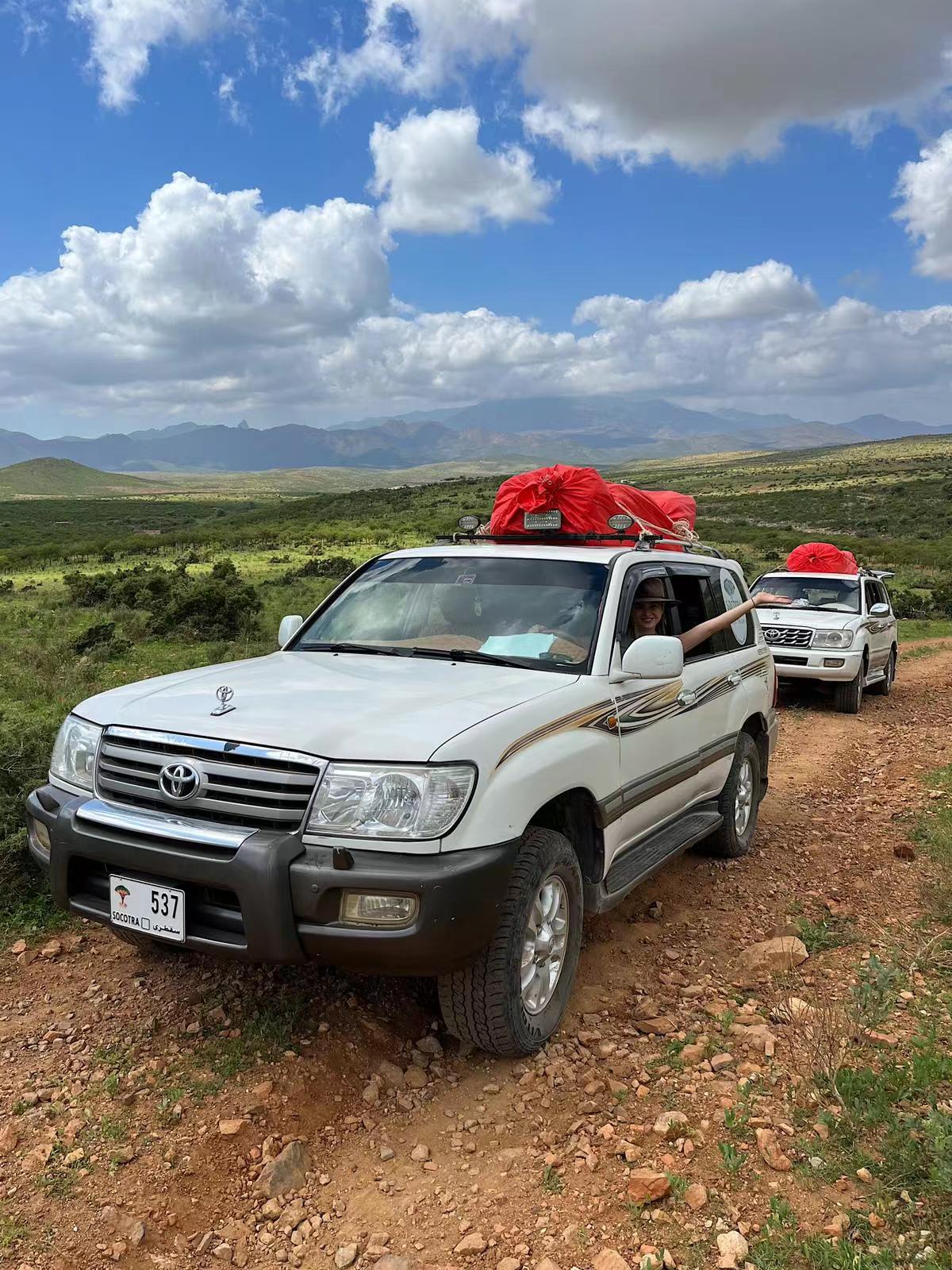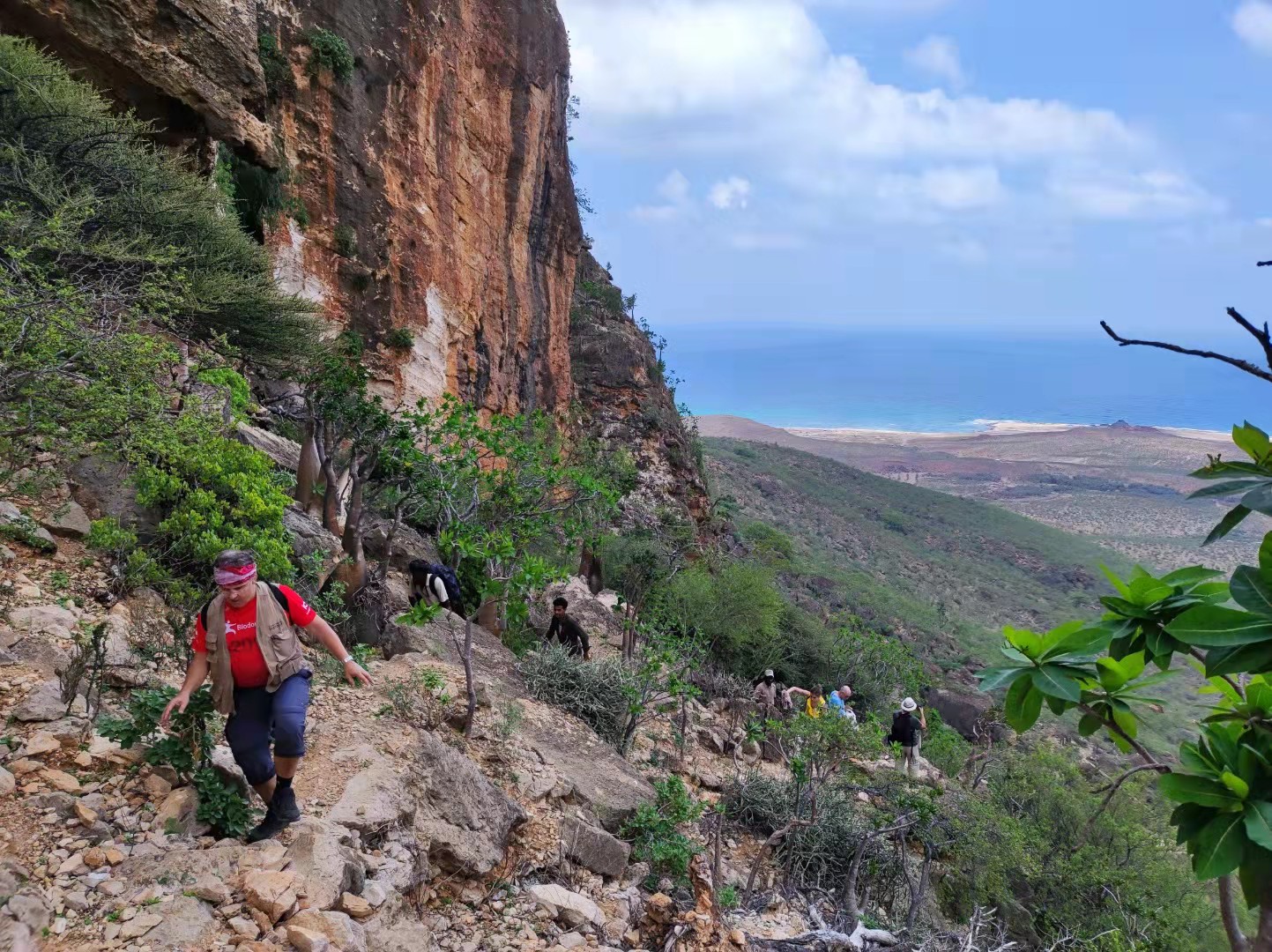 Frequently asked questions about Socotra Tours
The following are some of the most frqeuently asked questions about our tours to Socotra. If you have further questions then get in touch and talk to the Socotra experts!
Is Socotra safe?
Socotra is safe. The civil war on mainland Yemen has never come close to the island. Socotra is operates autonomously from the rest of Yemen.
When is the best time to visit Socotra?
The best time to visit Socotra is from October to May. The best possible months to plan your trip is during October, November, and February. The weather during those three months are not too hot with very little chance of rain which is perfect for hiking, camping and doing other outdoor activities, which is basically what you'll be doing the entire time on the island.
June to September is the infamous windy season which makes it incredibly difficult to be on the island so we advise against travelling during those months.
What is the best way to get to Socotra?
The best and most reliable way to reach Socotra is by Yemenia Airways flight that operates once a week from Cairo in Egypt.
What currency is used in Socotra?
Both USD cash and UAE dirhams (AED) are accepted on the island. We also give you the chance to exchange into Yemeni Rial in Hadibu – the biggest town on the island.
There are no ATMs and credit cards are not accepted anywhere on the island.
Is there any internet or cellular network on Socotra?
In Socotra there is WiFi at the Diamond Hotel, but very little data. The telecommunication company from the United Arab Emirates, Etisalat, has some towers across the island which offers some limited and spotty coverage in Hadibu, Qalansiya and close to the airport.
Is there any electricity on Socotra?
Blackouts are not as common as before on Socotra as the Emiratis have fixed the problem.
We will stay in a homestay where there isn't access to electricity or running water. You are advised to bring plenty of power banks to make sure you have all the power you need to take photos of the memorable things we will encounter and use your electronics during our stay.
As we will go camping, it would be well advised to make sure you can go on around 72 hours without plugging your electronics. If you have car adapters, it is well advised to bring them so that you can charge your electronics as we go.
Socotra commonly uses a mixture of pins such as the 3 round pin "euro-style" power points, the American style PowerPoint and even sometimes the UK-style power points. It is highly advised to bring a universal adaptor as the standard voltage is different from the ones found in Europe and America.
Do you cater for dietary requirements?
We cater for all dietary requirements! Our professional cooks that travel along with you will ensure you are well fed and energized for each day. This includes provisions for both vegetarians and vegans traveling to Socotra.
If you have more questions about traveling to Socotra then please get in touch.