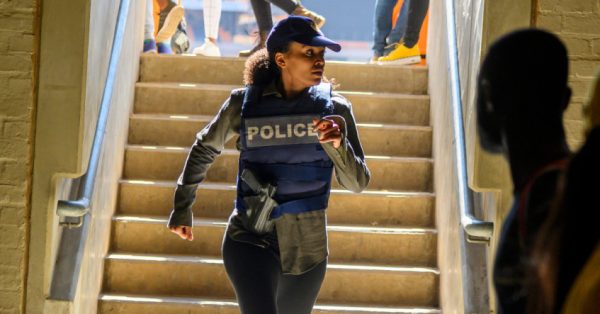 Queen Sono, a South African spy with unorthodox methods, facing a conspiracy involving Africa's secret service and the assassination of her mother, revolutionary martyr and South Africa's answer to Thomas Sankara, decides to solve the case her own way. This will take her through half a dozen African countries facing both an internal pan-African freedom-fighting terrorist ring as well as Russian neo-colonialists.
The plot is certainly not what Queen Sono will be remembered for. It is not very nuanced, nor does it reinvent the wheel. The troubled past of the heroine is intertwined into her current struggle with all of her allies and foes strangely linked to that past. In fact, the plot of this TV series is not dissimilar to the kind of local productions played on a bus taking you, say, from Dar Es Salaam to Harare. What is empowering here is not that this story will revolutionize the world of storytelling but that an African production team has had the tools to rival most Western mainstream production and re-appropriate those tools to tell their own story. When it is seen like that and its particularity is taken into account, Queen Sono can be thoroughly enjoyed.
While the plot is not great, this trip takes us on a love letter ride through Africa. Through its fast-paced travel through southern and central African locales, the lovely melody of myriad African languages being spoken throughout the series and its characters who will resonate with the speeches you might have heard while travelling in Africa, Queen Sono really has something unique to bring to Netflix's programming.
The series is very well filmed, fast-paced and aesthetically very pleasing and takes you for a nice quick ride in six hours. The cast's talent can be unequal at times, with the lead actress outshining certain of her fellow actors, but again, even at those times, it kind of adds something to it. While the plot might be not that nuanced, it does dig into contemporary issues faced by Africa in a refreshing way. That the story is told by Africans makes the most difference in its portrayal of the emerging African middle-class rather than a black or white portrayal of it. It also shed light on different issues in the continent, such as terrorism and corruption.
The emphasis on strong female lead characters is also something that should be celebrated. We can truly feel that the series was made in order to give African men and women some representativity in mainstream culture and that seems to have hit the mark.
Queen Sono is a 6 episode Netflix original series directed by Kagisgo Lediga and starring Pearl Thusi, Vuyo Dabula, Chi Mhende, Loyiso Madinga and Rob Van Vuuren. It has been renewed for a second season.
All in all, I'd definitely recommend giving Queen Sono a watch, along with those five other series, especially in those days where visiting Africa is sadly more difficult than ever. As soon as this is over, probably before season two is released, YPT shall take you to Africa once more!
About Post Author
.