Oman UAE Donut tour Description
At Young Pioneer Tours we are totally obsessed with maps and most notably enclaves and exclaves. One that has particularly grabbed our attention is located on the horn of the United Arab Emirates peninsula pointing towards Iran across the Gulf. An unusual exclave of Oman surrounding a small enclave of the UAE – thus forming a unique shape and what we like to call the Oman UAE donut.
Looking at the map you'll find the Omani town of Madha located within donut ring, with a population of only 3000 or so. The small UAE village of Nahwa is located within the very centre of the donut technically making Nahwa a counter-enclave to Madha's exclave. This all came to be as Madha swore allegiance to the Sultan of Oman, whilst Nahwa swore theirs to Al Qawasim of Sharjah, which is one of the seven Emirates of the UAE. Borders were established and drawn up in 1969 by British representative to the Trucial States and the donut was created!
Cost: $145 minimum 3 people required – costs include pick up / drop off at your hotel in Abu Dhabi, YPT guide/driver, lunch, and a donut!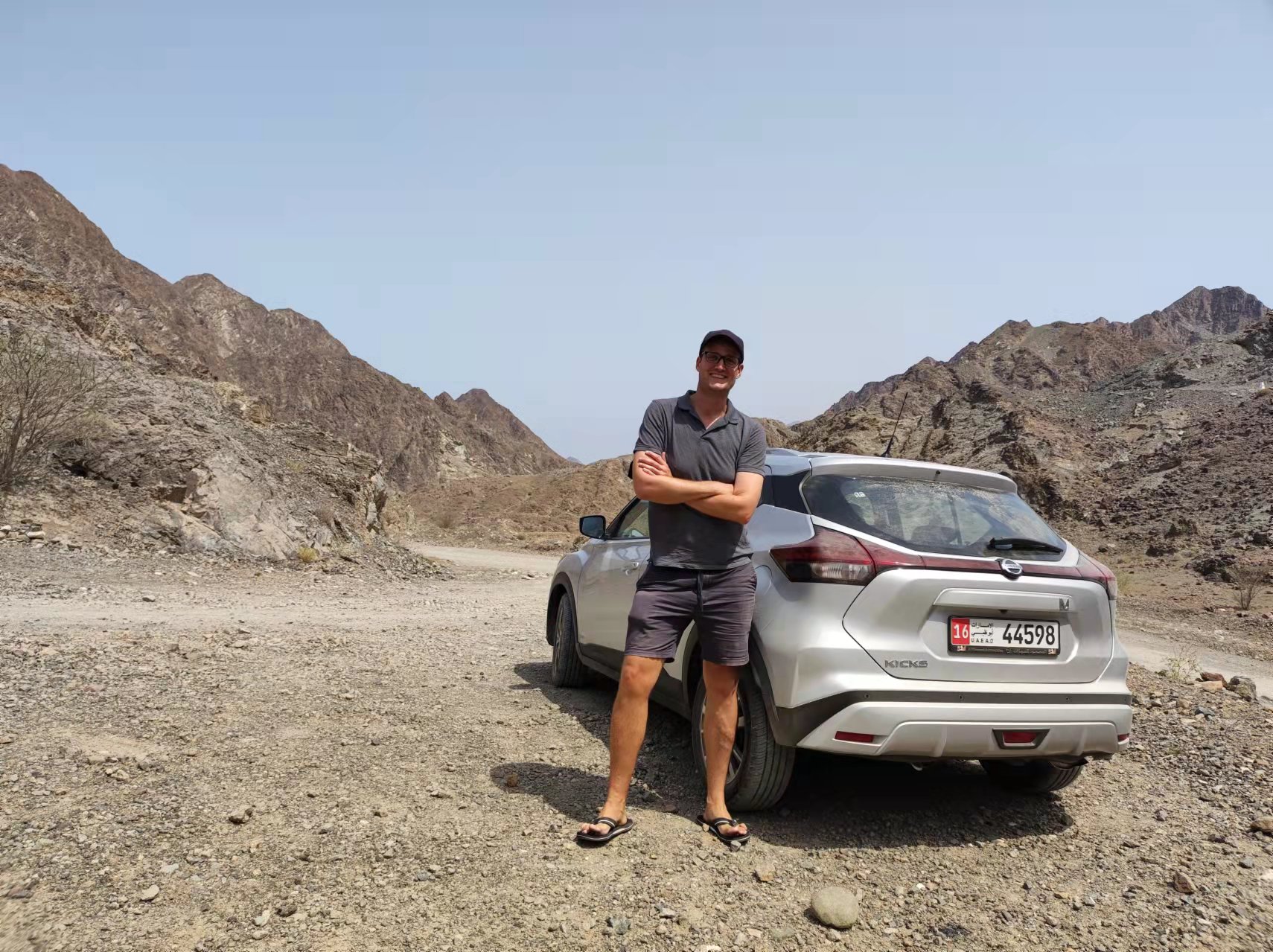 UAE Donut Day tour Itinerary
Pick up at your hotel in Abu Dhabi and head towards the donut (pick up time 10:30am, 250km drive, about 3 hours)
Before entering the Donut we'll stop at Wadi Shees within the UAE. It's a newly constructed park
with toilets, a coffee shop, a fake waterfall, and a lookout spot of the surrounding area. We'll have a picnic lunch here (included).
Enter the Omani ring – welcome to Oman! No immigration, no stamps, but yes you are technically in Oman! We enter from the under-developed side of the donut via off road to be greeted by.. nothing! The only way of knowing you're in Oman is by checking your GPS location on your phone.
We'll continue driving to enter the centre of the donut where we are back in the UAE! The small town of Nahwa proudly shows off many UAE flags. An administration building inside this tiny village displays portraits of the UAE leaders. We'll drive on to the epicentre of the donut to stop and enjoy eating a donut! (included)
Continue driving on and cross back into Oman – this time being welcomed with Omani flags and a portrait of the Sultan of Oman – Haitham bin Tarik. We'll stop here for photos.
Continue our way north to stop by a by a cave, and onwards to Madha – the village belonging to Oman. Here we'll visit the outside of the town's mosque and the artificial waterfall.
Drive to the top to Madha fort for your signature photo.
Before we return to Abu Dhabi we'll stop at Al Rafisah Dam – the damn was built in the 1980s in Wadi Shie, a seasonal waterway in the Hajar Mountains that runs down to the city of Khor Fakkan on the east coast of Sharjah, UAE.
Drive back to Abu Dhabi and dropped off at your hotel. Arrival ETA – 6:00pm.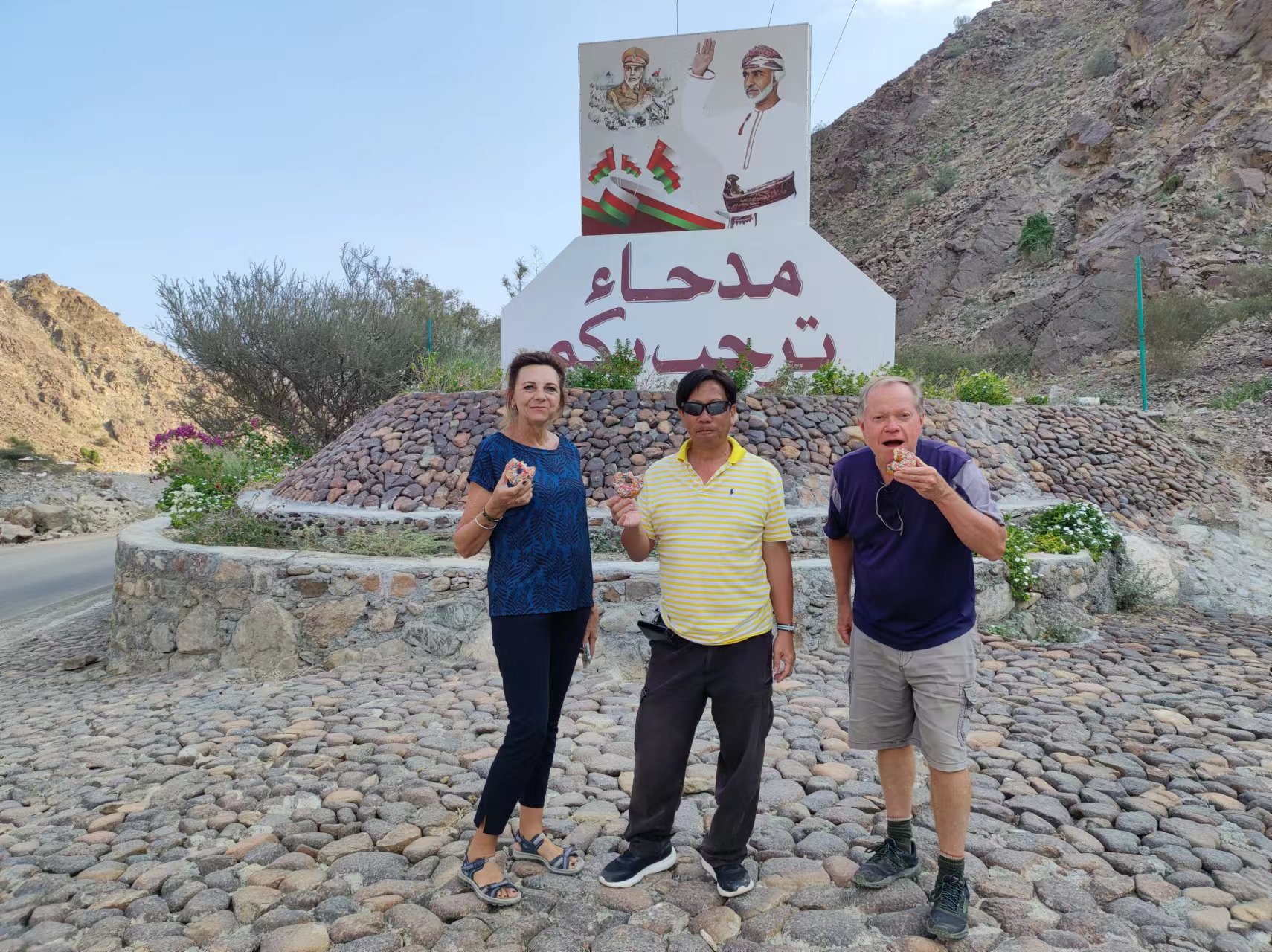 We can arrange your Oman UAE Donut tour on any day. To book your private tour contact us. This tour syncs best with us Socotra group tours.