Probably the most famous event of North Korea, the Mass Games came back last year and are set to happen again this year. You might have heard of them before, or even seen videos.  But what is it like, really, to spectate at the world's biggest show with the highest number of performers?
Last year I had the chance to see the Mass Games – entitled Glorious Fatherland – not once but twice. As if it wasn't enough, my first time was alongside (well, maybe 100 metres away from) none other than Marshal Kim Jong Un and other dignitaries from all over the world.
This event, which takes place in the world's biggest stadium, is highly anticipated and appreciated by the locals, who come in masses every night to watch the show. Rain or shine, last year the performance happened every night of the season. It is quite something to merge with that flood of people entering the stadium and, if one is early, you will also get to see the school kids who hold the panels in the back slowly fill the backseats like an ant colony. Once you are in the stadium, the sheer scale of the event is humbling.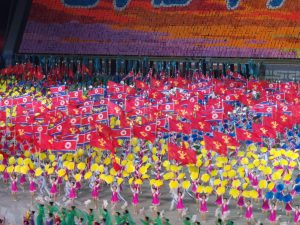 But, the word ''game'' might lead you to err and think it is some kind of competition; this couldn't be further from the truth. Actually, it has been rebranded as the Mass Gymnastics, which makes much more sense. When I say it is anything but a competition, it is because nobody is fighting against each other here, but every performer is contributing to a grand harmonious performance, each like a pixel (quite literally in the case of the kids holding colored boards in the back) in a grand projection. The idea, certainly, has deep communist roots. Here, you will not notice people standing out of the masses, with everyone wearing matching outfits and creating a mesmerizing, almost hypnotic effect due to the repetition of similar shapes and colours moving together.
The Mass Gymnastics are, of course, a testament to the power of the human body. Thousands of dancers – some of kindergarten age – somersault, jump and roll with clockwork precision. One can only wonder at the amount of time spent rehearsing this to such a level of military precision. But there's more than gymnastics. There is also martial arts, music, pyrotechnics, drones and drama all combined in a show which sums up the main lines of propaganda of recent years in the DPRK.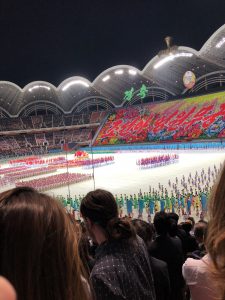 It is a spectacle of incredible dimension that can never fully be captured through a lens, and it is only by being there that one can truly feel the full majesty of the show. There is something to look at literally everywhere and even if you have the rare chance to see it multiple times, there is always something you hadn't noticed the previous time. When focusing on one performer, any performer, it is impossible not to be amazed by the precision of their movements and while it is possible to spot mistakes if you really look into, it is just statistically impressive to see so many people executing things perfectly at the same time.
This is a sentence that has been used to death, but the Mass Games is truly a one-of-a-kind-experience which can be compared to no other!
Even though they are back this year, it's entirely possible they won't be next year, so make sure to join YPT to see the show of a lifetime!
About Post Author
.