Here's our guide to the Street Food Scene in North Korea.
North Korean street food is quickly becoming a bit of a thing. Unlike in other Asian countries that have a capitalist or mixed economy street food is less of a big deal in North Korea than it is in say Cambodia, Vietnam, or indeed South Korea. But as things have started to change in the economy of North Korea street food vendors, both private and state-run have begun to pop up.
What are the street food specialties in North Korea?
There are a few different North Korean specialties, but in general north and south Korean street foods are not very similar. No savoury rice cakes I'm afraid!
A few dishes of note would be injo-gogi-bap which means rice with artificial meat, Sundae which are traditional Korean style sausages and lamb/pork bbq.
What is the best place to try North Korean street food in Pyongyang?
Kwangbok Supermarket
At the moment, the best place to try street food in North Korea is at Kwangbok Supermarket, which is the largest and most successful three-floor shopping mall located on the busy residential area of Kwangbok Street in Mangyongdae district of Pyongyang and a stop on all of our North Korea Tours.
Pictured above: An assortment of Street food dishes at Kwangbok Supermarket
Pyongyang Railway Station
Another very popular street food stop, though not very accessible to foreign tourists (Yet!), is outside of Pyongyang Railway Station. Here you will find bustling stalls packed with all the normal North Korean Street food dishes including an excellent jajangmyeon and curious locals.
Pictured above: Streetfood at the Pyongyang Railway Staton
Street Food outside of Pyongyang
Dongrim Hotel – One of our favourite places to stay in North Korea especially in the spring and summertime. During the warm summer months, this hotel arranges for lamb and pork bbq stands to be set up on the hotel's grounds, a great place to wind down a tour after a hike and swim in the surrounding area with a cold Taedonggang Beer.
Chilbosan Homestay Village – North Korea's only homestay village has some of the freshest locally sourced seafood in the entire country sourced from the Korean East which can be served in a variety of ways including fresh sashimi and the ever famous petrol clams.
It is also possible to try the famous Chilbosan Pine Mushrooms while staying at the homestay village. Chilbosan Pine Mushrooms are famous across North and South Korea for their health benefits and have been gifted from North Korean leaders to South Korean leaders during the Inter Korean summits in 2018, 2007 and 2000.
Pictured above: Fresh Seafood at the homestay village and Chilbosan Pine Mushrooms being cooked up in a locals house.
What does the future hold for North Korean street food?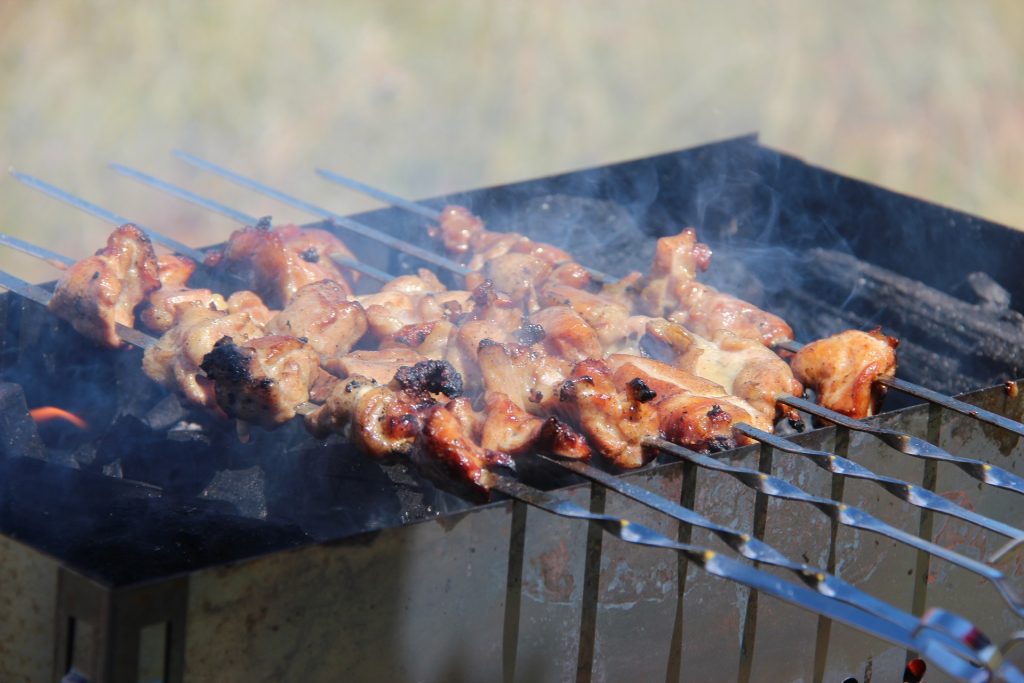 There really are few countries as interesting as North Korea. Whilst having a reputation for being stagnant, the truth is extremely different. One only has to look at the ever changing skyline of Pyongyang to realise that.
Thus the same goes for North Korean street food. Ten years ago it pretty much didn't exist, but now it really is a thing. Again we can look at how the food culture of Cuba has changed (and improved) since the economic liberalizations. We love street food and we love North Korea, the future looks bright for this combination.
To try North Korean Street Food for yourself join us on our 2021 North Korean Food and Brewery Tour!
About Post Author
.