During the recent Young Pioneer Tours trip to Greenland we were lucky enough to be part of the MV Hondius and its maiden voyage to Greenland. Spoiler alert: We liked it so much we'll be using it again to go to Antarctica in 2021.
So, what is the lowdown on the MV Hondius?
Here's the Young Pioneer Tours review!
How new is the MV Hondius?
The Hondius was launched in May 2019, so we were not on its maiden voyage, but on the last of the season to Greenland, and its first trip to the world's biggest island.
How big is the Hondius?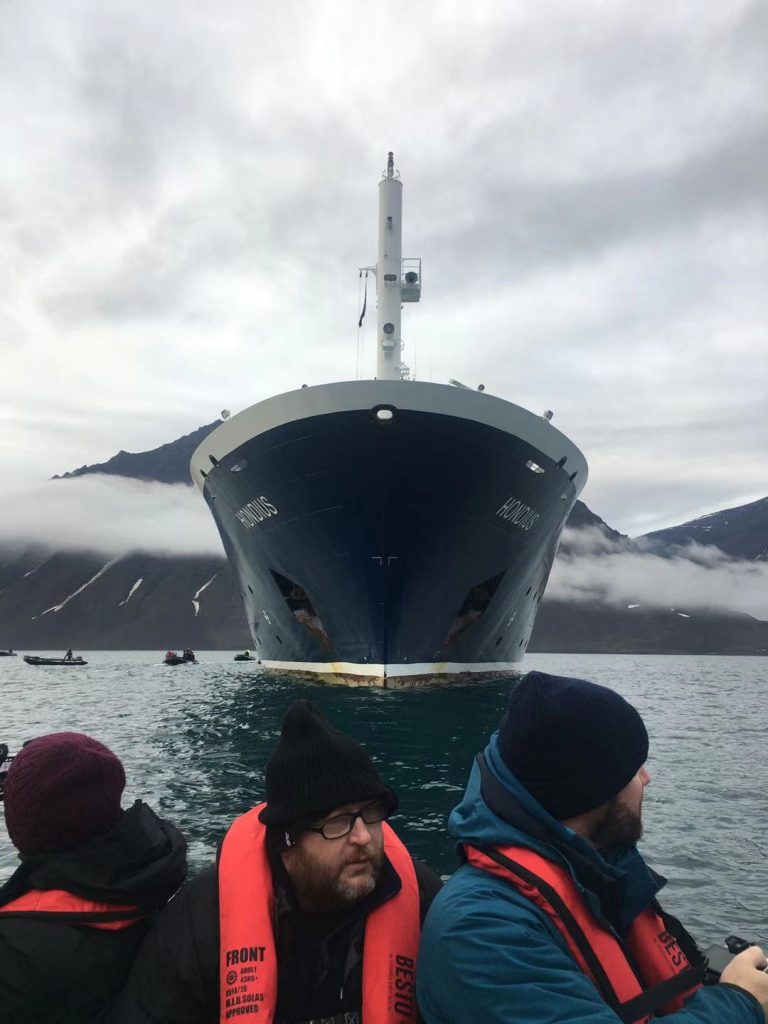 It has a capacity for 174 people split into 70 cabins, with about 50-60 crew. Most rooms are quads, but it has triples and doubles as well.
The layout and size is actually what makes the Hondius really cool. There's essentially 7 decks, but in reality, your lives exist from deck 3 to deck 5. Deck 3 is where most cabins are – and where you exit to the zodiacs – with deck 4 having the restaurant and reception, whilst deck 5 has the lecture room and, much more importantly, the bar.
What are the facilities like?
A great restaurant, lecture room, observation lounge (read bar), and lot of outdoor viewing areas to look at icebergs!
And the activities?
The Hondius has a fleet of zodiacs to take people out cruising, as well as kayaks, and even diving equipment. There are lots of opportunities to be doing stuff when aboard this ship.
How is the food on the MV Hondius?
If you're used to traveling with YPT to some of our weirder destinations, then you are going to be extremely pleasantly surprised by the quality of food here. Yes, it is still adventure travel, but it is also a fairly deluxe cruise ship. Three really meals a day, with you choosing what you want via the very diverse menu provided.
You can read more about eating and drinking on the Hondius here.
There's a bar you say?
The bartender on the Hondius was actually the same one as when Young Pioneer Tours visited Antarctica. Beers and cocktails cost between $3-4 – not only far cheaper than Iceland, but cheaper than a whole heap of countries.
This is indeed a very good point! Of course you can bring your own drinks on board, but due to the cheap drink prices it is certainly not a necessity. I'm also quite proud to say that the YPT team were very active on the MV Hondius social scene during our trip!
What are the cabins like?
Of course like most cruise lines they have a whole different array of rooms to suit your needs and budget. We got to check out some of the one bedroom suites on the upper-decks and indeed they were quite plush. If you go for the cheaper option, which indeed is very much the YPT way, then it tends to be 4 to a cabin.
There is amble space for storage, including your cruise based equipment. There is also a TV, which indeed shows TV channels, but it also gives ship based information, as well as views from the ship. Extremely good fun to wake up to.
Can you get online?
We think it is a great chance to not be online, but if you do need internet data is extremely expensive, although you can "rent" a mailbox for about $15 for the week.
Renting a mailbox means you will not be using your own e-mail address, but a ship one. Of course you can connect when the ship is near the Icelandic shore. Connecting in Greenland is pretty much non-existent though.
One would add though that this a great excuse perhaps to not be online! Much like North Korea, embrace this time. And if you are a blogger, there is plenty of time when you are at sea, where you can write and prepare yourself for when you get shore side.
Overall on the MV Hondius?
A great ship, which made our trip to Greenland frankly amazing. We are looking forward to our future cruises with Oceanwide Expeditions, but would happily use this ship again.
About Post Author
.