A bridge is often a thing of unity, of connectivity and a symbolization for the joining together of places, people, or ideas. Not so in Mitrovica. In this Kosovan town where the southern half is made up of ethnic Albanians and the northern half of Kosovan Serbs, the Ibar Bridge acts as the complete opposite.
---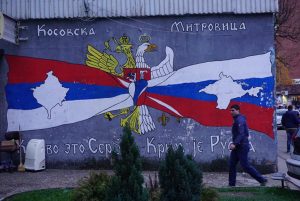 Mitrovica, like the rest of Kosovo, was heavily affected during the 1998-1999 war, but its legacy and prominence has been defined by what happened after. Following the end of the war, many of the Serbs living in Kosovo moved to the area north of the Ibar River in Mitrovica and formed a community with strong Serbian values.
"As is the case in Belfast, Palestine, and other areas of conflict, communities made up of people of opposing political, religious, or ideological viewpoints living in close proximity, become breeding grounds for extreme nationalism. The number of Albanian flags and slogans on the south side and Serbian flags and slogans on the north side, mixed with sporadic escalations of violence, indicate that Mitrovica is no exception to this rule."
We departed from Pristina Bus Station for the one hour journey to Mitrovica and were welcomed by a sea of red and black at the South Mitrovica Bus Terminal. Although Kosovo was granted independence in 2008, the vast majority of people in the country do not see themselves as Kosovan, but Albanian. This is why they celebrate Albanian Independence Day on November 28th just as fervently as those living in Albania-proper and also why the black double-headed Eagle against the red backdrop can be seen hanging from every lamp post south of the river.
We walked north from the bus station to reach the bridge and around the point of the Mother Theresa statue, much of the foot traffic and virtually all vehicles ceased to exist. The main bridge that links North and South Mitrovica was completely barricaded and guarded by Italian UN forces which forced those wishing to cross on to an adjoining footbridge. We made our way up to the bridge, around the UN convoys, and crossed the Ibar River. Within a matter of 60 seconds, we were standing underneath Serbian flags, looking at cars driving past with Serbian plates and changing money into Serbian Dinar. It became apparent that this wasn't just a separate community and – notwithstanding the fact that elected politicians in North Mitrovica recently agreed to pledge allegiance to the government of Kosovo – it was for all intents and purposes, a different country within a single city.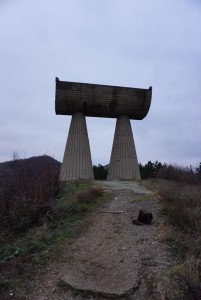 We took a walk up the hill and seeing a Serbian Orthodox Church decided to pay a visit. After admiring the incredible artwork and tapestries inside the church, we meandered our way up Miner's Hill and came to an abrupt stop at the imposing, if unimaginatively-named, Miner's Monument. It was commissioned by Tito in the 1980's and is representative of his other commissioned pieces around that time. Yugoslavia was a country made up of many ethnicities and beliefs and part of Tito's success in keeping them all unified was his refusal to erect statues of individual people lest other communities be offended. Instead, he erected statues that showed the strength of the Yugoslavian nation as a whole – in this case, their strength and success in mining.
After taking a group picture at the top of the hill with the divided city as the backdrop,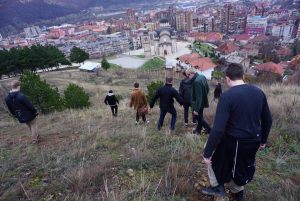 we made our way back down and stopped in a North Mitrovica souvenir shop. As expected, the store sold Serbian products with the most popular being the items emblazoned with the slogan 'Sorry – We didn't know it was invisible.' This is in reference to the much celebrated shooting down of the US Stealth Fighter which was assumed to be virtually invisible to, and safe from, enemy fire.
"Walking down the main street of North Mitrovica, we came across some pro Milosovic and Mladic graffiti, sporadic nazi symbols and even 'Combat 18' sprayed on the wall. Although these are indicative of some extremism in North Mitrovica, the sporadic nature of this type of graffiti led us to believe that support for the above organizations and people is marginal."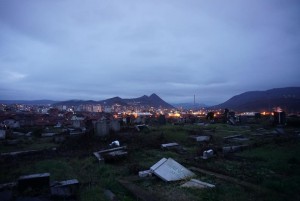 We crossed the bridge back into South Mitrovica and into the sea of red. We had heard about a Serbian Orthodox graveyard that was situated in the Albanian populated south and decided to pay it a visit. By this time, dusk had already settled upon the city and the emerging darkness combined with a mist that clung to the neighbouring mountainsides added a new level of bleakness to what we were about to discover.
"Almost every gravestone had been destroyed and piles of marble, granite, stone, and wood lay in heaps on top of the individual burial plots of those Serbian Orthodox that had died prior to the war. It appeared that some attempts had been made to straighten up and fix parts of them but overall, the sight demonstrated that the hatred and animosity is so strong that even the deceased cannot escape it."
Following the grim discovery, we made our way back into town and had a coffee whilst we discussed and tried to dissect all of what we had saw that day. On both sides of the river, we encountered only the friendliest of people but ultimately left with a feeling of sadness that two communities which live side by side cannot get along. Coming from north Ireland, I know only too well how hatred can divide communities but I also know that a bright future is possible and with meaningful dialogue combined with cross-community activities, a greater understanding of each other can emerge.
However, based on the degree of separation that currently exists, it is difficult to see this happening anytime soon.
---
If you would like to discover the divided city of Mitrovica, join us on our Balkland Badlands Tour 
Click here for more information. 
About Post Author
.