Listvyanka not Lublyanka! In Moscow there is a notorious KGB building called Lublyanka, which is a big No Go for normal people. This is not to be confused with the small city of Listvyanka outside of Irkutsk. Although, it is not a must see for a Russia trip, it is very off the-the beaten track and worth a visit.
IRKUTSK: WHERE THE TIGER-BEAVER ROAM
There are many fantastic stops you can take on the Transsiberian railroad (Kazan is one city you have to see) but after Moscow, it feels like Irkutsk is the next big tourist spot. Together with Ulan Ude it lies by Lake Baikal and serves as an entry point to Mongolia. Here you can find a statue of the mythological creature Babr, which also appears on the city flag. Babr. This is an old regional word for Siberian tiger but it was rarely used towards the 19th century. So when the Russian officials were to redrawn every cities coat of arms they had no idea what a Babr was. They tried to understand the meaning of it and thought it was a misspelt word for beaver (Bobr). Trying to be true to what they believed was a symbol for Irkutsk they took the old coat of arms and "beaver-ised" it. So they mistakenly created a tiger-beaver monster that now sits in the square of Irkutsk.
LISTVYANKA: THE GATEWAY TO BAIKAL AND THE OMUL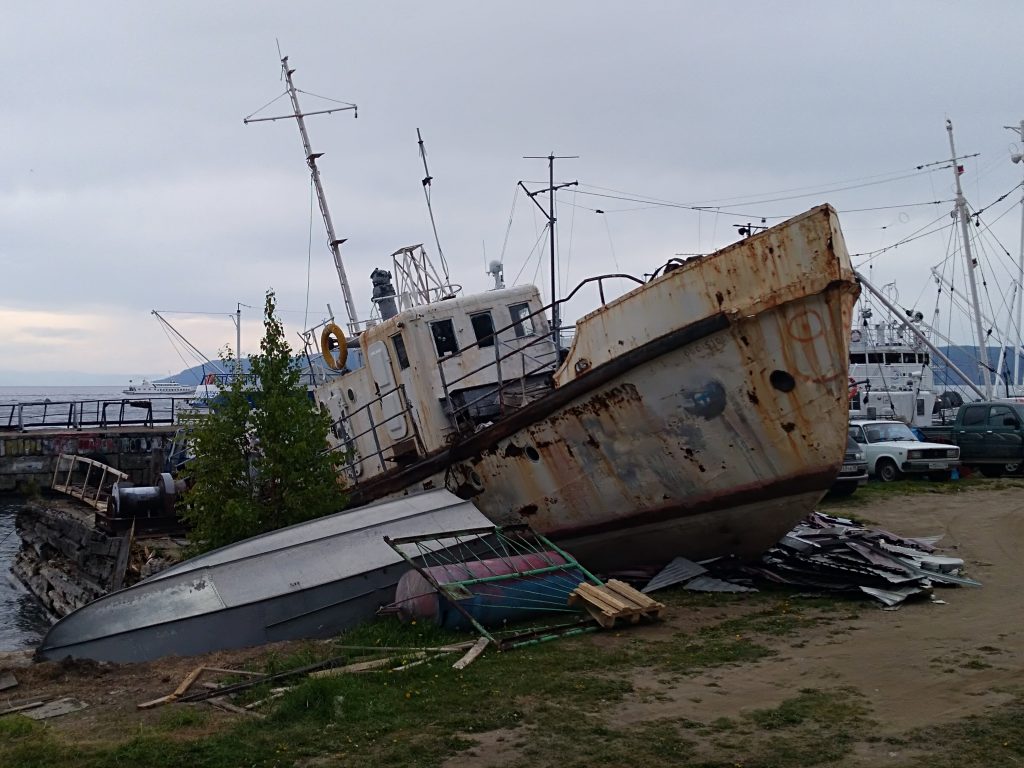 We had decided we wanted to take a day tour from Irkutsk to see the majestic Lake Baikal, the largest lake in the world. It seemed easy enough. Hop on a bus, get to Listvyanka, see the lake and head back. Now, we didn't speak any Russian and just to get a bus was difficult enough. After arriving at what appeared to be some sort of bus station (or more bus chaos) we tried in vain to find the right bus. We eventually managed to find the small minibus that was packed with people. My girlfriend had, I found out once we got in the minibus, a small phobia of driving very fast, and especially in a country like Russia where traffic rules are very vague. We zig-zagged at high speed on the road and narrowly escaped potential accidents. When we finally arrived at Listvanka, she almost cried of relief and fear, knowing fully well that we ain't taking the bus back.
Ah, Listvyanka, where you see and can feel the breeze of the gorgeous Lake Baikal. However, when it is a cold breeze and has been cold for a while, the giant lake helps to keep the temperature well down. Because of its massive size, the lake basically controls the temperature. If the weather has been warm for a long time the lake has warmed up and thus keeping the warmth longer. When it's cold it does the opposite. So it was cold. Trying to get some food we went to the closest restaurant where we only managed to get a beer. Then the sightseeing began.
Without any real goal, we decided to walk towards what looked to be the main area for locals and tourists alike. Listvyanka is supposed to be a tourist magnet, where the majority of the tourists being Russians. But on a cold day in early June, there wasn't much going on here. Walking along the beachside we could see small cafés and playgrounds that might be of interest during high season. On the other side were some restaurants and hotels that seemed equally deserted as the beach. After walking for a few minutes we saw a nice little back alley that seemed to be a good break from the monotone beach walk so we went there. Only to be screamed and flipped at by a small Russian boy who did not want us there. So we walked back and soon ended up in a small market. This was more or less the end of the road. I guess this place is buzzing at high season. To be fair, the area is a nice place and walking along to see the old buildings was enjoyment in itself. But feeling a little disappointed of being here at the wrong time of the year we started a walk back towards the harbour to locate when, if, and where the ferry back to Irkutsk went. But first, we wanted to get something to eat, and what could be better than the famous Omul.
LISTVYANKA AND BAIKAL LAKE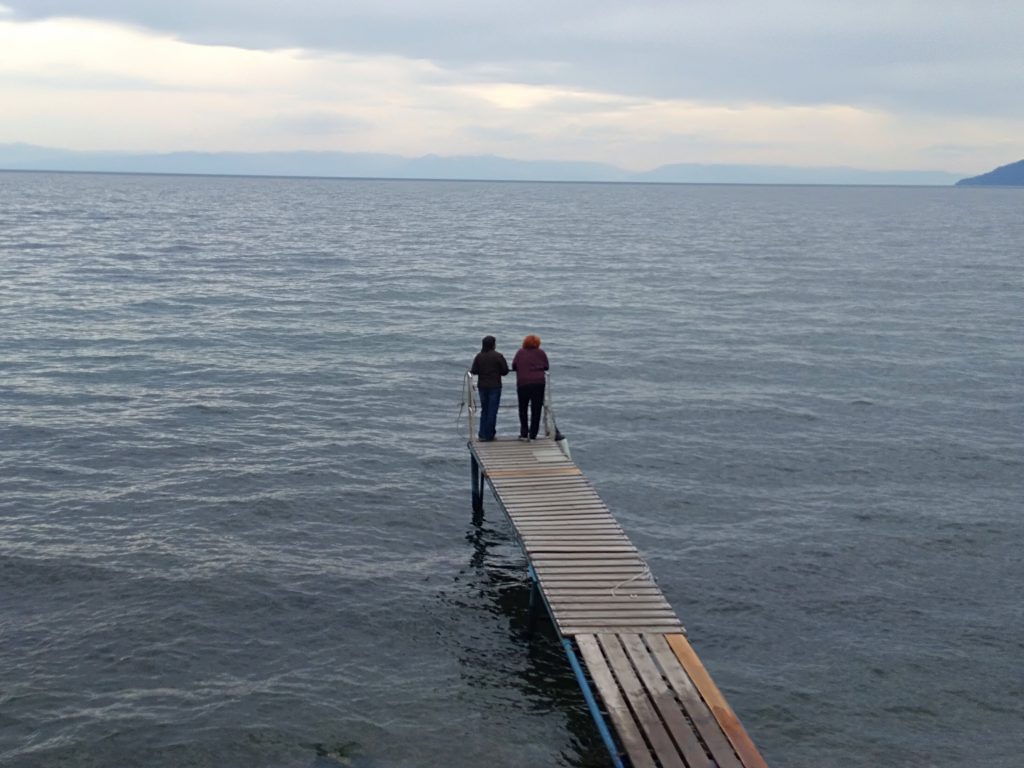 Lake Baikal is famous for many things, and one of those being Omul, the salmon of the lake. We both like salmon, and want to try the locale cuisine so this was a must. If only we could find a restaurant that was open, that served food, and that served Omul. Almost reaching the end of the road there was a big restaurant that at least was open, and that we knew for a fact had Omul. This was the place. Having known about Omul since arriving in Russia I was finally going to try Omul. We sat down at a table and waited. As stated before the Russian service is more of a gamble. Sometimes it's good and sometimes you're in Listvyanka. A girl eventually came and took our order and disappeared.
Then nothing happened. The whole restaurant was empty, except for us and the hostess, sitting behind a huge desk. Being hungry every wait feels like an eternity and after an eternity the girl came out of the kitchen with one of the dishes. Not knowing when or if the other dish would arrive (we had been to a few Russian restaurants by now) we waited. Soon the hunger won and we started to share our sole dish. When that was finished we were about to leave and then, lo and behold, the second dish arrived. Sometime during the meal, my girlfriend manage to squeeze lemon in her eye and made a small scream and ran to the bathroom. No one reacted the slightest. The hostess didn't even look up from behind the desk. The food itself? Not going to judge a dish solely from one place but the fish we had was dry and tasteless. After the restaurant, it was time to get back to Irkutsk, and to find the boat. We knew there was a ferry, but we seemed to be the only people who knew that.
Wherever and whoever we asked had either no idea or directed us to some random location. As the time went on my girlfriend feared it might be time for another minibus ride so we desperately tried to find the ferry. The more people we asked the more we could sort of pinpoint where it might be. Eventually, we found a place that seemed like a pier for a ferry and decided to keep an eye open. Soon a few random people just showed up and after a while, a boat arrived. Being very cautious of not taking the wrong boat we asked someone that worked there and to our joy, we had found the ferry to Irkutsk. That trip was luckily uneventful and after
About Post Author
.