On Thursday, August 31, my Korean guides drove me to Pyongyang Train Station. I had just completed 6 days of filming YouTube and blog content for Young Pioneer Tours. After saying goodbye to my guides, I boarded the 10:30 AM train to Dandong, China via Sinuiju. The train rolled through the North Korean countryside, passing through farmland and small towns. In the evening we crossed into China, exiting the DPRK a few hours before the United States' September 1 ban on its citizens traveling to the DPRK went into effect. Given that most Americans are said to have left North Korea early that morning aboard an Air Koryo flight, I was, as far as I know, possibly the last American in North Korea. It was my third trip to the Hermit Kingdom and my last for some time.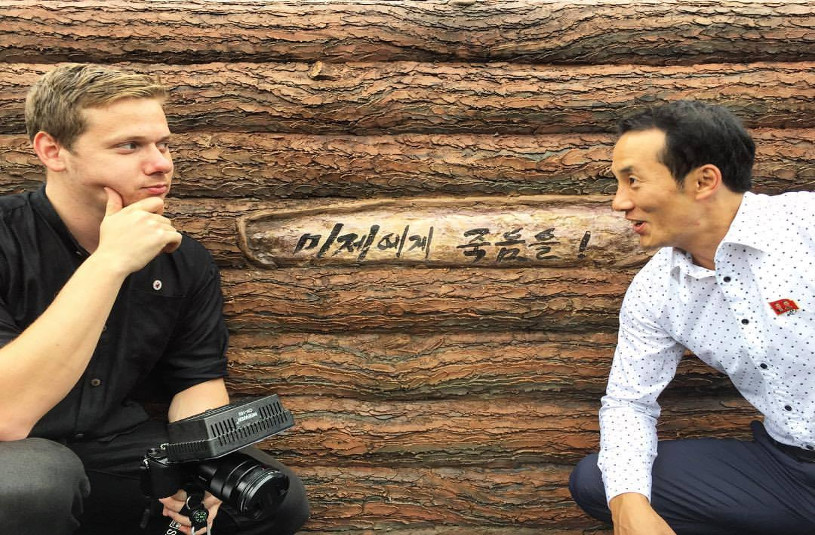 Where it started
Almost one year earlier, I made my second trip to North Korea with YPT's Real Deal Tour. My first trip was to shoot a promo video for the 2015 Pyongyang Marathon. I spent most of my time in the capital and also visited the cities of Kaesong and Nampho; three of the most popular travel destinations for tourists visiting the DPRK. The conventional wisdom by opponents of tourism to North Korea is that what I received was a sanitized experience bereft of any true insight into how North Koreans really live their lives. One aunt openly lamented that it caused her terrible grief to see her nephew get "Jane Fonda'd." According to her, I had been shuffled through a Truman Show-style experience where the all-encompassing, watchful state – the same one that was simultaneously so incompetent that it cannot provide for its people – was manipulating everything that I experienced.
Of course, no matter where you are in the DPRK, as a foreigner you are seeing better-maintained areas of the country. But one can see large swaths of what life looks like for regular Koreans, especially on tours to the Northeast. However, just because you cannot request to drop into someone's house or receive a tour of a prison camp, the experience of getting to know your guides and exploring a mutual curiosity about each others' lives is not rendered meaningless.
---
Any interaction, no matter how small, can break down stereotypes.
---
My position after that first trip was that any interaction, no matter how small, can break down stereotypes and is meaningful. Whether it is an American and North Koreans collaborating on a video about the Pyongyang Marathon or Dennis Rodman's basketball diplomacy. But were these impressions merely a result of being "Jane Fonda'd" by the North Korean regime? Sure, it was a poor country with a repressive government, but had I missed something when I left with the impression that its people were warm and that the environment was not threatening?
Return to the DPRK – Real Deal Tour
To test my observations from my first trip, I decided to return to the DPRK, this time to travel as far away from Pyongyang as possible. YPT's The Real Deal Tour itinerary featured 5 days of travel through some of the areas hit hardest during North Korea's economic crisis of the 1990s. If there was any way to experience life in North Korea beyond the comparatively opulent areas in and around Pyongyang, it would be through this tour.
We crossed from Tumen, China over a weathered footbridge into the North Korean city of Namyang, located in Onsong County in the DPRK's northernmost province, Hamgyong. The area had just suffered severe floods and the ubiquitous North Korean concrete buildings and pastel block apartments along the river had been badly damaged. Able-bodied males from across the country had been mobilized and sent to the area to help with reconstruction. Citizens and soldiers were making bricks with sand from the river bank while others were perched precariously on wooden scaffolding mending blemished buildings.
A guard waited for us at the end of the footbridge. He checked our passports and waved us into a customs building. As we entered, a doctor in a white coat checked out temperatures with an infrared thermometer gun in an effort to screen for the Zika virus. The doctors spent a few extra minutes examining travelers from Europe and the U.K. as there had recently been cases reported in those countries. Betraying signs the DPRK's information vacuum, Americans were admitted without further screening despite the fact that the recent Zika outbreak had allegedly originated in the Americas. On the other side of the X-ray machines, a portrait of Eternal President Kim Il Sung and Eternal General Secretary Kim Jong Il on horseback leading soldiers of the Korean People's Army to the holy mountain of Mount Paektu. Welcome to the DPRK.
North Hamgyong province was a long way from the well-manicured avenues of Pyongyang; either beautiful in its austerity or a gritty no man's land, maybe both.
We boarded a tour bus adorned with the logo of the Chilbosan International Travel Company, the only travel company in the area. As we cruised down the muddy, unpaved roads, the small city of Namyang gave way to golden farmland accented by the vibrant colors of autumn leaves. Smoke puffed from the chimneys of one story Korean homes and corn dried in the sun on their tiled roofs. Passing through a dirt crossroad, an elderly woman was huffing a hand-rolled cigarette while squatting over some homemade snacks for sale. Around the next corner, a young boy dangled from high up on a telephone pole while waving to his friends below. This tour was not called "The Real Deal Tour" for no reason. North Hamgyong province was a long way from the well-manicured avenues of Pyongyang; either beautiful in its austerity or a gritty no man's land, maybe both.
Our Korean guide joked about the bumpy roads and told us to "enjoy the free massage." He then went over etiquette for visiting revolutionary sites and statues of the leaders. No smoking. Wear nice clothes. Be respectful. "Only one thing I want to say, yes," he said, "it is just camera, taking picture, yes. When we are running the bus, it is not allowed to take a picture. Yes? When we are running along the road, if you find a beautiful thing on the side and want to take picture you can call me, 'I want to take picture.' Maybe ninety percent will be okay, but when we are running, no picture."
In and around Pyongyang, pictures are allowed virtually anywhere, with the exception of taking pictures of military checkpoints and installations. However, in the early years of DPRK tourism, photography in the capital was as tightly controlled as in the Northeast. With more tourism to the capital and southern regions, these rules were gradually relaxed. The Northeast has only been open for Western tourism since 2013. In time, photography regulations should also start to loosen.
---
The orientation continued: "English has a saying like this: do in Rome as the Romans do. Here in DPRK I can say, do in DPRK as the Koreans do. I'm going to tell you about our travel company. The Korea Chilbosan International Travel Company is situated in Chongjin city. Chongjin is the capital city of North Hamgyong province. Province is the highest level of administrative unit in the DPRK. In America, the highest one is state. Are there any people from America or not?"
I raised my hand.
"Only one?" he asked, eyebrow raised. "Yes. How can I call you?"
"Justin."
"Justin? Just-a-moment, ha ha. Your surname is Justin. So I can call you Mr. Justin. Justin, am I right, the highest administrative unit in America is the state?"
"Yes, sir."
Our guide then gave some details on travel in the region: "In North Hamgyong province, there is only one travel company, just our company. Our travel company is not individual. It is a government-run corporation. Chilbosan Travel Company is receiving the foreigners including European and Chinese and the others. Most of them come here to visit Mt. Chilbo. Mt. Chilbo is one of 6 famous mountains of the DPRK. Our company was opened at the beginning of The nineties. It has been nearly 30 years but I have been working full-time only for four years. Ninety percent of tourists to Mt. Chilbo are Chinese, yes. We have received 5,000 tourists, among them only 500 European. Are there any persons who have been to the DPRK before?"
I raised my hand again.
"Only one Comrade? Comrade Justin, how many times have you been?
"One time."
"So, second time. To where?"
"Pyongyang, Nampo and Kaesong."
The mention of Kaesong, a city on border of South Korea, opened the door to political discussion. "You've been to all the famous cities in the DPRK," he said. "Pyongyang, of course, the capital city of the DPRK and Nampo is the fourth biggest city in the DPRK. Kaesong, as you know, going to the – ha ha. I don't like to discuss the political problem. But, Mr. Justin, how do you think about the authorities of your country? I'm a Korean and you're an American."
---
"Mr. Justin, how do you think about the authorities of your country? I'm a Korean and you're an American."
---
"Right or wrong, she is my home country."
"You love your home country?"
"Of course."
"Of course. What about your opinion between the authorities of your country?" he asked, and looking around, seemed to sense that the discussion was quickly becoming uncomfortable. "I think – it is no use to say, yes, ha ha."
"That was a fast start!" said another customer on the bus and everyone laughed.
The guide then cut to the chase. "Okay, Mr. Justin," he said as a bead of sweat rolled down his head, "you've been to DPRK before so I assume you know about the opinion of the Korean people about your country. So during your stay in North Hamgyong province, especially in Mt. Chilbo, there is a problem for Americans, so I hope you have a broad mind about that, yeah?"
"Yes, sir."
"Justin, would you like to tell us who started the Korean war?"
"You're the tour guide. I think you should tell me."
Our guide went on to explain that the Americans and Japanese were the "sworn enemy of the Korean people and that any Korean, old or young, would confirm this." With that, he moved back to more general details about the region. "Okay. It is harvest time in the DPRK. On the roof of everyone's houses, you can see drying corn and in the field, rice…"
I later learned that this guide, from Chongjin, was particularly upset since the Kim Chaek Iron and Steel Complex in Chongjin was experiencing trouble due to China's stricter compliance with international sanctions. After the exchange, some of the others in the group asked me for my thoughts, expecting that I would be upset or angry. However, regardless of what one thinks about the DPRK's nuclear ambitions, it is easy to understand, on a purely human level, why this guide might be upset by the impact of sanctions on his city's local economy and the lives of his friends and family.
After viewing the Wangjaesan Grand Monument to Kim Il Sung's exploits during the Anti-Japanese Revolutionary Struggle and the birthplace of Kim Jong Suk, Kim Il Sung's first wife and mother of Kim Jim Jong Il, we checked in for the night at Hoeryong Tourist Hotel. After settling into my room, I came down to the lobby where the guide was standing at the bottom of the stairs. With one eyebrow raised, he asked, "Mr. Justin, is everything to your liking?" I told him everything was great and we walked together to the dining room.
After a dinner of seafood, kimchi, and other local offerings, Taedonggang beer and soju began to flow as the waitresses led the tour group in karaoke, dance and, eventually, a lively conga line. Now that we were both liquored up, I bought a bottle of Soju and approached my guide. I poured him a glass and, with a toast, thanked him for his hospitality.
"Of course!" he replied. "It is my duty."
"Ha ha, no. It is your pleasure," one of his fellow guides corrected him.
Over a few glasses of soju and cigarette after cigarette, we discussed our lives, from details about our families and lifestyle in our respective countries. Soon, he was telling funny stories about working as a tour guide. "One time, at this very hotel," he said, "we had a group of Chinese tourists and they were drinking and eating in the dining room. I went and sat in the lobby and waited for all of them to finish and go to sleep. Suddenly, I woke up at 5 in the morning in my chair in the lobby. I had fallen asleep and they had all walked past me to go upstairs and go to bed. No one woke me up! I said to the clerk at the front desk, 'Why didn't you wake me up?' He said, 'I thought maybe you would be more comfortable there.' Ha ha!"
As we were talking, I noticed locals coming in and out of a local restaurant, identified simply as "Meal Room," situated within the hotel. I asked about it and the guide explained that it was a popular spot for locals. "Can we go in?" I asked.
"Let's go!"
---
"I hope for better relations between our countries."
---
He grabbed my arm and led me inside. When we entered, the Koreans who were eating and talking amongst themselves suddenly stopped and all eyes were on us. I awkwardly raised my hand and said, "Annyeong Hashimnikka," the formal Korean greeting predominantly used in the North. The guide told the room that I was American. After a brief beat, a man on the other side of the restaurant stood up and, in very good English, said, "I hope for better relations between our countries."
"Me, too." I replied. "That's why I have come to visit your country."
After a moment of silence, my guide led me from the room. Though brief, it was a rare unscripted moment and a genuine exchange of goodwill.
Part 2 to follow soon!
Join YPT on the North Korean adventure of a lifetime and get to know the country and the people for yourself on our Real Deal DPRK Tour. Check out the itinerary here!
About Post Author
.