Kazakhstan has some genuinely beautiful places. Some travellers will say that everything they see is beautiful, and there has never been a single unseemly sight on their travels. Well, that just isn't true about Kazakhstan – some of the industrial wasteland, the polygon nuclear testing area, and plenty of the less desirable suburbs of its major cities are sights for sore eyes. They might be fascinating and cool in a particular way, but not beautiful. But when it's beautiful, it's really phenomenal.
Here are the top 5 nature destinations in Kazakhstan.
5 – Korgalzhyn State Nature Reserve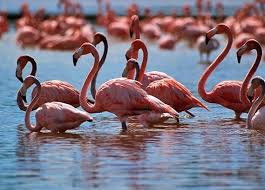 Although not as scenic as the other four entries, this has something particularly special – flamingos! It just so happens that Kazakhstan hosts the northernmost migration point of the African pink flamingo. The lakes in the reserve are considered some of the most famous lakes in the world, not because they are particularly beautiful, but because the impact on migration patterns for a magnitude of bird species have worldwide effects. It's quite amazing driving through the flat steppes and then coming across the fantastic and unexpected wetlands which act as such a significant bird haven.
4 – Charyn Canyon
In the South East of Kazakhstan, around 200 kilometres from Almaty, Charyn Canyon is probably Kazakhstan's most popular tourist destination. Like a cross between the Grand Canyon in the US and a western film set, Charyn Canyon is popular with people who like to go a bit faster, whether it's white water rafting, 4wd'ing, canoeing, paragliding etc. In years gone past, it has actually served as a film set, often as a cheap alternative to American wild west scenes.
3 – Kolsai Lakes
Also, in the South East of the country, the Kolsai Lakes look almost heavenly. They are also probably one of the most touristy parts of Kazakhstan as it's extremely popular with both locals and foreigners alike and an easy drive from Almaty. There are heaps of easy walking/hiking routes and accommodation options aplenty. The most famous aspect of the Kolsai Lakes are the completely bare trees that are growing in the lakes, making a really eerie scene. Although highly endangered, brown bears and snow leopards are known to frequent this area.
2 – Burabay National Park
Possibly the oldest National Park in Kazakhstan, Burabay is around a four-hour drive north of Nur-Sultan (formerly Astana). Kazakh tradition dictates that when the Kazakhs were given their land, they felt angry that they got the dry arid steppes. So they prayed, and God decided to give them all the leftover mountains and lakes from creating the rest of the world. When God threw them towards Kazakhstan, they landed at Burabay. It certainly is weird driving through some of the flattest most monotonous landscape on earth and then come across this sensational undulating pocket of green and blue.
1 – Mangystau
If you love balls, then you're going to love this remote South Western corner of Kazakhstan. One of the most unique parts of Kazakhstan, as well as being one of the least visited parts, the most famous geographical phenomenon are the large rock boulders. They scatter the earth like children's' toys on the floor of a playroom and since no one knows how any of this formed, that's as logical an explanation as any. Ancient pre-historic giants were playing marbles and didn't clean up after themselves.
For information on our tours to Kazakhstan please click here to get in touch.
About Post Author
.