Xinjiang is one of our favourite parts of China. Part Middle Kingdom, part Central Asia, when you're in a city like Kashgar you feel as though you're closer to Tehran or Damascus even if you don't realise that you actually are!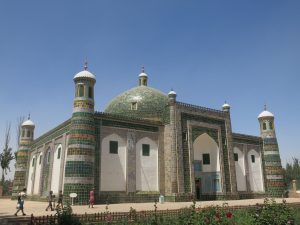 You may also notice if you go there that the whole Autonomous Region feels like a police state, with constant police checks.
And Xinjiang has, of course, had more than its fair share of chaos in recent decades, with riots, terrorist attacks on civilians and on police stations.
But, with our knowledge of local life, Uyghur people and the Chinese state, we think it is totally safe to travel there, providing the normal tourist precautions are in place. Like all places you are new to, you shouldn't walk around busy market areas flashing mobile phones or money around. And like all Muslim regions, you should try to be relatively conservative in behaviour and appearance.
You will find then that the local population are also friendly, inquisitive and just the kind of people YPT like to meet on tour. We always walk down the streets of the old town in the hope of walking past a Uygur wedding that you invariably get invited in for!
---
Do I need a special visa or permit for Xinjiang?
Simple answer, no. The Xinjiang Autonomous Region is not like Tibet, where foreigners need a permit to enter. We are free to visit and move around as we please.
Within reason. The big cities like Urumqi, of course, are no problem, but once you get into the smaller towns in the border areas and south of the Taklamakan Desert, you may find the police become more interested in your movements or even tell you to leave. Officially many of the towns can't house foreigners overnight because the hotels don't have the official permission to do so, but oasis town-hopping in the daytime shouldn't be a problem.
Ultimately, if a police officer tells you, you have to leave or you are not allowed entry to a place, you don't have much choice, but a bit of Chinese always helps!
How do I get to Xinjiang?
If you're coming from inner China, then there are of course trains and flights to Urumqi. Don't underestimate the size of Xinjiang though, the train from Urumqi to Kashgar is itself 24 hours long!
Otherwise, you can cross into Xinjiang from border points in Kazakhstan (there's a train between Almaty and Urumqi) and Kyrgyzstan (by bus or car), as well as Pakistan from the Karakoram Highway and Tajikistan.
---
About Post Author
.