The YPT head office used to be in Xi'an, China – home of the Terracotta Warriors and the start point of the Silk Road, with some of our staff still there, before it moved to Shenzhen. Being based in China we have an ever-greater knowledge of the country. Whether it's a quick look at Xi'an, Dandong, Shanghai, Guangdong and Guangxi provinces or Beijing after a DPRK tour, a group tour in China, or a specialist independent tour to any part of this hugely diverse country, you can rely on YPT to make your trip memorable. You can visit Tibet and Xinjiang, the old revolutionary sites around the communist capital of Yan'an, join the road trip of a lifetime through the Chinese-DPRK borderlands or go full-on urban exploration in ghost city Ordos-Kangbashi.
All our international tours are run in accordance with YPT's branding and ethos: a super price, expert guides, and most importantly an adventure that will stick with you for life. We run tours for people who hate group tours, and we do not run groups larger than 25 people (at 26 we split into two. Average size 10 people). All groups are led by expert guides that know the destinations and are passionate about what they do. We also strongly believe in value, and generally, our prices are unbeatable.
From our main office in Xi'an we have been organising more and more independent trips in China for you. From a tour of Beijing to a specialist trip through the China-DPRK borderlands, your China plans can be turned into reality with YPT. Some of our most recent independent tours include translation and sets for an Australian film crew in Ordos-Kangbashi ghost city and organising a trip to Yanji for an American family who adopted a daughter from the area ten years ago and wanted to come back with her on a holiday to meet her former foster family.
So, if you want to go on a cruise down the Yangtze, go camel trekking in the Taklamakan Desert in Xinjiang or are even carrying out a project on the bat density in Yunnan province, get in touch for a quote!
Do I need a visa?
Everyone coming to China will need a visa. If you are on a YPT tour, we can arrange visa documents to help simplify your application.
Alternatively, in Beijing you can use the 72-hour visa-free policy, but you must enter and exit by plane and spend no longer than 72 hours between flights. You are also unable to leave Beijing.
There is also a 24-hour visa free policy, which can be used if you arrive from an international airport and have flight, cruise or train tickets to a 3rd country within 24 hours of arrival.
Please check with us if you have any questions about the Chinese visa.
What are the trains like?
Travelling by train in China can be an experience just in itself. Hard seat is probably a challenge for most on journeys longer than 4 hours, but a hard sleeper on an overnight train can a fun experience. Hard sleeper is 6 bunks to a berth, with no door, so it's relatively comfortable but can be noisy. Soft sleeper is 4 bunks to a berth with a door to close it off, so for those wanting a guaranteed night sleep it is advisable to go for soft sleeper.
Can I travel independently in Tibet?
No, all foreigners are required to join a tour group to Tibet and require permits to enter or even buy a train ticket to Lhasa. YPT runs a group tour to Tibet and we can also offer independent tours to suit your dates where you will have a local Tibetan guide.
Is it safe to travel to Xinjiang?
Although Xinjiang suffers some small-scale terrorist activity, there is no risk to foreign travelers and like with travel to most countries, a terrorist attack could happen anywhere any time, but rarely does.
Do I need to bring RMB from my country before I get to China?
No, you can change any currency into Chinese RMB when you get to the country or you can withdraw from ATMs. In smaller cities, it might be a bit less easy and it is advisable to take RMB with you. More and more transfers are being done by WeChat which is by far the most convenient way if you plan to spend any length of time in China.
Can I take photos of North Korea on the Borderlands tour?
Unlike when you're in North Korea, on the All Koreas Three Borderlands tour we will stop at various parts of the border and can freely take photos of the North Korean towns opposite the river. Your YPT guide will not say "no photos!" to you. However, officially you're not allowed to photograph North Korea from China, and it's best to back up your photos so that if we go through a military checkpoint that want to check our cameras they won't see anything incriminate!
Is there anything I can't take to China?
Not really, your luggage won't be checked if you fly in to the country, but if you do cross the land border between Kyrgyzstan and Xinjiang for example, it is possible that the Chinese border guards will check your luggage. It has been known that a guide book marking Taiwan as a separate country will be confiscated, but it is more likely that the guards give you a telling off and a patriotic lecture before giving it back to you.
See Details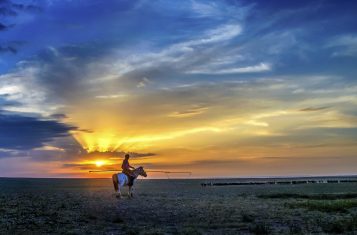 Mongolia Naadam Festival & Wilderness Tour
Spectate at Mongolia's most important festival on this perfect summer getaway!
Start Date : July 10th 2024
End Date : July 17th 2024
Duration: 7 nights, 8 days
More Details