Young Pioneer Tours in association with our partners in Kyiv have decided to again offer tours to Ukraine with packages for both group and independent travellers.
These tours are not for "war tourists" and will be aimed at small groups who may also bring along aid packages, whilst being educated about the devastation caused by the war in Ukraine.
What are the tours to Ukraine?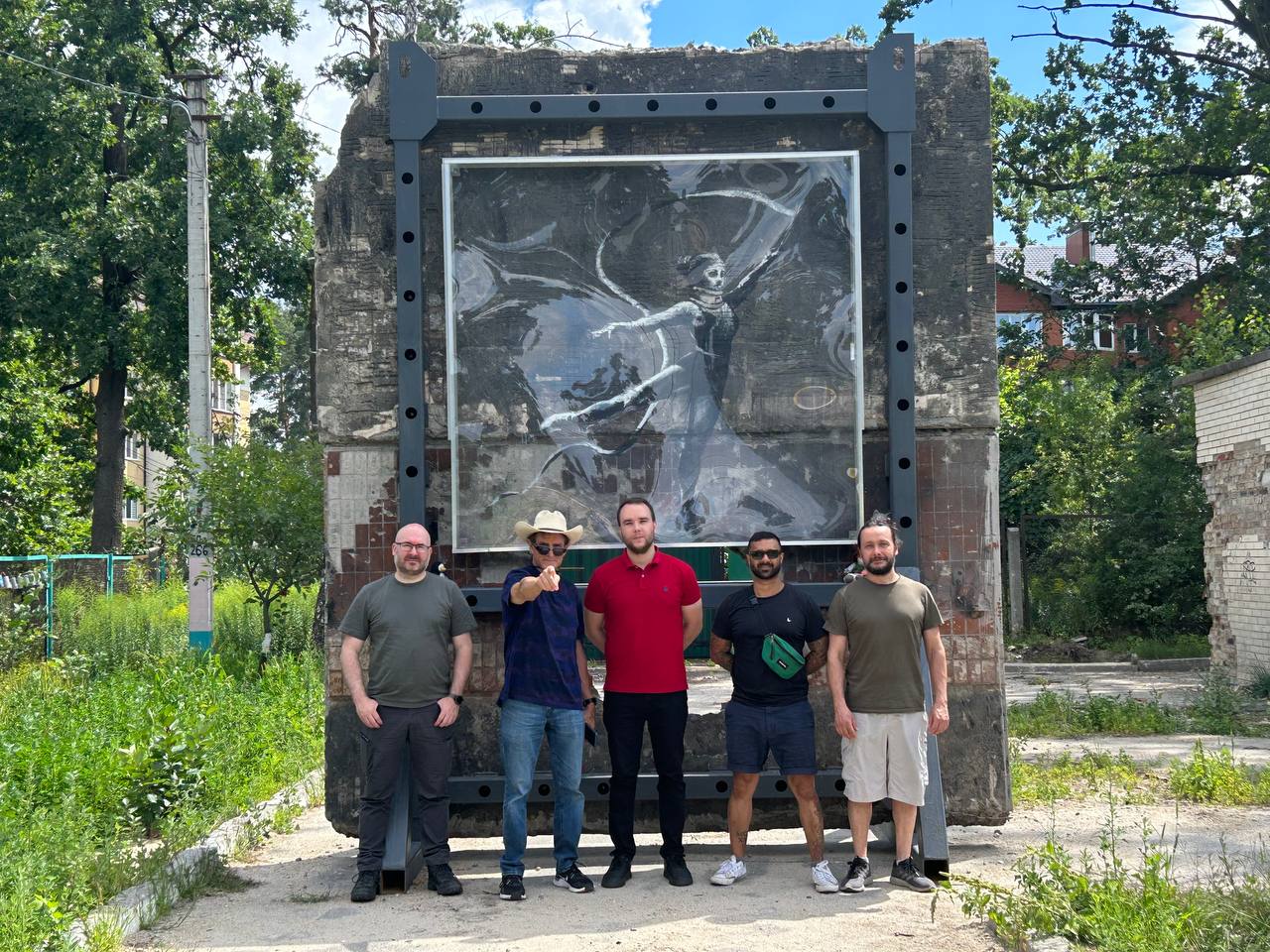 Tours will start in Krakow – Poland, before you're transferred to the border and into Lviv – Ukraine. After one night in Lviv, you'll spend a few days exploring in Kiev, before departing back into Poland.
A full itinerary for our tour to Ukraine can be seen at the bottom of the page.
Can anyone join your tour to Ukraine?
Quite simply, NO, they cannot. Tours are strictly capped at 4-7 people and are ONLY open to people who have done at least one tour with YPT. Aside from this, travellers need to be vetted by a YPT Guide.
If, for whatever reason we decide not to take you, it is for a safety reason.
Can I travel independently in Ukraine during the war?
The Ukrainian border as well as the border policy mean that travel to Ukraine is relatively hassle free right now.
With that being said foreigners wishing to travel independently to Ukraine might not only put themselves in danger, but also might draw unwarranted attention or suspicion. Therefore, we feel it is important to travel to Ukraine with local guides who not only know what the situation is, but can also navigate the cultural aspects. YPT can arrange bespoke travel to Ukraine for those who wish to do a different itinerary.
Do you have fixed dated departures for your 2023 or 2024 tour to Ukraine packages?
We have fixed dates, but we do not advertise them. This is for obvious reasons. If you want to join a tour to Ukraine, get in touch and we will let you know the dates.
There are no Chernobyl trips during this time and there are no discounts. We are of course hopeful the war will end and some semblance of normality will resume for travel to Ukraine, but for now cannot make any firm plans.
Is this war tourism?
No, it is not. Trips are at the invitation of our local hosts, who wish to share their story. Part of the money for the tour is donated towards non-military aid, some of which we may bring with us as part of the trip. In essence this can be looked at as more of a journalistic trip, rather than tourism.
This is not to justify, or glorify war, this is quite the opposite and is to show the reality of war, as opposed to the promotion of it.
Do you arrange tours to the war zones of Ukraine?
No, we do not arrange war tours in Ukraine. We stay specifically in the safer parts of the country. Things can and of course do change though, thus so may our itinerary.
Can journalists travel to Ukraine?
We can arrange trips to Ukraine for journalists that are more bespoke and cover areas that we would not necessarily take groups currently, such as to Odessa, or nearer the front lines.
You can read about journalist travel to Ukraine here.
Tour to Ukraine Itinerary
Group tour cost: €1495 per person
Prince inclusive of;
Twin-shared accommodation with breakfasts
All transport discussed in itinerary
Letter of invitation/border documents
YPT guide and local guide
Security, driver & local guide (Ukraine)
Price exclusive of;
International flights
Single supplements (€220)
Breakfasts (when on the road), lunches & dinners
Personal expenses & drinks
Tips for the security, driver & local guide
Travel insurance
Note:
You will need to arrange your own travel insurance. If you cannot get this, then you agree to travel to Ukraine at your own risk.
We will not be responsible if transport or the itinerary is changed and/or delayed.
You must follow the advice of our YPT guides and local handlers at all times. People who do not do this, or are of danger to the group will be expelled from the trip.
Itinerary
Day 1 – Krakow, Poland
Arrive at your own leisure into Krakow – the second largest but considered the most beautiful cities of Poland. Krakow is well connected with many European countries, Istanbul and Abu Dhabi. Self-transfer to our centrally located hotel, pre-tour accommodation can be arranged for your convenience (for a fee).
Pre-tour meeting will be held at the lobby of our hotel at 6:00pm to discuss the tour itinerary and to meet your fellow travellers and YPT guide.
We'll make our way to Krakow old town to our favourite restaurant famous for serving pierogi – a delicious dumpling filled with meat or vegetables.
Explore the old town and appreciate St. Mary's Basilica in the evening before heading to our local bar for welcome drinks.
Overnight stay in Krakow.
Day 2 – Krakow – Lviv, Ukraine
Early morning start, we'll check out and meet at the hotel lobby at 5:00am before we head to Krakow Train Station locally known as Kraków Główny.
We'll visit the supermarket where you can pick up supplies for the journey ahead before making our way to the platform for our 5:50am departure.
Transfer Przemysl – Lviv: 9:15am – same station, just a change to the international platform and follow the immigration process.
Arrival at Lviv Central Station at 12:40pm.
Private transport to central hotel
Quick freshen up before we head out for lunch. As a bastion from the war Lviv has had somewhat of a rejuvenation and currently has a vibrant restaurant scene
Walk around the centre, seeing both the ancient historical parts of the city, as well as more contemporary sites, such as the recently bombed Secret Service building.
Visit to one of the main cemeteries.
We will visit two bars in the city, where we will get a chance to talk with the local residents about their lives and the conflict.
Dinner in town and overnight stay in Lviv.
Day 3 – Lviv – Kyiv
Early morning start, we'll grab coffee on the go before heading to Lviv railway station.
We'll visit a supermarket to pick up supplies before heading to the platform for our 9:40am departure.
Arrival to Kyiv at 4:00pm – the capital of Ukraine and cultural centre of Eastern Europe. Life continues here, normal as possible despite the conflict.
Pick up in private transport.
Walk around the city centre, this is dependent on the security situation.
Visit various contemporary relics to the war, such as abandoned tanks, bombed parts of the city centre as well as Lukianivska metro station.
We'll visit an iconic bar that has stayed open throughout the war and is owned by our host. We will eat here and get a chance to ask questions about life in Kiev.
Overnight stay in Kiev.
Day 4 – Kyiv
Breakfast at a local café.
8:30am starts with visiting Kyiv Outskirts where we will see the remnants of the failed invasion of the country.
Keep in mind that these are still heavily militarized areas and remain dangerous. Important sites will be included to display the full impact of the conflicts.
By 4:00pm we will arrive back in Kyiv, with a lunch stop along the way.
Evening walk around Kyiv historical centre and visit important sites.
Dinner at a local restaurant, followed by drinks and stories from the conflicts.
Overnight stay in Kyiv.
Day 5 – Kyiv – Lviv
Early morning start with breakfast at a local cafe.
9:00am start, we'll visit Princess Olga Monument – considered one of the most vengeful leaders in European history and defeated Russian military vehicles are laid to rest here.
Continue to Maidan Nezalezhnosti commonly known as Independent Square. We'll grab a coffee and watch people continue with their daily lives during times of conflict.
Head towards the deepest metro station in the world taking the metro to the Park of Eternal Glory.
There are military vehicles here from the Great Patriotic War and the recent 2014 conflict from the Donbas and Luhansk Oblast.
We'll appreciate the Motherland Monument whose shield now bears the Ukrainian Trident.
Journey back to Kiev by metro passing by Soviet era architecture and beautiful cathedrals along the way.
Lunch at our host's bar before a few drinks and supporting local businesses.
Reflect our journey discussing high and low points over a few drinks.
Pick up supplies before heading to Kyiv-Pasazhyrskyi railway station by private transport.
Departure on overnight sleeper train to Przemysl at 11:00pm.
Overnight on train
Day 6 – Lviv – Krakow, Poland
11:15am arrival in Przemysl, immigration formalities.
Transfer train to Krakow departing at 11.58am – there will be a chance to pick up snacks here.
Arrival in Krakow at 3:10pm, before we check into our hotel to relax and freshen up.
Optional walking tour of Krakow.
Dinner followed by a debriefing of the tour, for those inclined a few drinks in the old town.
Overnight stay in Krakow
Day 7 – Krakow
Tour concludes, depart at your own convenience. YPT can arrange additional nights in Krakow and airport drop off for a fee, we are more than happy to provide advice for ongoing flights.
YPT can arrange tour extensions around Krakow or Auschwitz.