On the first day of my individual tour, when I was being chaperoned – almost physically – by Mr. Chae through the Kwang Bok Departmental Store, the only thought I had was that when I would reach Dandong, I would turn around, show my middle finger to the land across the river, and say "screw you, North Korea!"
Now? Well, let's just say that I will never call that country North Korea again. Everybody knows it is Korea. Or, DPRK, if you insist.
"The DPRK is an impoverished, bleak socialist dystopia with dilapidated buildings, crumbling infrastructure, and uniformly aggressive, unfriendly, dour citizens.
Not.
Not, nyet, anniyo, no.
Almost everything you have read and heard about the DPRK is wrong.
Caveats probably apply. Tourism in Korea is a tightly scripted affair, and you are shown only what they want you to see. There are probably stories that they don't tell you. And it is insanely expensive.
That said, my tourist experience in Korea has been truly awesome! It was grand and – and I don't use these words lightly – colourful, fun, symphonic, magnificent. I saw, listened, learnt, tried to understand, drank, partied, danced, was offered blueberry wine by total strangers picnicking in a public park, danced terribly, danced some more, got a suit tailored by a pushy old Korean witch, stayed in luxurious hotels, walked on pristine beaches, drank wine in a cable-car at a ski-resort, spent like there is no tomorrow – in euros, Chinese yuan, and evil imperialist American dollars (sometimes, all at the same time – but more on that later), conversed everyday with my beautiful tour guide (who also happened to be a major in Foreign Studies, into artsy Soviet movies and a Western classical music enthusiast), got beaten by her hollow at the rifle-shooting range, bought Johnnie Walker Red Label at the department store, talked in Hindi with a Canadian Punjabi, got perspectives from tourists from England and Kuwait and India (yes, India), got told how popular Amir Khan is among Korean women, left my hotel door unlocked, left my camera unattended on the beach, had barbecued clamshells and soju at a beach shack and kimchi and squids and pizza and fondue and ice-cream with tabasco sauce at extravagant restaurants, and I was amazed – and again, and again, and yet again.
There were monuments after magnificent (if bizarre) monuments; there were performances so incredible that I will never be able to watch any TV talent shows ever again; and there were a thousand acts of kindness and basic human decency probably unthinkable in any other part of the world.
I have travelled in five continents and have met some incredibly friendly people everywhere. So I know what I am saying when I say that the Koreans are the friendliest people on the planet. Every Korean I met – and I mean every single Korean, without exception – were friendly, smiling and polite to a fault. So much for the DPRK stereotype.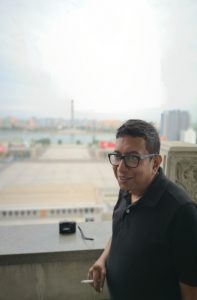 Sure, I found a lot of things bizarre – but maybe that is just because the Koreans have a way of life different from mine, and, to my prejudiced mind, that is unacceptable. I found the reverence Koreans pay to their leaders unsettling. But if it works for them, who am I to judge? And when I was looking for poverty, there was none to be found. Sure, there were poor people; but even India aside, I have found worse signs of poverty in New York and Paris. Korea gets the bad press and India doesn't because India submits to the world order and buys McDonalds and iPhones. The internet tells me that I have not seen the whole country. Maybe not, but have they seen it? How do we know that it is not the CIA and Amnesty International that are selling the stories – just the way they are selling McDonalds and iPhones?
I argued against the DPRK's political system with my tour guides. They just smiled, kept quiet, and showed me their country. Eventually, I conceded defeat.
I went to the DPRK with a lot of questions about their system. I departed DPRK questioning my own belief system.
It has been an amazing, eye-opening, life-altering journey, and the DPRK is probably the only country I will ever travel to again.
And anyone who tells me that I am crazy to travel to the DPRK, my response would be precisely the following:
"Go screw yourself!"
Kunal Biswas is an Indian customer who joined YPT on the Moscow to Pyongyang by Train Tour in 2018 and followed it up with a 10 day independent tour. He is residing in Kolkatta. An amateur of fine things such as rough vodka on the Trans-Siberian and making ladies smile, Kunal wanted to share his impression of Korea with the world.
About Post Author
.