Overview of Ukraine
Ukraine is located in Eastern Europe and is sandwiched between Russia to the north-east; Belarus to the north, Poland, Slovakia and Hungary to the west, and Romania, Moldova, and the Black Sea to the south. This enormous country has a population of about 42 million people, making it the eighth or ninth-most populous country in Europe, and the 32nd-most populous country in the world. Kyiv is the capital of Ukraine and the largest city in the country. The official language is Ukrainian and the alphabet is Cyrillic, however, the vast majority of people speak Russian. The dominant religion in the country is Eastern Orthodoxy.
Why visit Ukraine?
Ukraine is a country we visit many times throughout the year on our Soviet tours. It's a country teeming with history both ancient and modern. It's access to the Black Sea and role as a trading route through the centuries means Ukraine is a hub of cultures, foods, and languages.
The biggest draw for our clients to Ukraine is the Chernobyl Exclusion Zone. Here you can safely enter the area where the Chernobyl disaster took place. This incident could have made Europe as we know it completely uninhabitable. Thankfully, it was stopped by brave responders who tackled the disaster. Today the 30km exclusion zone is home to abandoned ghost cities, eerie amusement parks that never opened, and an abundance of wildlife mostly free from human interference.
But Ukraine has a lot more to offer other than Chernobyl. We also visit the thriving port city of Odessa, infamous for being the birthplace of the Russian mob, as well as other cities in the country to explore everything Ukraine has to offer from unrivaled WW2 relics to forgotten Soviet bunkers.
The modern history of Ukraine
The territory of modern Ukraine has been inhabited since 32,000 BC. During the Middle Ages, the area was a key center of East Slavic culture, with the powerful state of Kievan Rus' forming the basis of Ukrainian identity. Following its fragmentation in the 13th century, the territory was contested, ruled, and divided by a variety of powers, including the Polish–Lithuanian Commonwealth, Austria-Hungary, the Ottoman Empire, and Russia.
A Cossack republic emerged and prospered during the 17th and 18th centuries, but its territory was eventually split between Poland and the Russian Empire. At the beginning of the 20th Century, large parts of Ukraine fell under Soviet control.
In WW2, Ukraine fell to Operation Barbarossa and was the scene of fierce fighting during the German advance and subsequent retreat. After World War II the Western part of Ukraine merged into the Ukrainian Soviet Socialist Republic, and the whole country became a part of the Soviet Union as a single state entity. Ukraine gained its independence in 1991, following the dissolution of the Soviet Union at the end of the Cold War.
Following its independence, Ukraine declared itself a neutral state and formed a limited military partnership with Russia and other CIS countries while also establishing a partnership with NATO in 1994. In 2013, after the government of President Viktor Yanukovych had decided to suspend the Ukraine-European Union Association Agreement and seek closer economic ties with Russia, a several-months-long wave of demonstrations and protests known as the Euromaidan began, which later escalated into the 2014 Ukrainian revolution that led to the overthrow of Yanukovych and the establishment of a new government.
These events formed the background for the annexation of Crimea by Russia and the War in Donbass in 2014. The conflict is still ongoing and the Eastern regions of Ukraine are not open to foreign visitors. The fighting is far away from the places we visit and does not affect them in any way.
Things to do in Ukraine
As well as Chernobyl, Ukraine has a range of other things to see and do. You can lounge on the stunning beaches of the Black Sea in Ukraine's other Black Sea cities. From here you can also explore the Danube Delta which is home to an abundance of wildlife and hidden cultures such as the Old Believers. In the Carpathians, you can go skiing in winter or hiking in summer surrounded by stunning nature.
As such a prominent European country Ukraine is jam-packed full of various histories. We recommend visiting the local museums in each city you visit as you're guaranteed to be amazed at what is inside.
How to get to Ukraine
A country as big as Ukraine means there is an abundance of ways to enter the country. Almost all of the borders can be crossed via road. However, we recommend flying into one of Ukraine's airports as road borders are a lot more chaotic and can be subject to corruption which is uncomfortable for first-time travelers to the region.
American, Canadian, all European Union member states citizens can visit Ukraine visa-free for up to 90 days within a 180 day period. However, this varies for other nationalities so it's best to check the visa rules laid out by Ukraine. Which you can find on the website for the Ukrainian ministry of foreign affairs.
Hotels in Ukraine
Like most countries in Eastern Europe, Ukraine has a range of hotels that offer everything from the height of luxury to the lesser luxurious Soviet nostalgia. The cheaper the hotel, the bigger the chance of unfortunate surprises, this can be a problem for those not familiar with the Soviet-style level of service which still remains in many places.
There are a number of 5-star hotels in Kyiv but a better option is to rent an apartment online in advance. There are many to choose from in Kyiv and Odesa. If you would like to go down this route you can either look at Airbnb which will have English speaking hosts.
What to eat in Ukraine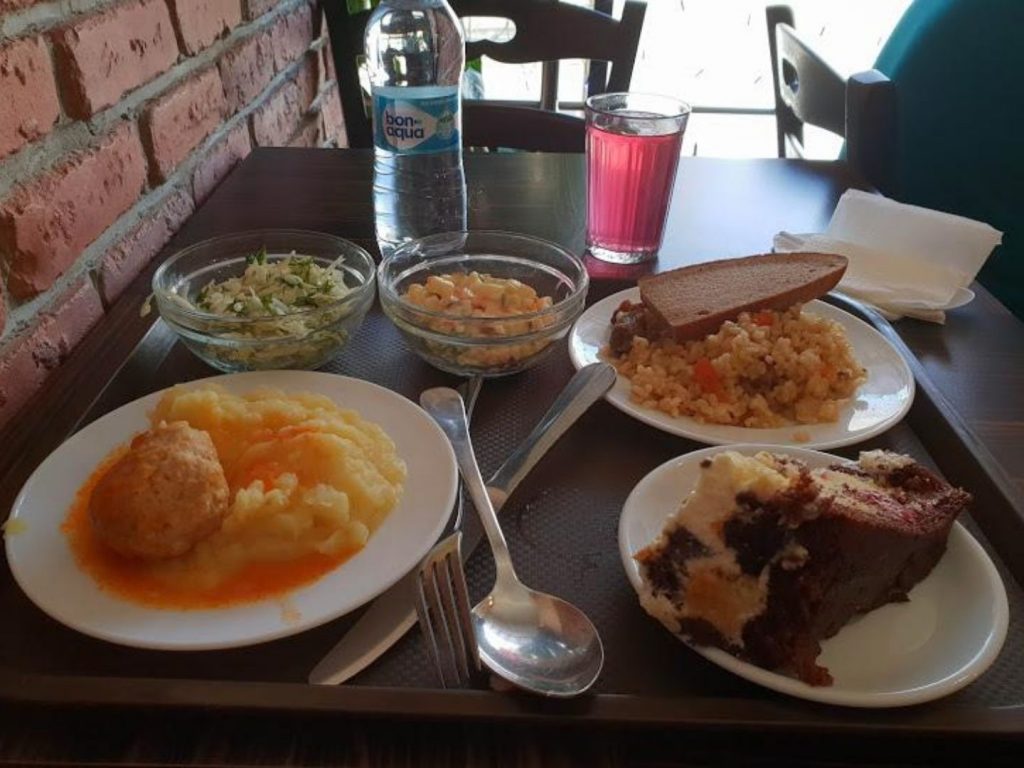 Ukrainian cuisine is tasty, and just as other cuisines in Eastern Europe uses a lot of fat. Traditional local food includes salo which is essentially salted lard and soups like borshch made of red beets which is a delicious meat soup. The first, salo, is perhaps something you might not make yourself try – however is a delicious side dish, as for the soups being a must-have dish. Varenyky (dumplings with potato/cheese/cherries/fried cabbage and other things) are another must-try.
You may also find nice places to eat not by signs, but just by the smoke of traditional wood fires. Restaurateurs are very friendly, and, more often than not, you will be one of their first foreign visitors.
Nightlife in Ukraine
Kyiv and Odessa are the best places to experience the Ukrainian nightlife. Both cities have clubs, bars, beer taverns, underground rock clubs, and cocktail venues. The party venues fall under three categories, the budget venues are mostly centered around universities, and have students as regulars. The middle-ranking clubs have customers consisting of students, visiting tourists, and business people. The high-ranking clubs are visited by reputed personalities which include, politicians, actors/ actresses, business icons, and famous media personalities.
Shopping in Ukraine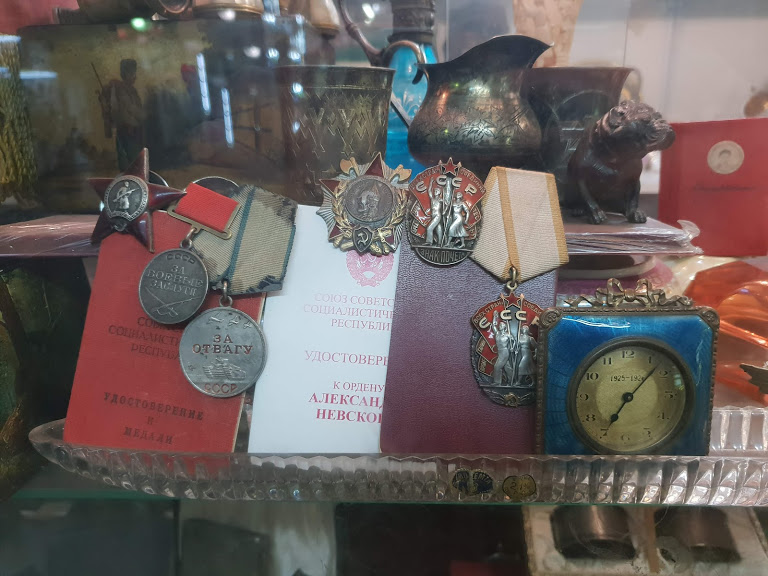 For shopping, Ukraine has an abundance of things on offer. Ukrainians themselves like to shop and all tourist towns have malls. Naturally, Kyiv has the most options and is home to a variety of malls, bustling markets, and boutiques. Popular souvenirs from Ukraine include ceramics, jewelry, art, and carved Russian matryoshka dolls. For our clients, Soviet-era relics are the most popular.
Visitors to Ukraine should always bargain at the local markets as prices are usually marked up heavily in tourist areas. Check out Andrevsky's Descent in Kyiv, which is known for its open-air art gallery and Soviet antiques. For the latest fashion, check out Khreschatyk Street in Kyiv. This is the main downtown area of the capital and is home to a range of local and international brand names.
It's important to remember that anything of historical importance cannot be exported, including religious artifacts. A good rule of thumb is anything pre-1945 is a bad idea to try and export.
When is the best time to visit Ukraine?
In our opinion, the best time to visit Ukraine is either side of summer in May-June or September. Temperatures are comfortable, sightseeing is less crowded and there are fewer holidaymakers heading to the Black Sea beach resorts around Odessa.
However, if you like the real Soviet vibe and can handle the cold, then winter is also an attractive time to visit Ukraine for many people.
About Post Author
.