Celtic/Gaelic domination of the whiskey market scotched as North Korea unveil their first distillation!
May 23rd 2023
North Korean whiskey is here! Young Pioneer Tours was today given access to the first ever batch of North Korean whiskey — the locally-distilled Samilpo whiskey! Yes it was us that broke this story.
Some of you may recognize the name 'Samilpo' from Lake Samilpo near Mt. Kumgang. This area is considered one of North Korea's most beautiful scenic spots in the country; hence the reason the director of the company decided to use this name for the first North Korean whiskey.
The director also chose this design for the whiskey bottle because it closely resembles the design of Johnny Walker, which is a well-recognized whiskey in North Korea. There are three different types: 40% (black label), 42% (red label) and 45%. The 45% is not yet ready.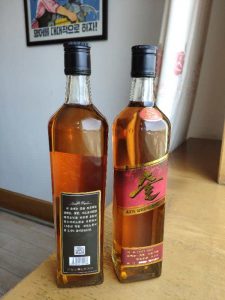 The director went on to further comment that there are 15 types of amino acids, including 8 types of essential amino acids, present in the whiskey. This beverage will reduce harm to your liver and will also reduce the negative side effects of alcohol abuse.
Whiskey/whisky is a spirit that can trace its origins as far back as Alexandria, Ancient Greece, and the process of distilling it was refined by medieval Arabs. The techniques made their way to Italy, and eventually to Ireland and Scotland. Ireland (and, by extension the US) favour the spelling 'whiskey', whereas the Scottish prefer 'whisky' (usually rendered simply as 'Scotch' in the US).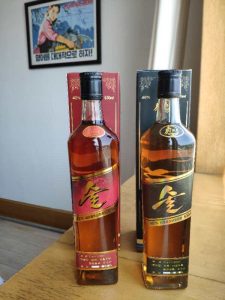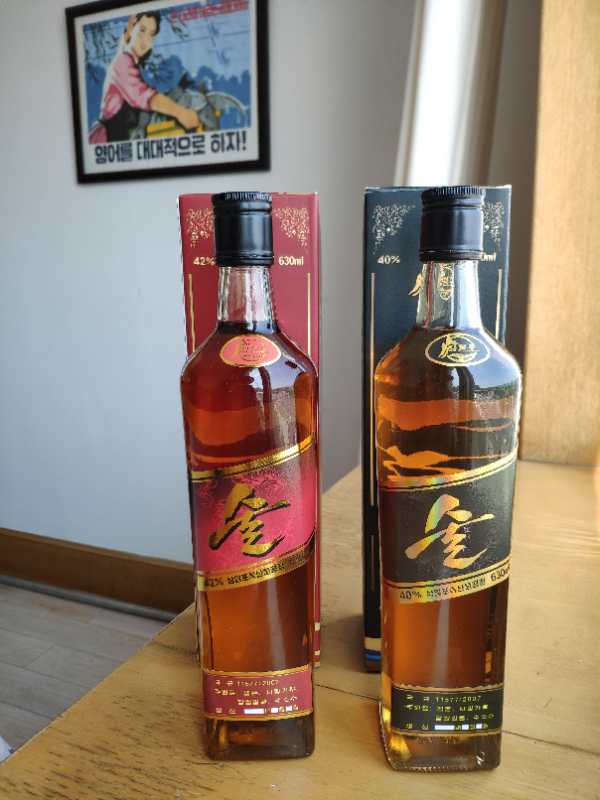 North Korean Alcohol
North Koreans are no strangers to alcohol — popular native drinks include the now-world-famous Soju, Taedonggang Beer, the fermented-rice beverage Makgeolli, and even seal-penis liquor.
You should begin to see Samilpo Whiskey popping up around shops in Pyongyang including the Kwangbok Department store later this year. Each bottle sells for $15 USD, which makes it one of the premium bottles of whiskey sold in North Korea. The owner aims to export Samilpo Whiskey to other countries once the political situation improves, so that the whole world can sample the country's first whiskey.
North Korean Whiskey Update 2023
Sadly no more whisky was produced in North Korea, or at lest released before the borders closed due to Coronavirus. We therefore currently do not know what the North Korean Whisky scene is right now. We will though update as and when we can!
Sample North Korean whiskey yourself on one of our tours!
About Post Author
.