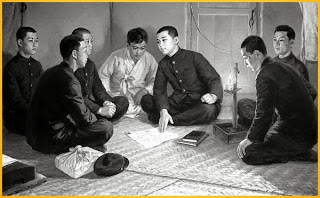 Even if you are quite well versed in the political history of colonial Korea there is one important organization you may not have heard of, the Down-With-Imperialism Union.
History of the communist movement in Korea
In 1925, revolutionaries formed the Communist Party of Korea in Seoul during a secret meeting following the banning of communist parties in Imperial Korea. The party became the Korean representative of the Communist Internationale 6th congress in 1928. Unfortunately, by the end of 1928, internal disputes led the Comintern to disband the party. Many members, such as Kim Il Sung, fled to fight a guerrilla war alongside the Chinese against the Japanese invader. Some cells did remain in Korea, but there was no organized party as such.
Who are the Down-With-Imperialism Union then?
We are glad you've asked! The Down-With-Imperialism Union, also known as the DIU, was founded on 17 October 1926 in Huadian city, Jilin province, China. The city was then a hotbed of revolutionary anti-Japanese activity. The goal of the organisation was to coordinate the liberation efforts against the Japanese Empire.
According to North Korean sources, their first President, Kim Il Sung, who at the time was around 14 years old, founded the Union.
What does this have to do with communism?
The Down-With-Imperialism Union as well as, well fairly, anti-colonial were also Marxist-Leninist in orientation. In this regard, the North Koreans amongst others consider the DIU to be first continuous communist organization in the Korean peninsula and thus of higher prestige than the Communist Party of Korea.
In this respect, the DIU is also considered a forerunner to what would become the northern bureau of the Communist Party of Korea, which morphed into the Worker's Party of North Korea and finally into the Worker's Party of Korea, the leading light of politics in the DPRK. For more on the WPK check this link.
Or to learn more about the DIU simply join one of our many tours to the DPRK!
About Post Author
.