Not everyone's a fan of camping. The exposure to mosquitoes, lack of indoor plumbing, and wild animals visiting campsites usually turn most people off. But going outdoors for a nice vacation doesn't always have to be a challenge. It can be fun, relaxing, and luxurious.
Yes, luxurious camping is a real thing, and it's referred to as 'glamping' or glamorous camping. It's a term that came around 2005 but somehow gained traction during the height of the pandemic. Many people who got tired of staying at home found a way to enjoy the ruggedness of the outdoors without sacrificing domestic comforts.
Sounds interesting, you say? If you're itching to try out glamping with family and friends but have no idea how to begin, let this be your guide:
1. Accommodation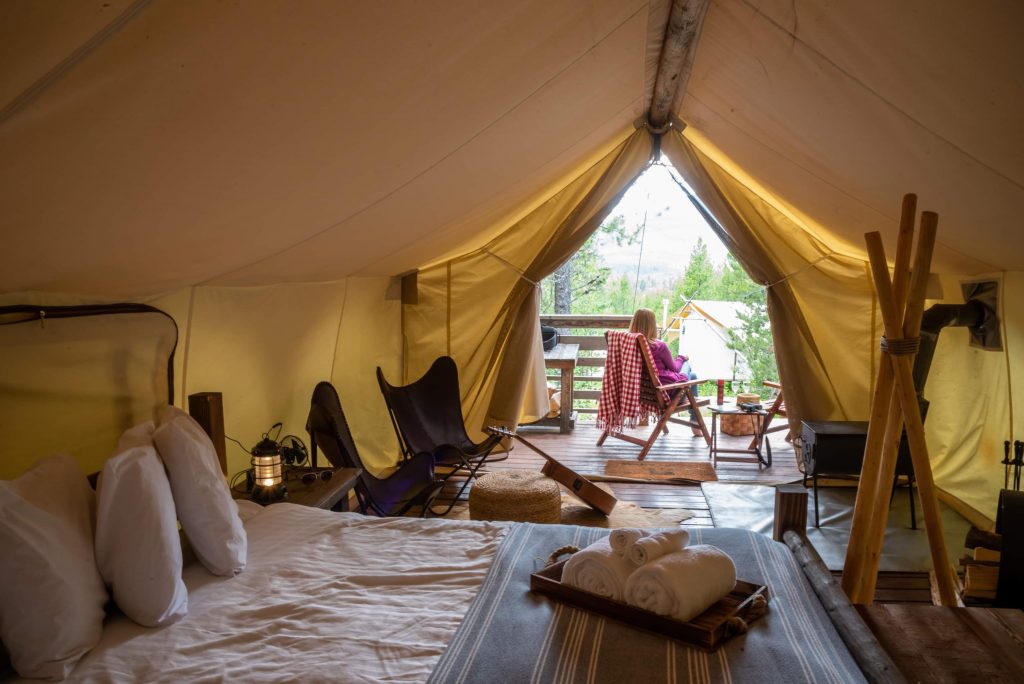 No one goes camping without a place to stay. The best part of glamping, though, may have to be the lodging, which isn't your ordinary tent. Glamping accommodation allows you to have standard home amenities out in the wilderness. So, it's not unusual to have a working stove and decent restrooms in the middle of the forest.
Glampers have a lot of options on where to stay. You can settle for the iconic bell tent that's cozy enough for a small family or luxury yurts for glamping which may offer electricity and bathrooms. Other lodging alternatives include:
Safari tents
Covered wagons
Tipi tents
Treehouses
You can purchase your own tents if you plan to go on glamping trips yearly. Some glamping locations already offer accommodation, though, so all you need to bring is yourself and your travel bags. Whichever you prefer, you can be assured you're getting a quality place to relax and unwind somewhere far from city stress.
2. Costs
As with any vacation, you'll need to spend a bit on an extravagant trip. Glamping may be more expensive than regular camping, but it's worth it in the end. Yet compared to reserving a hotel suite, it's much more affordable.
One night of glamping may cost you around USD$50 to $250. This affordable setup includes some basic household necessities and an indoor room. You might not have running water, but at least you get to sleep somewhere the bugs won't bite much. You'll cut more costs if you provide your own lodging, too, of course.
More expensive offers may go from USD$3000 or higher. You'll get more luxurious amenities and better glamping activities worth its price. If you have enough budget and yearn for an exciting outdoor experience, don't hesitate to go for it.
3. Things To Bring
Just because glamping offers vacationers the comforts of home doesn't mean you shouldn't bring a few more things. Glamping is still camping. So, if you've chosen more affordable accommodation or a remote location, you'll need to pack several items in your bags.
Here's a list of usual gear every camper and glamper should bring:
Batteries and power banks
Extra blankets
Sleeping bags
Flashlights and headlamps
Insect repellent and sunscreen
Cleaning supplies and toiletries
Appropriate clothing
First-aid kit
Food and drink
Cooking tools
Aside from those, check out these other must-have camping tools so you can have the perfect glamping experience in faraway destinations.
4. Campsites
Google searches will give you some location options. But most of the time, popular areas will be filled with people, especially in peak seasons. Unless you enjoy being surrounded by other glampers, you might want to check out other places that offer the same fun with more privacy. Glamping in the wrong place will only make your holiday less exciting.
To know if your chosen location is the right one for you, keep these tips in mind:
Check the space. Glamping is all about being one with nature while still staying in comfort. A location must offer scenic views, opportunities to do regular camping activities, lots of areas to roam, and peace.
Be acquainted with your lodging. Your desired accommodation must suit your tastes, or you won't enjoy the outdoors one bit. Whichever tent you prefer, ensure it allows you to live in nature's grandeur while protecting you from its harsher elements.
Consider comfort levels. Everyone has a different level of comfort. You could do fine with a regular sleeping bag, but someone else in your group might prefer a cot or a bed. Think about amenities like bathrooms and such. Your accommodation must provide the facilities you need, and you should bring your necessities, too.
By keeping these in mind, you can prepare yourself and your companions for a great adventure wherever you are in the world.
5. Schedules
When should you go glamping? The correct answer is: anytime you want. But a well-prepared traveler knows that different places have varying weather conditions depending on the time of the year.
The best time to go glamping in remote destinations is during spring or fall. Basic glamping setups don't often include air-conditioning or heating, so you need to pick a time when the temperature is just right to go outside.
Check online for the area's climate, terrain quality, and reviews from former glampers if possible. Not utilizing digital resources when it's right there is one of the camping mistakes to avoid. Always do your research before choosing locations, especially if you plan to go somewhere far from home.
Ready, Get Set, Glamp
Glamping is a thrilling activity to do with friends and family once vacation season comes rolling in. The best part about glamping as a first-timer is you don't need a camping experience to do it. There are also many places near and far for you to set up camp, and it's pretty affordable too. So, wherever the wind takes you, go out and enjoy Mother Nature while relaxing in your little glam camp.
About Post Author
.