Written by Joel, our man in Soviet Europe.
With YPT's inaugural Balkan Badlands tour kicking off in June, this is the first of a series of blog posts to introduce people to the incredible countries that make up the highlights up the Balkans. Starting with the capital of Bosnia, Sarajevo.
My first visit to Bosnia & Herzegovina began as an eventful one. Driven at high speed from Belgrade by an angry looking 16 stone Serbian man, whose driving was more suited to formula 1 than the narrow mountain roads that lead towards Bosnia. His multitasking of driving and obsessively fiddling with an MP3 player, combined with his determination to start a fight with Bosnian border guards, made for an interesting one. Arriving in Sarajevo in the dead of night, the city naturally didn't make much of an impression on me. Little did I know that the next few days here would turn it into one of my most favourite Balkan cities.
So, here are five reasons that make Sarajevo a city that should be on travellers must-see list.
---
#1. Sarajevo's Dark, Unique Vibe

While this has been said about many cities around the world, Sarajevo is unique for a number of, often dark, reasons. Between 1992 and 1996, the city was the site of the longest of a capital city in the history of modern warfare, which lasted three times longer than the Battle of Stalingrad and more than a year longer than the Siege of Leningrad. Almost 14,000 people were killed during the siege and the city still bears the scars, many of which our group toured on our visit. Even the courtyard walls of the apartment block we were staying in bore evidence of machine gunfire and close quarter fighting. The beautiful war-damaged architecture is contrasted with a now thriving and fully functioning city, which shows that the people of Bosnia are pulling themselves away from the horrors of the recent war and looking towards the future, whilst simultaneously learning from the past scarred into their surroundings.
#2. A Photographers Dream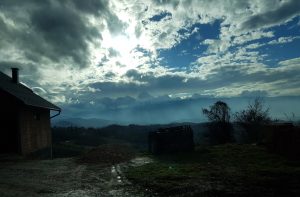 Sarajevo is a photographers dream. It provides multiple locations and sights that are unique and rarely replicated in any other city. In the mountains surrounding Sarajevo, you can find an entire Olympic bobsleigh track that has lay abandoned since it was taken over by besieging forces who used it to fire on the city from above, surrounded by bombed out and bullet-riddled hotels and restaurants, it provides an unreal photography destination.

In downtown Sarajevo, budding photographers can find an array of incredible sights and architecture, this is a city where even the pavements and sidewalks are of interest. Look down to scattered clusters of holes painted red, this is nicknamed Sarajevo roses, they are the scars left by 1990s mortar shells, look to the walls and you will see Plaques commemorating victims of Serbian grenade attacks. After a day of exploring and photography, you can stop for a rest and refuel with a powerful cup of local coffee, which brings me to my next point.
#3. Coffee Lovers Dream
One of Sarajevo's many advantages is that it's a melting pot of cultures, providing many benefits for visitors to the city. One of these is its cuisine and coffee. It's no secret that Sarajevo has some of the best coffee in the Balkans.
It may look like Turkish coffee, but it is presented very differently and Bosniaks are proud of their coffee, so remember the term Bosanska kafa when ordering! The coffee is traditionally presented on a metal tray and the thick black coffee is then poured from a copper pot into small ceramic cups. Sugar is provided, the local custom is to dip a lump of sugar into the coffee before removing it and taking a small bite to get used to the taste. There are many fantastic, unique cafes in the Old Bazaar to find a traditional Bosanska kafa.
#4. The Old Bazaar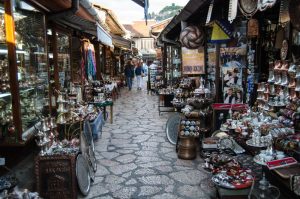 The Bazaar in the centre of Sarajevo quickly became one of my favourite places. It feels like you have stepped into Turkey or the Middle East, when a few seconds earlier you were in a European capital. The Bazaar provides an opportunity to buy all kinds of products and produce. From antiques, traditional clothes, jewellery and pens made from used bullets. It is also a great place to grab a coffee or one of the delicious looking desserts or Gelato, sit outside and watch the hustle and bustle of Sarajevo life go by in this fascinating city.
If you have a few minutes to spare in the Bazaar, a surprisingly interesting and hidden little museum is located under a huge elaborate silver pot. Stari Bazar has been creating traditional Bosnian copper crafts for 224 years. Usually, the owner's daughter is around to show you the museum located in the basement, she speaks English and is the only female coppersmith in the entire city.
#5. Experience Five Cultures in One City
Sarajevo's unique architecture, food and people are a result of the city being a historical crossing point for many cultures, religions and empires. This has left the city with a rich cultural and religious melange: Muslim, Orthodox Christian, Catholic, Jewish, Roma
Whilst countless tourist agencies, bloggers and travellers use the terms "crossroads of Europe" and "East meets West", in Sarajevo, these terms are no longer generic jargon, they are genuinely defined. For example, the city features a large compass upon which you can look east facing the 16th-century Ottoman quarter. Then turn west to see the legacy and architecture left behind after Austria's 19th-century conquest, the backdrop to this contrast is solidified with the Islamic call to prayer sounds next to the echo of church bells.
---
Like all great and unique places, Sarajevo isn't necessarily easy to reach. There are rarely any direct flights from the UK. Luckily, YPT's Balkan Badlands tour includes an extensive tour of Bosnia & Herzegovina, taking in Sarajevo, Mostar, the site of the Srebrenica genocide and every incredible sight in between.
Overall, the tour takes in five countries in twelve days, taking us on a wild road trip through Croatia, Bosnia & Herzegovina, Serbia, Kosovo and Albania, a melting pot of countries who have all been at the forefront of modern history and still bear the scars.

Experiencing edgy arms markets in Albania, firing Kalashnikovs, exploring vast nuclear bunkers and underground bases, sites of genocide, war damage and mass bombing campaigns, and not to mention unique, stunning scenery! The Balkan Badlands tour guarantees to be a mind-blowing adventure! Click here for more information.
About Post Author
.