Westerners have largely avoided this ancient and beautiful land since the Islamic Revolution of 1979. With warming relations with and an increase of foreign visits in the last two years, this country is finally getting the recognition it deserves after years of failed isolationist policies.
Here's why Iran should be on your radar.
---
1. The people 
Iranians have a centuries-old reputation for being a very hospitable people, especially when it comes to foreign guests. The hospitality tradition has only intensified in recent years, and with so few Western travellers coming to Iran these days, many who do go are overwhelmed by the warm welcome. The Iranians, a nation made up of numerous ethnic groups and influenced over thousands of years by Greek, Arab, Turkic and Mongol occupiers, are endlessly welcoming. For those who have grown up on an endless diet of images depicting Iran as a dark, dangerous place full of fundamentalist fanatics, discovering the real Iran is the most wonderful surprise. Beyond the stereotypes is a country desperate to been seen for what it is, rather than what it is depicted to be.
Sure, not every Iranian you meet is going to invite you around to dinner. But if you're open to the idea, you probably will be, and through it experience the ancient and sophisticated Iranian culture first-hand. It's these experiences that will live longest in the memory.
Today Iran is a youthful land where approximately one third of its 70 million people are under 30 years of age. Women are better educated than in any other country in the region making up to 65% of all students entering university.
2. The History
The Persian civilization is one of the oldest civilizations on earth and there are reminders of that great history scattered all over the country. Whether it's archaic and abandoned ruins dotting the sides of highways, or the ubiquitous call to prayer, visitors will experience a very ancient land with a vibrant and vital society.
UNESCO has granted World Heritage status to several locales in Iran, including the city of Isfahan, which many refer to as a "Middle Eastern Florence," and the ruins of Persepolis, where Alexander the Great defeated the Persians in 334 BC. Iran also has a fascinating and troubled recent history. The democratically elected premier Mohammad Mossadegh was overthrown by the British and Americans in 1953 for having the cheek to nationalise his country's oil industry. He was replaced by the repressive Shah until 1979 when he again was deposed in the Islamic Revolution. The Iran hostage crises followed and relations with the west have never truly normalised.

3. The culture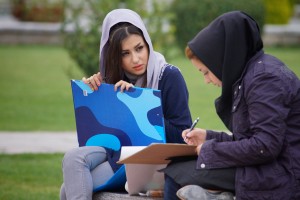 Iranian identity is deeply rooted in its millennia-old civilisation. In the ancient world the Persian Empire dominated much of what is now called the Middle East. Iranians are proud people and aware of their history and culture.
Iran is a multilingual multiethnic country. Farsi; an indo European language, is the national language. It is written in the Arab script from right to left, grammatically though it is completely different from Arabic. The Iranians added 4 letters to the 28 of the Arabic alphabet to accommodate some singular Persian sounds. Farsi, probably originating in the Fars area of central Iran, is a powerfully expressive and beautiful language with a great tradition of poetry.
4. The beauty
Be it a mosque, a palace or a bazaar, Iranian buildings are finely decorated and glow with ornamental elegance. Pastel colours gracefully interact with bright hues, tapering minarets and seemingly ubiquitous domes outline the landscape. Whether you are inside or outside a building, Iranian architecture is definitely something to be marvelled at. No place embodies this more than the city of Isfahan; the crown jewel of Iranian beauty this is a truly magical city.
It's easy to get lost in the rich history, medieval glory, and modern political excitement of Iran.  But Iran's natural beauty should not be missed.   You can go from the majestic mountains (Alborz) to the plains of Dasht-e Kavir which recall Arizona and New Mexico to the lush forests north of Iran.    Even if your trip takes you to the massive metropolis of Tehran, do take some time to explore the charming northern mountains of Darband, with its charming restaurants, cafes, and hiking areas.
5. Breaking the stereotype
Breaking the stigma and dark cloud hanging over the country is perhaps the best reason to visit Iran. By visiting Iran, you are making two statements: "I am my own person," and "I will inform myself about the world." Iran has been demonized for decades, but nearly all people who travel there come home with their stereotypes shattered, replaced by fond memories of gracious hosts and unforgettable landscapes. And whether you travel alone or in a group, whether you are a woman or a man, or whether you arrive day or night time, Iran is a safe country.
---
Experience the reality of Iran yourself.
Become part of a YPT group or explore independently.
About Post Author
.