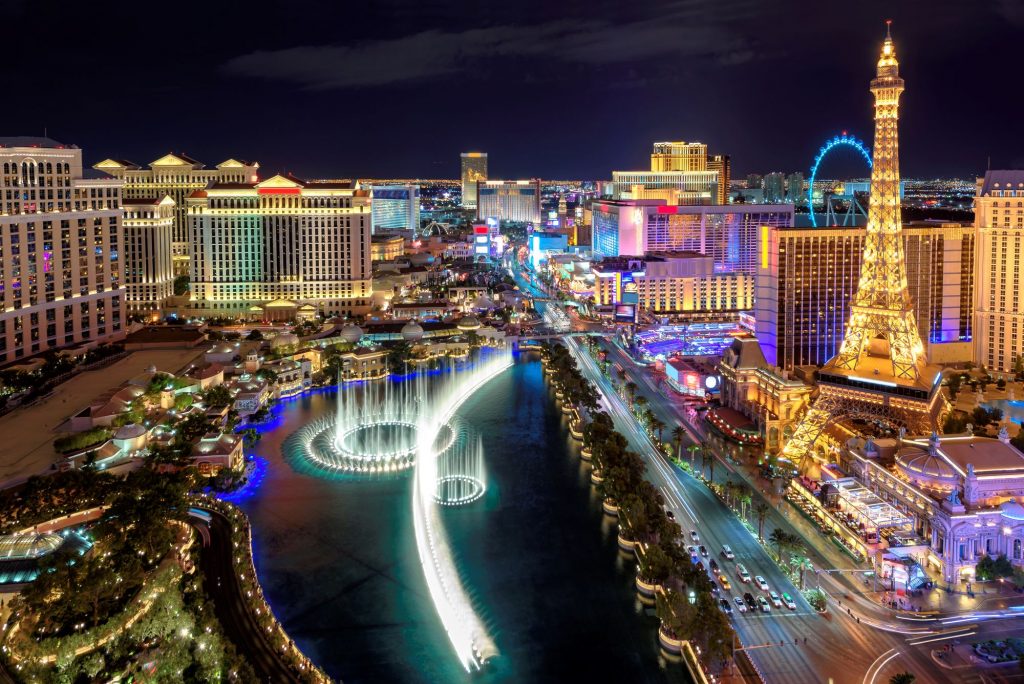 Strap in for a wild ride under the searing Nevada sun. Imagine the sensation of the hot desert wind whipping through your hair as you race along the tarmac to the heart of the ultimate pleasure paradise, Las Vegas.
As the dazzling cityscape and neon lights rise on the horizon, the sheer energy and excitement are palpable. You're not just entering a city but an entirely different universe. A universe where the ordinary becomes extraordinary and boredom doesn't exist.
Las Vegas, aptly christened 'Sin City,' isn't merely about gambling your night away in opulent casinos or getting lost in the hedonistic nightlife. It's a melting pot of culture, entertainment, adventure, and culinary delights that cater to every desire.
So, buckle up, and let's dive into this guide to unveil the wonders Sin City holds in July.
Explore Water Parks
July in Vegas is hot—piping hot. So, when the temperatures start soaring, and the Nevada sun feels unstoppable, there's one foolproof way to beat the heat: spend a day at a water park.
Vegas water parks are all-out fun zones. From ocean-like pools to interactive play areas for the little ones, they're a hit with people of all ages. It's a place where laughter echoes off the water, where the pace of life slows down, and where summer feels like a splash-filled escape.
So, cover up with sunscreen, grab your swimsuit, and prepare for a wet and wild time.
Lose Yourself In The Music
As the sun sets, Las Vegas shifts gears. The neon cityscape lights up, and the nightlife comes alive, beckoning everyone to join the fun. And there's no better way to kick-start the evening than at an electronic dance music (EDM) festival.
EDM festival are more than just gatherings. They're sensory explosions that take you on a roller-coaster ride of sound and rhythm.
Each festival has its unique flavor, with a lineup of globally acclaimed artists who know how to get the crowd going. From dusk till dawn, the air is filled with the heart-thumping bass of electronic dance music, creating an atmosphere of freedom nobody can replicate.
EDM festivals celebrate music, life, and the unabashed vibrancy that's so Vegas. This isn't just another night out. It's an experience—a memory that will permanently mark your Sin City adventure.
Experience Helicopter Tours
The allure of Las Vegas on the ground is something you can't deny. But seeing it from above offers a new level of awesomeness. As the helicopter begins to whirl, you'll soon realize you're in for an experience like no other.
Helicopter tours are more than just sightseeing; they're an adventure that sends your heart racing and leaves you with memories that last long after the trip ends. So, buckle up, and get ready for a ride that takes your breath away.
Taste The City's Best
Sure, the glitz and glamour of Las Vegas can be intoxicating, but there's another side to this city that's sure to entice: the food. From the sizzle of high-end steakhouses to the fresh flavors of farm-to-table dining, Vegas is a veritable playground for foodies.
Whether it's juicy burgers from a food truck in downtown Vegas or homemade pasta from a family-owned Italian bistro, the Sin City's culinary diversity is mind-blowing. The city's dining scene is a melting pot of cultures, flavors, and cooking styles, serving up a gastronomic adventure that surprises and delights at every turn.
Whatever your appetite craves, the Vegas dining scene will serve it in style. So, loosen that belt and prepare for an exciting and diverse culinary journey.
Watch Mind-Blowing Acrobatics
Now, prepare for a spectacle that defies gravity and challenges the imagination: Cirque du Soleil. But brace yourself; this is no ordinary circus. It's a mix of art and acrobatics that'll leave you speechless.
Imagine sitting on the edge of your seat, eyes wide with anticipation, as acrobats defy gravity, soaring through the air with breathtaking ease. Each flip and twist is performed with such precision that you can't help but marvel at the sheer talent and dedication of the performers.
So, let yourself be drawn into the world of Cirque du Soleil. Laugh, gasp, cheer, and be prepared to have your perception of reality turned upside down in the most spectacular way. This isn't just entertainment but an experience that'll remain in your memory for a long time.
Final Words
Las Vegas in July offers more than just casinos and clubs. With these activities, from dancing at EDM festivals to relaxing in water parks, soaring in a helicopter tour, tasting gourmet dishes, and watching a Cirque du Soleil performance, there's always something to make every trip unforgettable.
About Post Author
.