YPT goes to weird and wonderful places all over the world from North Korea to Afghanistan and many more. This year we are adding Cambodia to that list! Now, we understand Cambodia is an easy destination and doesn't really fit in with the other places we travel to, but it is one of our favourite destinations!
So, here are the reasons why YPT is running a tour in Cambodia:
Khmer Rouge History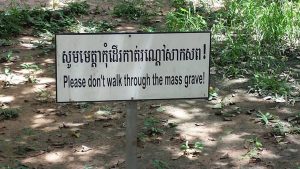 We are obsessed with countries that have a sketchy past. Add a little element of a socialist movement in there and boom! you have the perfect receipt for a YPT country. We will take you to the usual relics of the Khmer Rouge such as the killing fields and the Genocide Museum, but we will also be exploring lesser known sites such as the graves of Pol Pot and Ta Mok. These two infamous figures left Cambodia with deep scars, from which it still has not fully recovered.
North Korea in Cambodia
Cambodia and North Korea (like us) have a long history together, so we take full advantage of this by showcasing things North Korea has done in the country, such as museums and restaurants. The North Korean restaurants in Phnom Penh are second to none and thanks to the array of fresh ingredients available boast some of the best Korean food in the country. Oh, and that typical North Korean style performance, this version is truly epic!
Cambodia is an amazing place, an even more fun with us!
Using our local contacts and years of experience, we will hit the best bars, restaurants and do it all for the cheapest price possible! While you can go by yourself, we save you the hassle of searching the best place to try "Amok dtrey" or just general dealing with the tuk tuk touts!
We have extensive experience in Cambodia.
Several of our guides have either lived in Cambodia or travelled extensively through the country. So, you can be sure, that whether you are exploring Phnom Penh or Kampong Chhnang, our guides will be a wealth of knowledge eagerly waiting to show you around!
So if you're looking to travel with YPT again or join us as a first time pioneer, come with us to Cambodia this Summer so we can show you the best parts this country has to offer! check out our Cambodia Killing Fields Tour here or contact tours@youngpioneertours.com for more information.
About Post Author
.