There is a new evisa system for Uzbekistan which has made the process much simpler, cheaper and generally more accessible compared to the old soviet-era way of doing things. Get up to date with the cool kids and learn how to get this visa online in this article!
---
Citizens of most developed European and Asian countries are eligible for the evisa, which can be found at: https://e-visa.gov.uz/main . If you select your country of citizenship in the menu on the homepage, you'll be able to see whether you're eligible for the evisa or not.
If you are not eligible for the evisa, you will need to get a visa at an embassy, like everyone had to before. In this case you may need a Letter of Invitation which can arrange for you, or depending on your nationality, you might be able to do it without any supporting documents. To do so, please follow our previous guide!
The evisa takes 1-3 days to process and is valid for 90 days. So make sure you do it a week or so in advance to be safe, but not earlier than three months in advance. It will take around 15 minutes to complete the online form and you'll pay online via the website. The only issue is that payment needs to be made with a visa card, so you just need to make sure that you have a visa card you can use.
Once the evisa is processed, it will be sent to you as an email attachment. Make sure you print this off and bring it with you to the airport or the land border. It should look like this!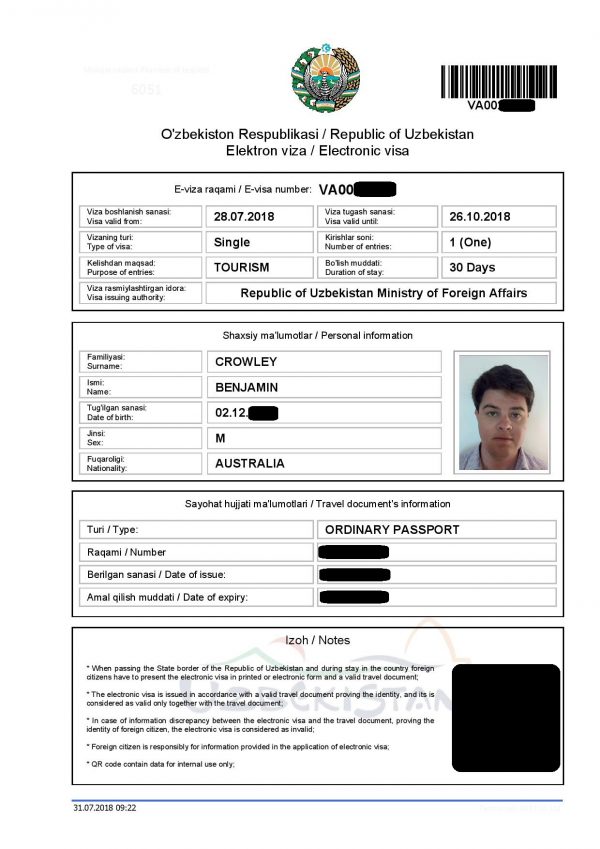 ---
Getting a visa to Uzbekistan has never been this easy, why wouldn't you join one of our tours to this magnificent country!
About Post Author
.