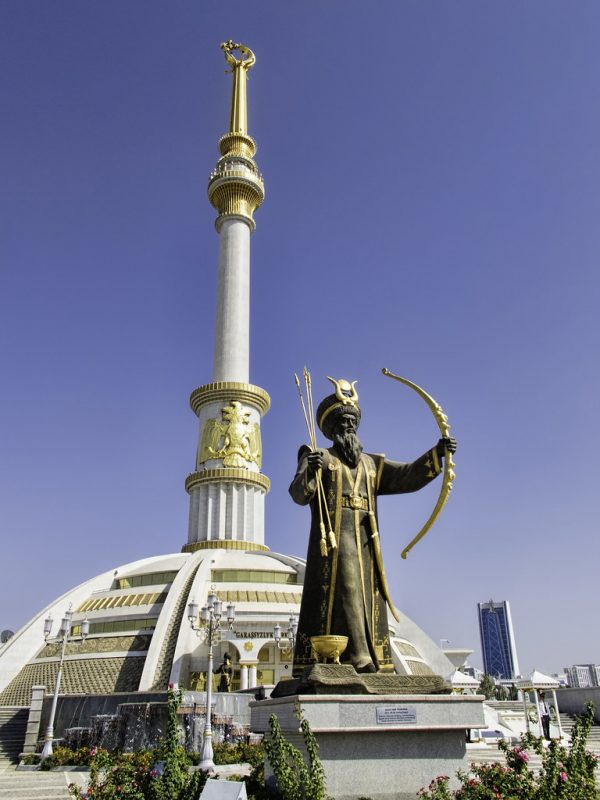 During the Soviet Union, people worshipped Lenin, Marx, Stalin and even their local communist leaders such as Frunze. When the Soviet Union collapsed each country needed to find new national heroes. The rest of the world does it, the Scandinavians have their Nordic Gods, Ireland has St Patrick and England has St George. In this blog we'll take a quick look at a national hero of Turkmenistan – Oghuz Khan.
Anyone who has been to Turkmenistan has seen his symbol; the star of Oghuz Khan is on every building, on bank notes and is even the Turkmenistan state emblem. Many other states in the region use this 8 pointed star as well as he is considered one of the fathers of the Turkic people. The story of Oghuz Khan takes on an almost religious nature since he was directly descended from Noah, of Noah's Ark.
So Oghuz Khan was a bit of a boss, from the first moment he was born he could talk. He also only drank his mother's breast milk once, after which he insisted on alcoholic horse milk, known locally as Kumis, or Kumyz. Upon drinking one of Central Asia's favourite drinks, he then only took 40 days to become an adult.
This isn't where it ends for our rather cool Oghuz Khan. The Turkic people were being hassled by a giant dragon, but he managed to first stab through the heart and then cut off its head. His family however grew wary of his growing power and planned to kill him. Lucky for him, Oghuz got wind of the plot and managed to kill his father first and become the Khan, while his step-mother and step-brother fled to China.
He had several children including Gunes (also the official name of our favourite bar in Ashgabat) and Yyldyz (the name of another one of our favourite places to visit in Ashgabat) and with them he went on to wage war against Arab and European powers, most of which he won. The interesting part here is that he won with the help of a magical grey sky wolf who lead Oghuz Khan's armies in to battle.
Oghuz Khan's feats of strength, resolves and wits have even won him a place on the currency of Turkmenistan and, if you look closely at the Manat bills, you'll see the now familiar beard.
A great national hero, but unlike many other countries around the world, Oghuz Khan is treated in a more rational way, an interesting tidbit of history, in Turkmenistan. Now, part of this is because the stories of his existence are a little bit more of the absurd side of things. A fully grown adult by 40 days old? The other significant reason is that of course the most important national heroes in Turkmenistan are the first President Saparmurat Niyazov Turkmenbashy and of course the current President, Arkadag Gurbanguly Berdymukhamedov.
About Post Author
.