Whilst travel is one of the most rewarding and enjoyable ways to spend your time, arranging your travel can be complicated, stressful and difficult. Especially in places where your language isn't widely spoken, making sure you've booked the right ticket is essential. Let us organise yours; no more scouring the internet for a legitimate website, waiting in line, or struggling to communicate with a translate app.
If you don't see what you're looking for below, get in touch. With connections across the globe, we can usually find what you need, or point you in the right direction. Depending on the type of tickets, they will either be hand delivered, or waiting for you to collect.

One of China's greatest accomplishments in our modern day living is having a state-of-the-art, smart and comfortable train network that in many situations can work out better than flying domestically within China. However, trying to obtain train tickets as a foreign tourist in China is very complicated and stressful unless you are Chinese, hold a local Chinese bank card and speak enough Chinese to communicate with the overcrowded ticket office where also the concept of lining up calmly and patiently does not exist..
So let us help you to avoid missing out on train tickets or even worse… purchasing the only remaining 'standing only' ticket (nightmare alert). Please contact us to help your travels in China on time and stress free.
Simply fill out the form below about which ticket you require and we will email you back with a quote. After purchasing the tickets with us online, your tickets will be ready for you to pick up in China!

2nd Class Seat (left) 1st Class Seat (right) – fast train

Hard Sleeper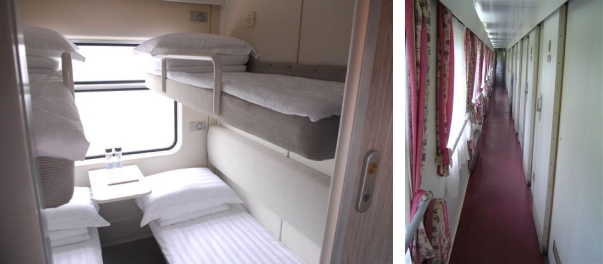 Soft Sleeper

Ferry Tickets – Dandong (China) – Incheon (South Korea)
If you wish to make your way down to South Korea after touring with us in China or North Korea or if you just happen to be in the area we are able to save you the extreme hassles of buying a ferry ticket from a Chinese vendor.
Route
Schedule
Time
Dandong – Incheon
Tuesday/Thursday/Sunday
Depart Dandong at 4:00pm
Arrive in Incheon at 9:00am the following day
Ferry Ticket Costs
VIP Class (2 people/cabin): €255 per person (only 3 cabin in each ferry, so easy to book out)
2nd Class ( 4 people/cabin): €195 per person
3rd Class (6 people/cabin): €175 per person
4th Class (multiple people/cabin): €165 per person
Please note you must check-in before 2pm to board your ferry. The price is not including the local port tax which is 30 rmb (pay the ticket collected before boarding) and the meal on the ferry is 30RMB – 50RMB per person per meal.

Talk to any traveller worth anything, and the Trans-Siberian/Mongolian railway is either something they have done, or something very much on their to do list. An iconic travel adventure that is not only the best train journey on earth, but arguably one of the best of any trips possible. Every November YPT arrange our Eurasian Adventure Tour, but aside from that we are now pleased to announce our ability to offer tickets originating in China for this adventure.
Our prices are some of the cheapest available as we are based in Beijing, and charge a very small service fee. Prices are fully inclusive, and will be hand delivered to you in Beijing with an information pack on taking the train, with our YPT delivery guide being happy to answer any questions you might have about the trip.
Prices are quoted in Chinese CNY, but can be paid in the currency of your choice at the daily exchange rate.
K3 Trans-Mongolian Railway
Beijing to Moscow via Mongolia (K3): The weekly Trans-Siberian Train K3 leaves Beijing every Wednesday. The 7,621 km (4,735 mile) journey takes 6 days. This train cuts across the Gobi desert and Mongolia, then crosses Siberia. This train has deluxe 2-berth compartments, 1st class 4-berth (soft sleeper) compartments & 2nd class (hard sleeper) 4-berth compartments.
Timetable
Stations
Category and Price (CNY/Person)
Weekdays
Arrival
Departure

Deluxe Soft Sleeper

(Individual)

Soft Sleeper*

(Individual)

Hard Sleeper

(Individual)

Wed

–

11:22

Beijing

–

–

–

16:56

17:08

Jiningnan

–

–

–

21:48

00:59

Erlian

–

–

–

Thu

01:25

02:40

Dzamyn-Ude

–

–

–

14:20

15:25

Ulan-Bator

2583

2423

1922

20:14

22:04

Nauski

2908

2723

2093

Fri

02:14

02:44

Ulan-Ude

3332

3104

2362

10:49

11:14

Irkutsk

3729

3510

2653

Sat

15:53

16:12

Novosibirsk

4752

4434

3259

23:26

23:46

Omsk

5095

4720

3455

Sun

06:31

06:51

Tjumen

5320

4945

3605

11:15

11:42

Swerdrowsk

5530

5126

3729

17:16

17:36

Perm

5709

5207

3851

Mon

13:58

–

Moscow

6304

5814

4196
K19 Trans-Siberian Railway
Beijing to Moscow (K19): The weekly Trans-Manchurian Train K19 leaves Beijing every Saturday to Moscow via Manchuria, taking just over six days to cover the 8,986km (5,623 miles). The train has 1st class 2-berth compartments and 2nd class 4-berth compartments.
Timetable

Stations

Category and Price (CNY/Person)

Weekdays

Arrival

Departure

Deluxe Soft Sleeper

(Individual /Group)

Hard Sleeper

(Individual /Group)

Sat
–
23:00
Beijing
–
–
Sun
00:35
00:41
Tianjin
–
–
08:47
08:55
Shenyang
–
–
12:03
12:10
Changchun
–
–
14:49
15:10
Harbin
–
–
Mon
04:18
07:01
Manchuria
–
–
03:26
08:03
Zabeikalsk
2795
2053
18:08
18:33
Tcita
3439
2474
Tue
04:54
05:20
Ulan-Ude
3941
2798
13:25
13:55
Irkutsk
4193
2956
Wed
06:35
07:14
Krasnoyarsk
4712
3295
18:39
18:58
Novosibirsk
5150
3571
Thu
03:14
03:32
Omsk
5469
3763
14:47
15:14
Swerdrowsk
5900
4055
Fri
17:58
–
Moscow
6744
4591
TICKETING
Departure from Beijing only. Round trip tickets are not available.
Train tickets are point-to-point only, i.e. Tickets are NOT valid any more once the passenger gets off the train halfway.
Full YPT terms and conditions are available on request