Our local partner in Eritrea, Tekeste, truly is a sweetheart. Helpful, knowledgeable and adorable, YPT has been very impressed by his professionalism since the beginning of our collaboration. In his spare time, he teaches and mentors young students who major in tourism in universities. Yes, he loves his job and he believes that his job will contribute for his fellow Eritrean people.
Young Pioneer Tours had a talk with him about his business, his country and his passion for tourism industry. We hope that you will see him in person in Eritrea in our Eritrea Independence Day Tour in May, 2017!
---
YPT: Tekeste, can you briefly tell us about yourself?
Tekeste: My professional background is in the shipping industry, especially international business. I have worked as a general manager in two shipping companies here in Asmara, and also served as a secretary general at the Eritrean National Chamber of Commerce. In 2000, I established a shipping company. We worked really hard to expand our business, especially in the area of food aid inspection, but in 2004, we had to close the company because the government decided that all shipping will be handled by a state-owned company.
However, this difficulty ended up becoming a great opportunity for me. I had in-depth experiences in service industry, so I decided to start working in the tourism industry. Some friends in France helped me establish a company, and in 2005, I opened a small company. It didn't even take us a lot of time to successfully expand our company – we soon started to work with international tour operators across the world, and we also learned very quickly about the sector. And most importantly, I found tourism such an amazing industry because it allows me to meet with people from all over the world. Since then, we have been establishing our business every year. Our current goal is to make Eritrea as a well-known tourist destination.
YPT: A wonderful story! Can you tell us a little more about tourism in Eritrea? First, how do you find working in this sector so far?
Tekeste: There are two important things to offer to clients in tourism: adventure and professional services. And I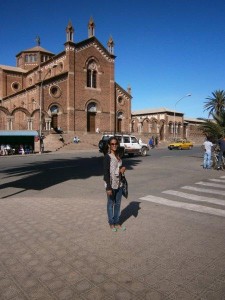 enjoy providing both of them to my clients from all over the world. I was born with the explorer spirit, and I am very curious to discover new things in my country. Moreover, I believe that there is nothing greater than having people in your heart! In our culture, becoming a host is an honor of life, and a host has to do everything to make his or her visitors feel at home away from home. In these senses, I consider tourism as an ideal sector for me to work in. Tourism also opens the eyes and challenges the mindset of both visitors and the local population, so sometimes it can be quite sensitive too. But even such challenges are very much enjoyable, and I know that this is why I do what I am doing. I am aware that international visitors may not have a completely positive image on Eritrea, so it is my duty to change that by providing them with high-quality services with absolute honesty. I feel that my life has been very enriched thanks to the people that I met, and this network and experiences are my most valuable asset.
YPT: What are the three major challenges in the Eritrean tourism industry, and how do you handle with such difficulties?
Tekeste: One of the man challenges is that, very few people in the world know about Eritrea and its attractions. It is a very small, relatively new country and little known in the Horn of Africa – and even if people know about our country, the image portrayed in the media is not necessarily positive. So we have to first aggressively work on the marketing. I think that one way to tackle this challenge is to organize a tourism forum or conference in the country, and invite well-known travel journalists or international tour operators. The country also has to participate in large tourism fairs, such as the ones in Berlin, London and Paris. In addition, Eritrea has to be advertised more in the media. Eritrea is not all about what you see in the international media, and I strongly hope that people across the world would start appreciating our country for its welcoming people, culture and rich history.
Another challenge is heavy paper work. Currently, if international tourists want to visit outside the capital city, they need to get a travel permit authorized by the government. We firmly believe that such procedures should be waved out. Also, the current system does not allow foreigners to obtain visa very easily. It would be great if at least some selected nationals can get a visa on arrival at Asmara Airport. Stakeholders in the tourism industry have to aligned to each other and push the system to improve. Lastly, our economic system can be a bit of challenge for stakeholders in the tourism industry. Our currency is fixed to US dollars while the country is facing a high inflation. This means that, many stakeholders in tourism earn in foreign currency, but their earnings in the local currency does not increase while the prices go up. As a result, it is difficult for us to provide high quality service with a competitive rate. In fact, our biggest threat today is the increasing competition with neighboring countries. Still, my priority is for my guests to have a memorial and happy trip in Eritrea, so I am going to keep working to find a solution. We are continuously working on these issues with the Ministry of Tourism and other government agencies.
YPT: What are the top recommendations that you have for international tourists visiting Eritrea?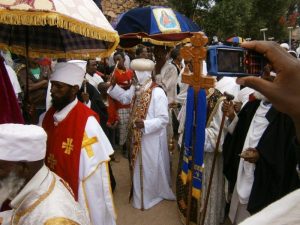 Tekeste: The Eritrean people is the biggest attraction of the country! We are extremely hospitable people – for example, according to our tradition, hosts would wash the feet of their gusts and offer them the best food and drinks that they can afford! In my opinion, this is the greatest asset of the Eritrean people. We are also the people who pay high attention to the social harmony. For example, there are nine ethnic groups in the country, and they have live together for millenniums despite their unique and distinctive ways of living. So when you are in Eritrea, meet and interact with them. Through such interactions, you will also get to know that Eritreans are the people who respect many things, such as social rules, laws and cultural habits. As you spend time with the people here, you will understand why we are the way we are, and you will go to your home country "with love."
The second thing that I am proud about the Eritrean tourism is safety. Eritrea is a street-crime-free country, and visitors have no problems walking around comfortably in any town in the country at any time of the day and night. No one would harass you, and mugging or street violence are unthinkable in our country. Safety isn't expensive – it's priceless in our country.
Thirdly, Eritrea is endowed with spectacular geographical features –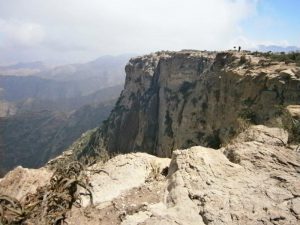 from breath-taking highland plains dividing the topography from the north and the south to a gradual descent of lowlands on the eastern and western edges of the highlands, from the green belt escarpments to observe the fog right beneath your feet to 1200 km of coast line of the Red Sea. The altitude varies from 0 to 3,300 meters above the sea level, allowing you to enjoy three seasons in just about three-hour drive! In this fabulous scenery, "hairpin bends" roads stretch to all regions of the country. In some parts of the country, climate is ideal for trekking, gliding, cycling and balloon expedition. However, such activities are yet to be authorized. Among a handful natural sites in our country, the Grand Canyon on the south east of Asmara particularly is a must-see. There are tremendous geographical sites including the Great Rift Valley along Assab, remote southern region next to Djibouti and stalactites and stalagmites. The Red Sea Region is a home to 360 islands. The biggest group of Islands is the Dahlak Archipelago, where you can enjoy diving, snorkeling and fishing in the untouched waters of the Eritrean Red Sea – absolutely spectacular! Divers can also enjoy visiting ship wrecks of World War II and the War of Independence in the 1990s.
Fourthly, there are many monasteries and holy sites in volcanic remains. For example, an orthodox monastery, Debre Bizen, was founded by Bishop Philip 700 years ago. Only male tourists can trek up to the monastery – it is an arduous journey that will require a healthy physical condition. Tourists can also visit the historical Belew Kelew Stele in Metera and the big stone in Keskese. There are also countless archaeological sites in the country, which are yet to be excavated. Today, tourists can visit the Kohaito archaeological sites, including rock painting, ancient dam, rock hewn cross, the ancient port of Adulis and Zula, etc.
Eritrea's fifth attraction would be a number of ingenious architecture, constructed during the Italian colonial era. There are more than four hundred art decos in the capital City of Asmara and other towns. Eritrea also has an Italian railway constructed in the end of the 19th century – the train ride is quite an experience! The steam locomotives are more than a century old, using coal as the source of energy. Locomotive enthusiasts enjoy using the locomotive from Asmara to Massawa a stretch of 120 kilometers. Visitors will be stunned to pass through 30 tunnels in a short distance of 120km between Asmara and Massawa.
YPT: Wow, I am sure that our blog readers are now enjoying their imaginary trip to Eritrea! So with all these amazing attractions that the country has to offer, what do you want to see in the Eritrean tourism industry in the coming 10 years?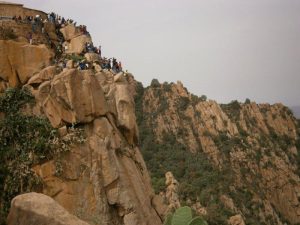 Tekeste: I have an ambition – I want to see Eritrea welcoming one million tourists per year by 2025! Especially, I think that Eritrea has to focus on three things: better care for archaeological sites, establishment of national history museum and proactive use of young talent in the industry. In the next ten years, I want to see a professional focus being laid on the archaeological sites. For example, I would like the country to have a well-organized Department of Archaeology in the government and an archaeology museum. I also believe that the government should heavily invest on the archaeological sites to preserve the sites. The modernity neighbourhood of Asmara also is a place that needs to be taken care of.
A national history museum should also be established in the next ten years. Eritrea has rich history. Eritrea was always a target of the outsiders, such as the Ottoman Empire, the Egyptians, the Italians, the British Military administration and the Ethiopians. Such rich history and the stories of struggles of our ancestors should be passed to the next generation, and to the visitors from the world. To provide a high-quality service and to sell the positive image of the country to the clients, an institute of tourism should be also established. There will be many graduates who can give professional guides to any visitors in various languages. Likewise, I would expect to see a strong and creative entrepreneurship scene led by the young people in the tourism industry in the next decade. They can help the country to draw more and more tourists. Without doubt, the country can be another Egypt with talented entrepreneurs.
YPT: It has been such an inspiring conversation, Tekeste. Thank you very much. YPT is looking forward to our first trip to Eritrea with you!
---
Join us in Eritrea or combine the trip with our Somaliland Tour to see the best of both of these fascinating countries!
About Post Author
.