An alternative place and an alternative view
When you think of Egypt, you think of ancient civilizations, inscriptions, pharaohs and, of course, Pyramids, more specifically, those of Giza, which are amongst the most visited tourist sites in the world. However, a mere few kilometres away from these wonders is a city that most tourists neither know nor dare to visit. This location's official name is Manshiyat, or as it's more infamous for, "the garbage city of Cairo".
What is the Garbage City of Cairo?
Many tourists and even many Egyptians misunderstand the garbage city. A whole town littered with rubbish from top to bottom, the magnitude is hard to put into words. It is thus no surprise that it has earnt its reputation as "the slums of Cairo". Of course, the word slum has negative conations and paints a dire picture. The city and those that live in it are again smeared by a quick search on google, which for the most part, mock and degrades.
However, this representation is not wholly accurate; as the saying goes, "never judge a book by its cover". Under the surface and in the shadows of Egypt's grandeur past is a community who have made trash their business, generating a reliable income in a developing country and pioneering recycling across the globe.
The People of the Garbage City of Cairo
Who would live in a city full of trash? Beggars, poor stricken individuals, and families with no other choice? No, not entirely, while many may face harsh conditions, it is not a fair representation of the nearly 60,000 people who inhabit the city.
The story of the unofficial garbage collectors is interesting and dates to the 1940s when Christians in Northern Egypt flocked to the city to look for work and a better life. Being Christian amongst a primarily Muslim population allowed them to capitalise on pigs, farming them and planting the seeds for a successful food waste system. And later, an informal but brilliant recycling industry that would combat the waste of nearly 20 million inhabitants of Cairo.
While the people of the garbage city of Cairo have been subjected to patronising attitudes, their work deserves great recognition. To most, it may seem unfathomable to live amongst lots of rubbish, and of course, there are health implications for such, but they have found a way to monopolise garbage and make it profitable in a country where poverty is rife. This deserves credit.
While we like alternative places at YPT, we also strive to learn alternative opinions, and speaking with people of the garbage city did just that. So many people we were fortunate enough to meet were second and third-generation inhabitants. They are proud of their work, and despite being able to afford to leave, they opt to stay – why?
What the people of Garbage City of Cairo do
It is essential to understand what the garbage people do and that they do not simply exist in the garbage. They do not just throw their rubbish on the street and horde it, in fact, the very opposite. The people who live in this city understand recycling better than anyone else. Almost 90% of everything they collect is recycled compared to western recycling companies, which only do roughly 40%. So, we could learn a thing or two.
The city's people work hard, very hard, taking on dextrous physical labour, mostly without gloves, for the best results. Each family or household generally works with a different kind of material to specialise and produce the best results.
What it is like visiting the Garbage City of Cairo?
If there was one word needed to describe the experience, unique comes first to mind. No matter which routes you take to the city; you will pass by significant sites, The pyramids, Muhammad Ali Mosque, and the Citadel (amongst the most beautiful). Then in the shadows of all that has come to symbolise Egypt's history, empire and culture is this forgotten city.
As you approach, the smell will no doubt engulf you; it hits you straight in the face and lingers during and what feels like long after your visit. It is very thought-provoking, and when you know of the work the people in the city do, it allows you to appreciate them greater.
Although rubbish surrounds it, it is a vibrant city, full of colours, people walking the streets, and kids riding their bikes. Yes, there are even food stands and coffee shops, it is a regular city with an alternative twist.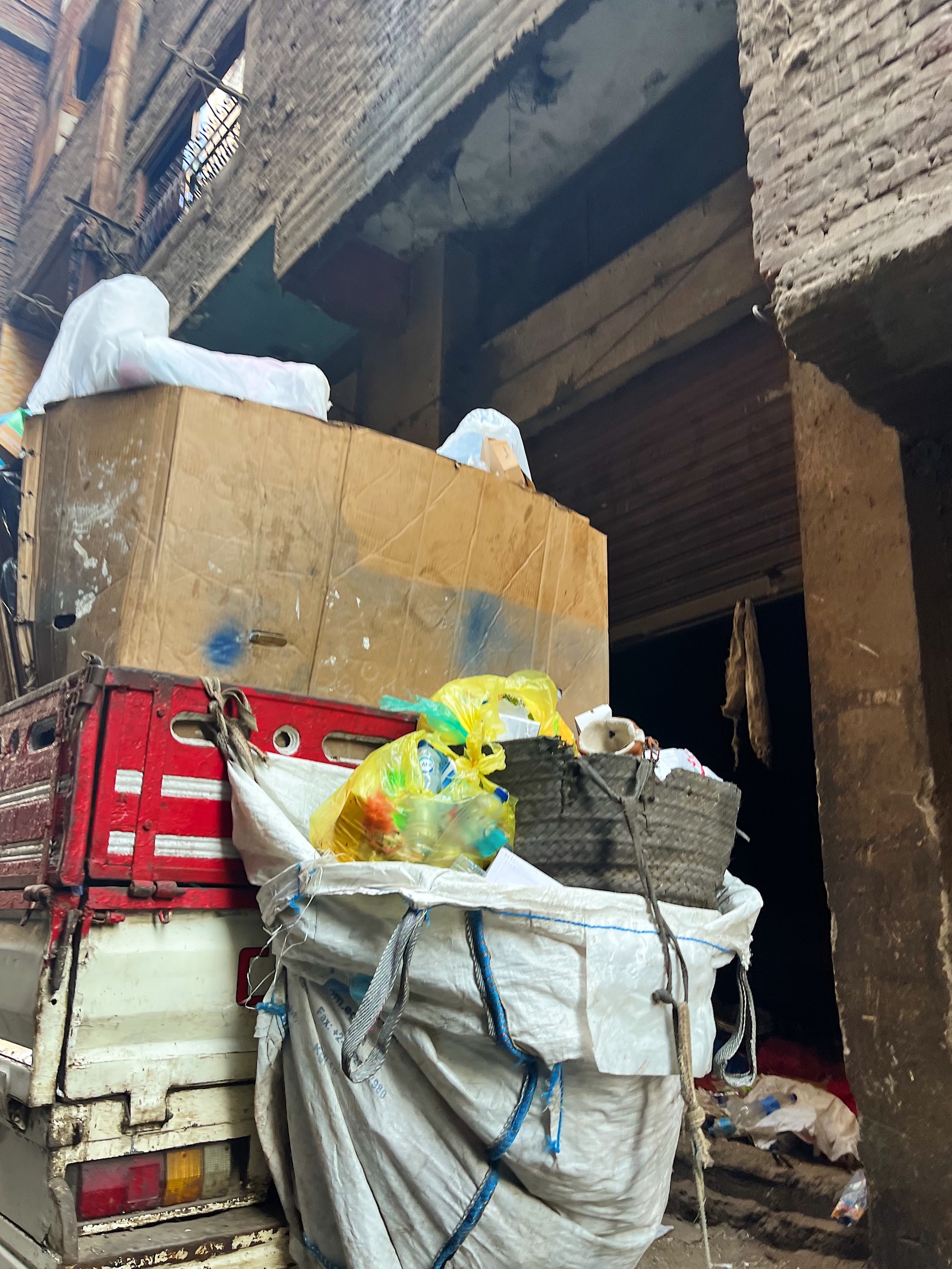 Can you visit the Garbage City of Cairo?
In short, yes, you can visit the garbage city. However, there is an etiquette that you should follow. It is important to remember that it is not only the people who occupy its work but their homes. Hence, getting out of the car, taking photos with a big camera, and pinking your nose or pulling faces at the smell, which are natural reactions for most without ill intent, can cause unwarranted attention and humiliation.
On our tours, we prep you fully with the history and know-how and due to our incredible connections, you can gain first-hand knowledge and experience. Visiting the Garbage city of Cairo is a must on our Alternative Egypt Tour; it is both exciting and extraordinary.
Come and join us, learn more here.
About Post Author
.