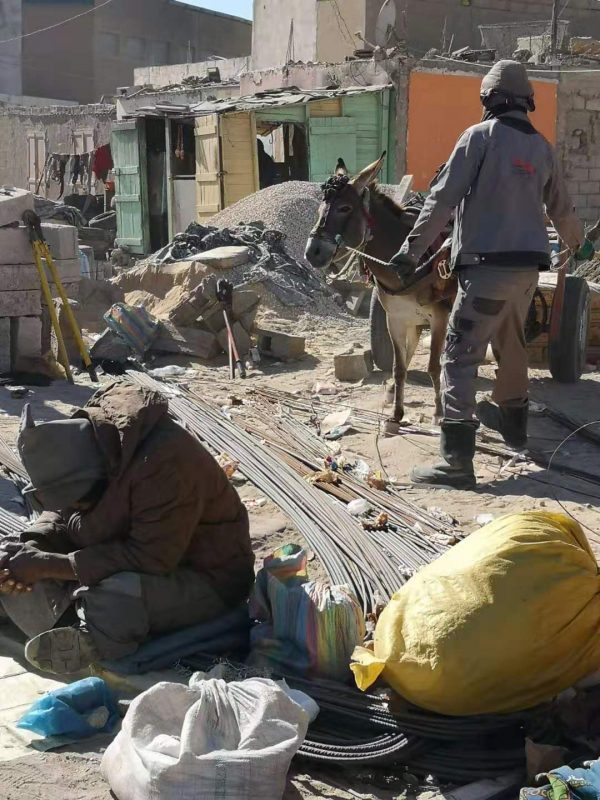 Nouadhibou is the second most important city of Mauritania. Located at the north of the country, less than an hour driving from the wild border between Morocco and Mauritania, controlled by Western Sahara, it is an important fishing port of the west coast of Africa. More importantly for off the beaten path travellers, Nouadhibou is where the Mauritanian iron-ore train stops to offload its cargo unto boats. As such, it is the starting point of the world's most epic train journey, a favourite of Young Pioneer Tours.
Nouadhibou can feel quite mad maxy and, to be completely honest, it is an absolute mess. So here is YPT's handy guide to find your bearings while in Nouadibou.
Getting there
Nouadhibou has a international airport which covers a very few select flights. While most of its flights are domestic, it has regular flights to the Canary Islands, linking it to the rest of the world, and seasonal flights to Morocco.
Road travellers can drive from Western Sahara/Morocco in less than an hour from the border. Alternatively, travellers coming from the south, such as Senegal or the capital of Mauritania, Nouakchott, will find that the road between the two main cities takes about 5 hours on the country's best road.
Where to eat in Nouadhibou
When it comes to eating in Nouadhibou, YPT has clear favourites. You'll find plenty of street food, cheap eats, Chinese restaurants and fast food but two restaurants clearly are above the others. As luck would have it, the two of them are right next to each other.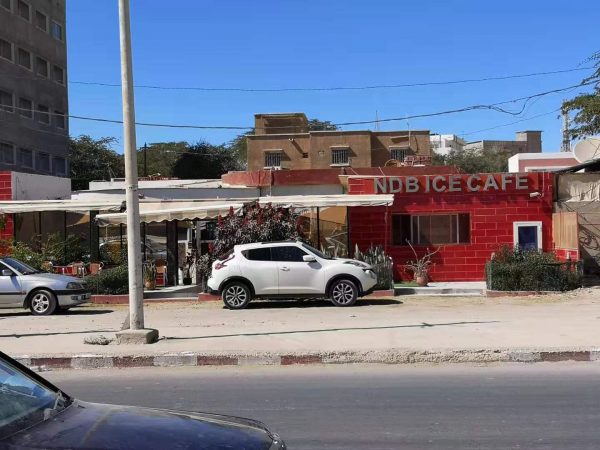 NDB Ice Café is a café restaurant which has a massive menu that is only equalled in its size by the size of the portions they serve. Meals here are also quite cheap, with most of them being less than $8. Steak, lasagna, pizza, seafood salad, you name it, they have it. It is a wonderful place to treat yourself a bit before heading inland where your options will be much more traditional, usually revolving around couscous and rice. Service isn't the quickest but the restaurant has some of the best WIFI in town, so you might actually enjoy being there longer. NDB Ice Café is the sister-restaurant of NKC Ice Café, with the same formula, in Nouakchott.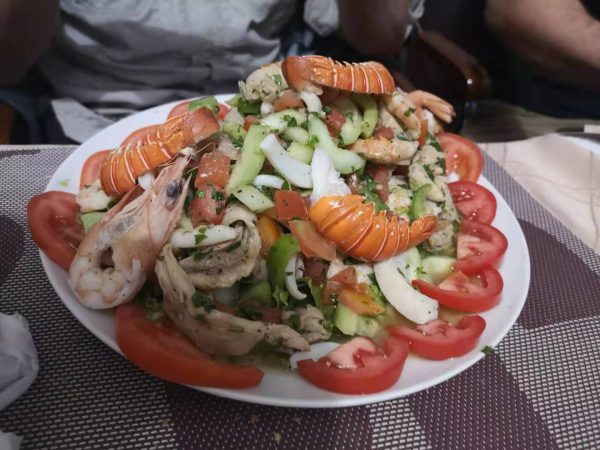 Right next to NDB, you'll find Hong Kong Restaurant. Hong Kong Restaurant is actually a restaurant run by people from the Northeast of China and doesn't really have Hong Kong fare (not a tragedy if you ask this humble writer). What it has, however, is a wide menu of all mainland Chinese dishes you can think of. The menu is in Chinese, French, English and Spanish so even if you don't speak Mandarin, you'll get by by pointing what you want. What is fabulous about this restaurant is how bizarre it is. From outside, it looks just like any other building in the city, but once you push aside the flaps of the entrance door, you feel like you've opened a portal to China. Nothing here will indicate that you are in Africa. You'll see Chinese decoration, Chinese tableware, Chinese doors, everything was imported from the Middle Kingdom! It is likely that you'll find some Chinese overseas worker playing Mahjong here. Food is very good and, last but not least, this place has a secret: while alcohol is supposed to be banned in the Islamic Republic of Mauritania, this place sells imported beer from the Canary Islands. While the cost of one small can isn't the cheapest (about $7), the novelty of having a cold one where it is supposedly impossible is definitely something worth considering.
Where to stay in Nouadhibou
Nouadhibou has all sorts of hotels, for all budgets and it shouldn't be too hard to find somewhere to stay.
For budget conscious people, hotel Al Jezira would be a good place. The place has some mileage, sure, but the price is fair, beds are clean and everything is functional.
What to do in Nouadhibou
So you'll be in Nouadhibou for a while, either transiting or waiting on the Mauritanian train and you are looking for things to do while you are there. Nouadhibou is certainly not Vegas or Tokyo in terms of activities but there are still a few things that can be done other than surfing the internet at NDB café.
Cap Blanc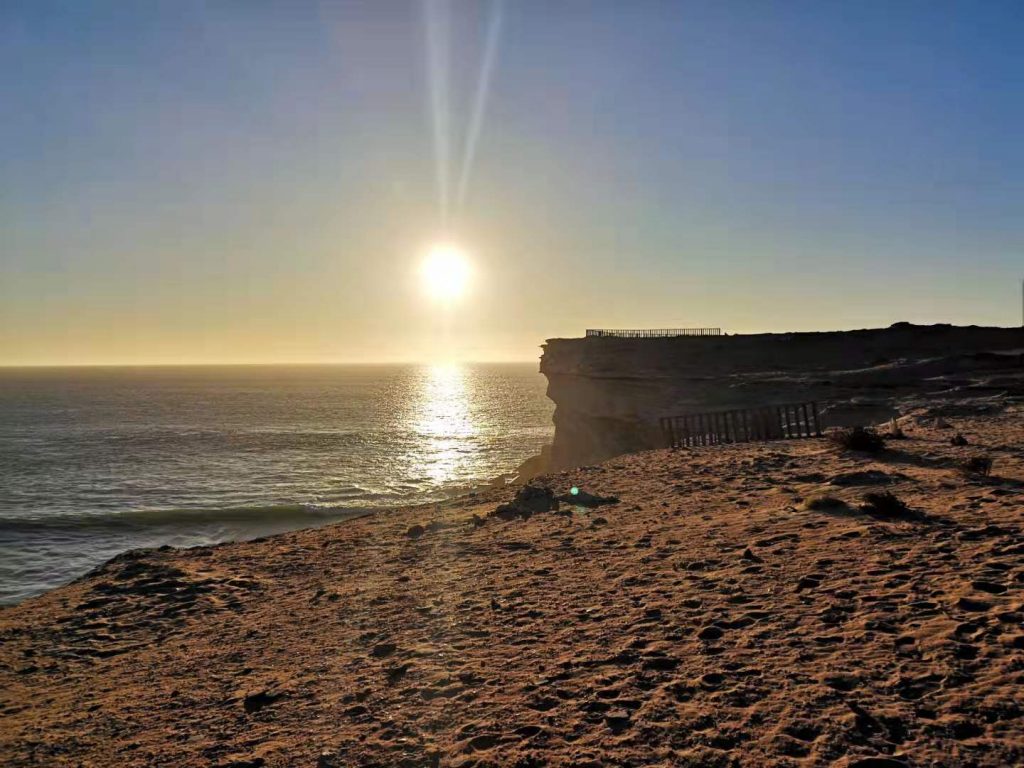 Cape Blanc is a cape on the peninsula where Nouadhibou is located. This site, of intense beauty, is really worth the detour. The place is known for its colony of monk seals (you have to be very lucky to see one though) and also as it was the emplacement where the famous ship graveyard of Mauritania was. Since a few years ago, however, the ship graveyard has been dismantled, with the scrap metal of what was the world's biggest collection of shipwreck having been totally collected by Chinese recycling firms. Nowadays, it is hard to imagine that this site was covered in rust not so long ago. Driving back from the cape, you might be able to see the Mauritanian ore train driving by, allowing you to take a great photo of its whole length.
The Port Area
The Port Area of Nouadhibou is definitely worth popping by. While the area is controlled by a military checkpoint, it is still possible for you to get in. Avoid bringing a camera as they are really not keen on photography there. Bringing a long lense might simply see you being refused entry.
In the port area, you'll get to see the hustle and bustle of the fishermen as well as bump into different handicraft stores.
Watch some impressive clunkers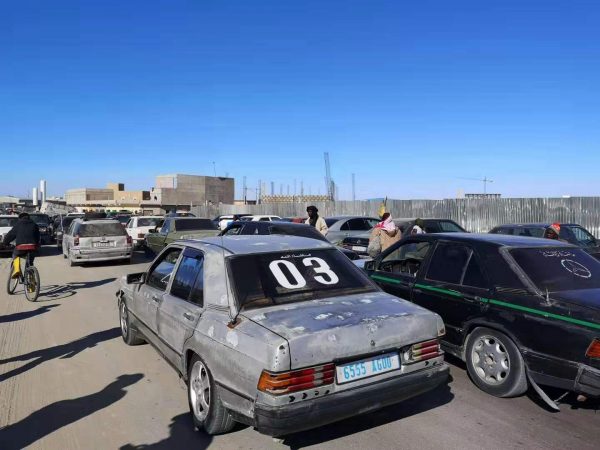 Mauritania, and Nouadhibou in particular has some of the most beaten up pieces of scrap of cars you'll ever see in your life. Some of the cars you'll see here just defy the laws of physics as they are still run. They truly are a testament to human perseverance and ingenuity in the face of poverty. Walking around the mad, mad streets (or should we call them paths?) of Nouadhibou and waddling through their chaos is truly a memorable experience.
And that's it for Nouadhibou, the great starting point of most Mineral Ore Train Adventure.
Visit Nouadhibou with YPT on our next Saharan Odyssey Tour Part 2, visiting Morocco, Western Sahara and Mauritania.
About Post Author
.