As the 2016 Olympics opened, a photo of North and South Korean Gymnasts Hong Un Jong and Lee Eun-ju posing for a selfie together spread rapidly across the internet. The photo stood as a testimony of the power of sports diplomacy, and even helped many learn for the first time that North Korea does, in fact, compete in the Olympics. North Korea not only competes, but also consistently produces several medal winners of each category at each Olympic games.
Now, as the Rio Olympics draw to an end, we'd like to highlight some of the DPRK's best athletes: those who've earned their spot in history as medallists at this year's Olympic games.
---
Honorable mention: Hong Un Jong – Women's Gymnastics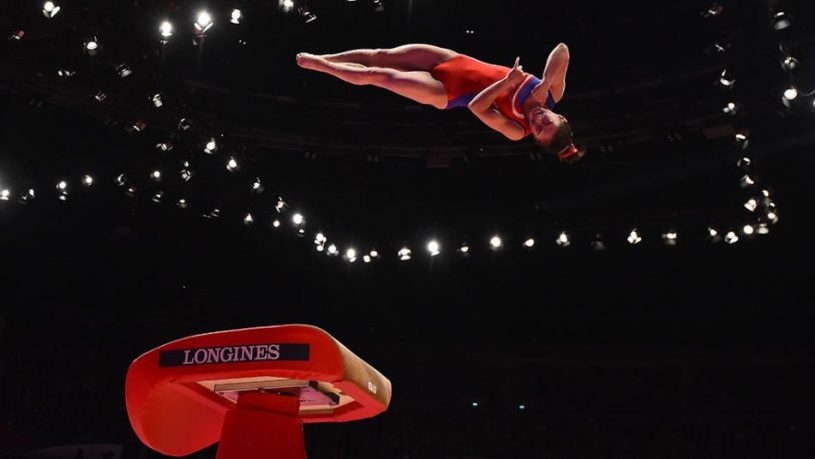 Okay, perhaps I'm a bit biased as Hong is one of my favourite gymnasts, but her effort deserves some praise. Hong was slated to win a silver medal in the women's gymnastics vault event finals, after posting a solid second-place score in qualifications. However, Hong decided to 'go big or go home' and, instead of settling for silver, became the first female gymnast to ever attempt the infamous triple-twisting Yurchenko vault in competition. While Hong initially landed the vault on her feet, her momentum caused her to fall backwards, making the vault incomplete. Were Hong to have landed the vault, she would have made a solid contention for the gold medal and would have been honoured by having the new vault named after her. While she didn't stand it up in this competition, we commend Hong Un Jong on her incredible attempt and hope to see her back and landing the vault in future competitions.
Bronze Medal – Kim Song Guk – Men's shooting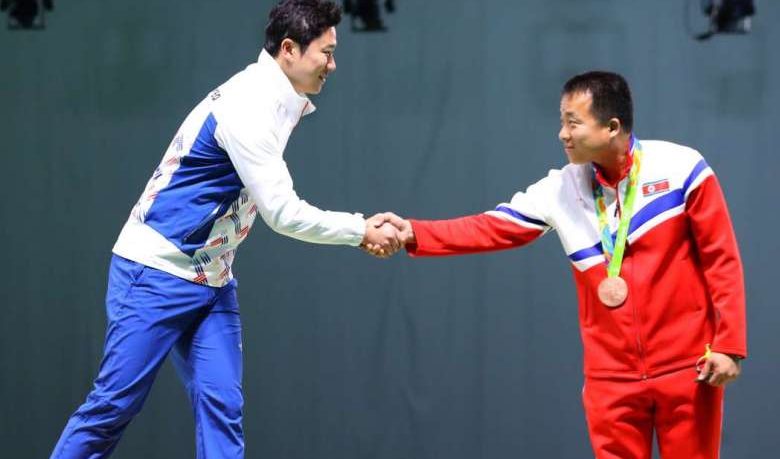 Kim Song Guk competed in two men's shooting events: 10m air pistol, and 50m pistol. After placing 17th in qualification for 10m air pistol, he failed to advance to the finals. Redemption came with the 50m pistol, where he placed 5th in qualifications and, after a solid performance in the finals, earned the bronze medal. Kim shared the podium with gold medal winner Jin Jong-oh of South Korea, earning some attention for his positive comments about his opponent and Korea's Olympic potential.
Bronze – Kim Song I – Women's Table Tennis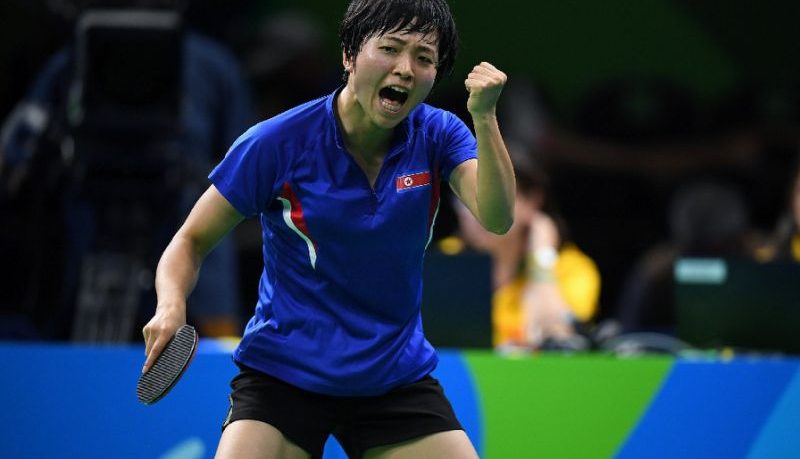 The 22-year-old Kim Song I is currently ranked 50th in the world by ITTF. Kim bested Ding Ning of China and Ai Fukuhara of Japan to take the Bronze medal in the women's singles table tennis event.
Silver – Om Yun Chol – Men's Weightlifting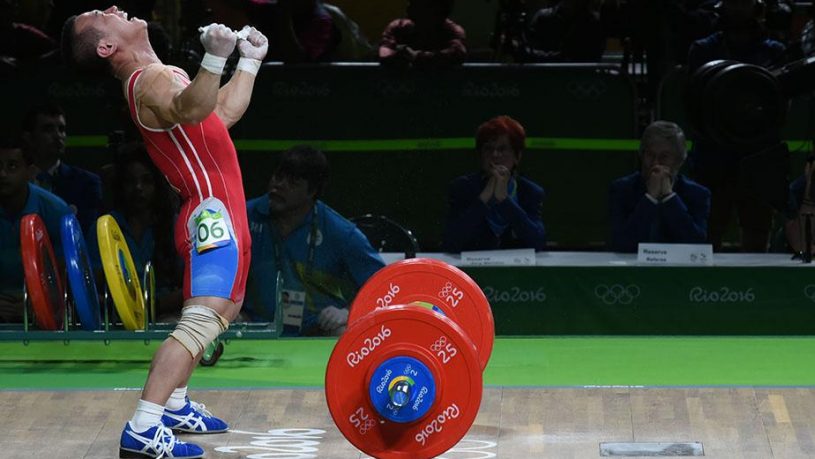 The first athlete from DPRK to snag a medal at Rio, Om Yun Chol was fighting for a repeat of the London Olympics, where he took home the gold medal. Om impressively broke his previous Olympic record, lifting 169kg to take the silver medal in the men's 56kg category, behind China's Long Qingquan. Om also took home gold medals in the world championships in 2013, 2014, and 2015, as well as a slew of other international competitions.
Silver – Choe Hyo Sim – Women's Weightlifting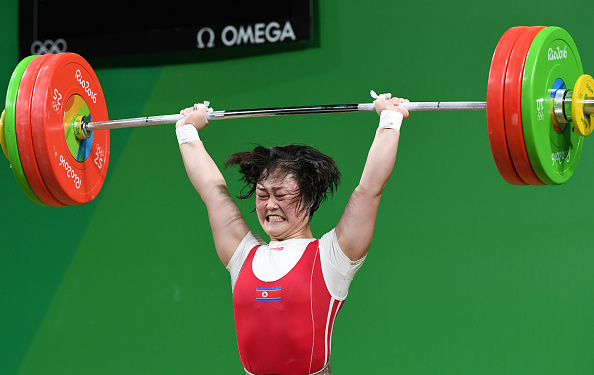 Choe Hyo Sim made her debut in international weightlifting in 2011, previously competing in two different lower weigh classes without much success. In 2014 she began competing in her current weight class, 63kg, which helped her to successfully bring home bronze medals in 2014 and 2015 world championships, and to secure the silver medal at her first Olympic games this year in Rio.
Kim Kuk Hyang
Kim Kuk Hyang's olympic story reads a lot like Om Yun Chol. While many have commented on her less than ecstatic look during the awards ceremony, in the context of the competition it's easy to understand. Kim completed her lifts comfortably and with great form, celebrating after her lifts were complete because of her solid performance. Then China swooped in to lift 2kg more on the final lift, winning with 1kg total higher than Kim Kuk Hyang. Regardless, Kim competed with amazing strength and confidence, earning herself a spot in Olympic history.
Gold – Rim Jong Sim – Women's Weightlifting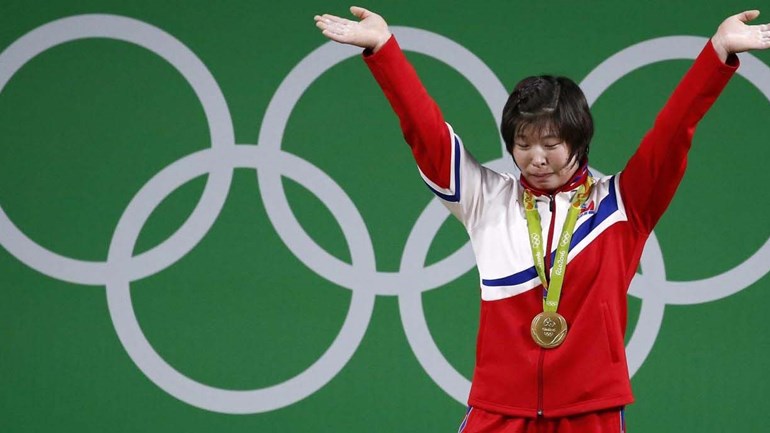 Rim Jong Sim was the DPRK's first athlete and only female athlete to secure a gold medal in Rio. Like Om Yun Chol, Rim took home a gold medal for weightlifting at the 2012 Olympics in London. In 2015 she earned a silver medal at the world championships, but was able to revisit her Olympic champion glory with another gold medal in Rio in the women's 75kg event.
Gold – Ri Se Gwang – Men's Gymnastics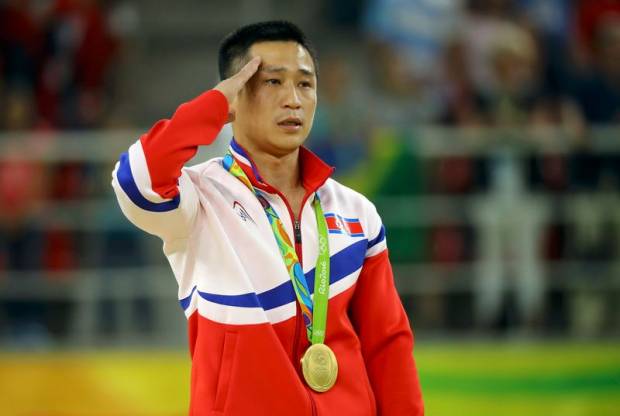 Ri Se Gwang first arrived on the international gymnastics scene in 2006, taking home the silver medal in vault at the Asian Gymnastics Championships and the gold medal in vault at the Asian games that year. In 2009, he became the first gymnast to successfully perform a new vault, a ¼-turn entry with a full-twisting double back tuck off the vault table. The vault is now named after Li and is the second most difficult vault in men's artistic gymnastics. Since that time, Li has improved his vault performance, clinching the gold medal on vault in the 2014 and 2015 world gymnastics championships, and now claiming his first Olympic title on vault in Rio.
Congratulations to the DPRK Olympic athletes and medal winners… see you in 2020!
---
Want to visit North Korea yourself?
Click here for more information.
About Post Author
.