Just around the corner from Bangkok's neon strips of sleaze, aglow with the famous golden arches and crispy chicken colonels quietly lies one of the more unusual aspects of North Korea's foreign policy; it's chain of restaurants.
For those who know even the first thing about the Hermit Kingdom, a capitalist venture such as this may come as a surprise; for the regime whose founder famously declared "Lenin lived, Lenin lives, Lenin will live". But Bangkok is not alone – although many may have never heard of them, there are currently over a hundred DPRK-run restaurants globally.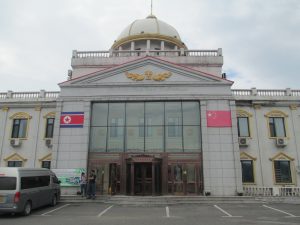 Originating as Pyongyang's most prized eatery, Okryugwan—literally "jade stream pavilion", had been providing traditional North Korean fare to privileged Pyongyang residents since 1960. After over three decades, the restaurant's slow international expansion began with a branch opening in Beijing upon the backdrop of the loss of North Korea's soviet support and heavy UN sanctions during the country's tumultuous 1990s. The restaurant was a hit, curious tourist visitors were treated to a glimpse inside the Hermit Kingdom's impermeable shell, and the regime was receiving hard currency that it so desperately desired. And thus, North Korea's gastronomic enterprise was born!
The franchise's branches exist under a multitude of subtle (and not so subtle) names; as well as the more obvious (and most famous) Pyongyang chain, branches under the names Corea, Myohyang-san, Ryugyong and Begonia also exist. At current count, there are North Korean restaurants in every single provincial capital along the 1,400 km border between North Korea and north-eastern China, as well as large Chinese cities (Shanghai alone has 15). Whilst most of the restaurants are in China, there are also branches in further flung destinations such as Jakarta, Vientiane, Phnom Penh, Kuala Lumpur, even Dubai. A Dutch branch was even opened in 2012, but unfortunately closed two years later.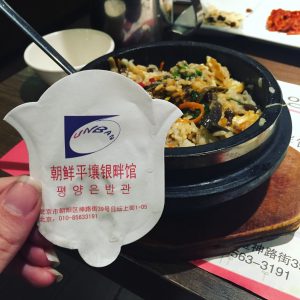 Regardless of its unlikeliness, for over 20 years now visitors to the chain have been ushered into the large bright restaurants complete with North Korean disco lighting and fake bouquets in giant floor vases -just like the real thing – to enjoy a taste of DPRK's finest specialities. Typical dishes include mullet soup with green pancakes; Pyongyang "cold noodle", served on ice cubes; barbequed cuttlefish; dog soup and of course kimchee, a traditional Korean side dish usually provided for free in restaurants in North and South Korea (but can cost as much as $12 per portion in these chains). Soju, which costs as little as $2 per bottle in South Korea, costs $25 per bottle – although the menu indicates that these items are sourced from Pyongyang directly.
One hallmark of the chain (and possibly the most interesting part) is the gaggle of dancing waitresses, donning traditional chima jogoiri dresses and performing tightly synchronized dance routines, as well as serenading customers with cheesy Western classics such as "My Heart Will Go On". These all-purpose maîtresses d' usually hail from established families and are therefore trusted to function as an intermediary between the North Korean regime and the curious tourist, and as a result, they are often highly scrutinized.
However, their composure is paramount. The restaurants, whilst on one hand pump income back into the country (at some estimates, as much as $10 million a year) on the other act as a tool for challenging the global perception of the Hermit Kingdom from global pariah to an accessible, amiable country.
"When you are moved by an encounter with a living, breathing North Korean soul, you do a complete shift," says professor Sung-Yoon Lee, an expert on North Korea speaking to USA Today. "Now you no longer think of North Korea as a nation of robots. You think of North Korea as a place where real human beings live."
---
Click here for more information on our tours to the DPRK.
About Post Author
.