A question we often get at YPT is : Where can you find North Korean restaurants outside of the DPRK? It's an understandable question; DPRK restaurants offer an experience that is often very intriguing, a great standard of service and allow you to scratch that nostalgia itch when you can't book the next ticket to Pyongyang and join us on our next tour. While lots of North Korean restaurants were closed in the recent years due to sanctions, lots of them are coming back to the DPRK`s neighbour, China. As such, it is not surprising to find one of the best North Korean Restaurant in Shanghai, China's biggest city.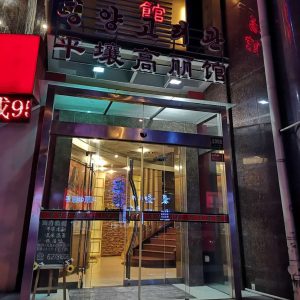 The Shanghai Koryo Pyongyang Restaurant is actually a chain, with three restaurants in the metropolis. The main one, which has been visited for this article, is located in Changning district, a district known for its high Korean and Japanese expat presence. The other two are located in Pudong.
A short walk from Shuicheng Rd. Metro Station on line 10, the Koryo Pyongyang Restaurant is not too hard to find and often has unmistakable DPRK ladies outside trying to attract diners.
Once you're inside, you know you are in for the good stuff. If one doesn`t look outside through the windows, it looks exactly like a restaurant of Pyongyang. The place is generally quite busy although a booking is not necessary. The restaurant here also has a VIP for banquets and big group dinners, complete with its own stage and show.  Waitresses here all come from Korea and serve customers with the same zeal and professionalism as in the DPRK.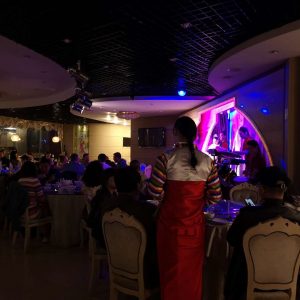 Now, there are still quite a few DPRK restaurants outside of the country, but all aren't equal. Some look less like what we're used to in Korea, some are really expensive and then, a lot of them do not have the famous performances DPRK restaurants are known for. Here at the Shanghai Koryo Pyongyang restaurant, there are performances every night at 7:00 pm. So be sure to come around that time. The performance includes dance, live music and singing from a half-chinese, half-korean repertoire. For the adepts, prepare yourself for great renditions of Pangapsumnida but also of Chinese red classic : ''There would be no New China without the Communist Party''. The show goes on for a good half hour and the performers are extremely talented. This makes the restaurant one of the best for those who miss Korea but can't go now or those who want to get a bit of the Korean experience while they can't find the time to visit the DPRK.
And the food? The menu is comprehensive and everything seemed available when we were there. You'll find all DPRK classic fare, from Pyongyang Cold Noodle to Bibimbap (Ok, maybe no dog soup…). The food is extremely tasty and actually decently priced with a meal setting you back 100 RMB per person, approximately. Last but really not least, this restaurant is one of the rare DPRK restaurants out of Korea which has Taedonggang beer, the most famous beer of the country, in stock. Those who want to sample the national beer will have to be willing to splurge a little bit more for the export, as one small bottle is sold for 70 RMB.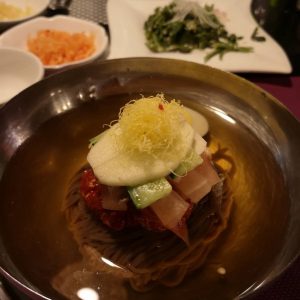 Hidden away in Shanghai, the Pyongyang Koryo Restaurant is a great place for DPRK aficionados and those curious, getting YPT's seal of approval! Next time you are in Shanghai, maybe on a red tour, definitely come by!
Pyongyang Koryo Restaurant (平壤高丽饭店)
1088 Gubei Rd., 2nd floor, Changning District, Shanghai (长宁区,古北路1088号2楼)
357 Songlin Rd., Pudong New District, Shanghai (浦东新区松林路357号)
88 Changliu Rd., Pudong New District, Shanghai (浦东新区长柳路88号)
Real North Korean Food aficionados, however, will want to make sure to join our Culinary Tour of the DPRK!
About Post Author
.